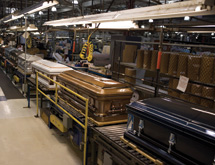 There may be some companies that can get away with a late delivery, but Batesville Casket Co. is not one of them. The nature of the funeral industry requires a delicate but quick and efficient hand to help families and friends honor the lives of their loved ones. For the past 100 years, Batesville, a subsidiary of Hillenbrand Inc. (NYSE:HI), has been a leader in the death-care industry. The world's largest manufacturer of metal and wood caskets, Batesville is also the leading provider of funeral home websites and other technology solutions for funeral and cemetery professionals. But caskets remain its core revenue driver.
The manufacturer provides a comprehensive array of caskets and urns – more than 900 SKUs – throughout the United States and Canada and internationally in countries and territories such as Puerto Rico, the Philippines, Great Britain and Australia. Its products address all types of cultural demands, such as communities that use only all-wood caskets. Batesville also provides custom-made products. Vice President of Supply Chain John Linville says if a person went to LSU, for example, and the family wants "a purple and gold casket with the school colors on the interior, they can order it and we will build it [from the] ground up and ship it airfreight.
"Batesville's mission is to help families honor the lives of those they love," Linville continues. "We work with our customers to make sure they understand the value we can provide for them and the families they serve. If a family wants a custom burial casket, we can do that. Or if they choose cremation, we also offer a variety of cremation caskets that allow them to hold a traditional visitation and viewing prior to the actual cremation. People don't have a high level of awareness about funeral products, so it's important to take the time to help them understand how to create a meaningful funeral."  
A Strong Pull 
To help guide consumers through this process, Batesville sells exclusively through licensed funeral homes. Families select and order products through one of these licensed funeral homes, which then place an order with Batesville by calling their local Customer Service Center (CSC), entering it online or by calling the company's  Funeral Directors Assistance Center (FDAC). This action triggers a chain of events, starting with a signal being sent to the local CSC to deliver a specific product, then to one of six regional distribution centers to replenish the CSC with a replacement unit, which triggers one of four assembly plants to begin the manufacturing process. It's a sophisticated pull process and Linville says what was sold yesterday is essentially what the company builds today. All Batesville manufacturing plants are set up to run mixed-model production.
"Our business is extremely time sensitive," Linville says. "With the breadth of models we offer, an efficient and reliable distribution network is critical, and no one does it better than Batesville." 
Batesville CSCs maintain inventory that customers can choose from, but Linville explains the company is working on reducing the amount of product at these locations. Today, most CSCs are very small warehouses, but the company is in the process of converting locations into cross docks, where Batesville delivers product in the morning that's distributed to funeral homes that same day. The company started the process last year, and will have 25 locations converted by the end of 2014. 
"This conversion to cross docks is transparent to our funeral home customers and provides value to them and to Batesville," explains Linville. "We can offer a larger assortment of products to customers, and with daily deliveries to the cross dock versus two to three days a week to the CSC, out-of-inventory situations are virtually eliminated. Batesville benefits by reducing our operating and inventory costs."
All in Line 
During the transition, the company is working on its supply chain sync to ensure that supplies are delivered on time, since its reducing inventory at the CSC facilities. This is an area where Batesville's lean expertise comes in handy. 
"We're focused on using lean tools to improve the synchronization of our supply chain," Linville explains. "Essentially, when a trailer backs up to our manufacturing plant, there's a two-hour window to load the trailer. Our logistics organization will pick it up, take it to the regional distribution center (RDC) where it hits another window there. The RDC has a certain amount of time to unload the trailer before it pulls out. For us, our plants are all mixed-model. We could have 100 different varieties on a single truck. The plant needs to have the right products built and loaded within that two-hour window." 
Part of the company's supply chain sync project involves logistics routing, as well. The company works with ORTEC software that allows it to optimize its daily routes. Staff can plug in the day's orders plus their final destinations, and the software will optimize the routing based on that information. This ensures that Batesville drivers  have the best route and the best utilization of the company's assets every day.
"These projects allow us to reduce lead time and reduce inventory throughout our system," Linville says. "The core line of available production on a daily basis goes up and we reduce our total inventory." 
Beneath all the processes and technology, Linville stresses that it takes dedicated associates to make it work. The average employee tenure in its assembly plant is 20 years and Linville, who has been with Batesville for over 15 years, credits it to the company's dedication to taking care of its associates.
"If you take care of the safety of your associates and maintain the quality of your product, you will win in this business," he says. "People are what make your company. We control our supply chain from the point of manufacturing through delivery to our customers because we believe it's important that our customers' point-of-contact is with a Batesville associate. When you take care of your associates, they can take care of the customers. And if you take care of customers, you also take care of your company's shareholders."  ­­­