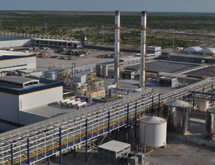 This year has been an eventful one for Crown Imports LLC. The Chicago-based beer importer in 2013 became a wholly owned division of its former part owner, Constellation Brands, following Constellation's purchase of the U.S.-based business of Mexican brewer Grupo Modelo, which is Crown Imports' other former partial owner.
The transaction effectively makes Crown Imports the third-largest beer company in the United States by volume and will transform its supply chain from being one that was purely distribution-based to one that includes manufacturing operations. As part of the deal, Constellation Brands gained control of a brewery built in 2010 in Piedras Negras, Mexico, as well as the brand license to import, market, sell and extend the Corona, Modelo, Pacifico and Victoria brands in the United States. 
"Previously, we took ownership of the product after it was loaded into a mode of transportation," Director of Logistics and Distribution Terry Obele says. "Now, following the transaction, we will be extending the supply chain; as an example, Crown will be responsible for the sourcing of raw materials and production planning. These changes will add a significant amount of responsibility to our chain."
Constellation's purchase of the U.S. Modelo business followed an anti-trust lawsuit filed by the U.S. Department of Justice against Anheuser-Busch InBev. Anheuser-Busch InBev in 2012 announced its intention to purchase the other half of Grupo Modelo that it did not own previously, an action the government claimed gave it too much of a competitive advantage, according to published reports. 
Grupo Modelo will continue to operate the Piedras Negras brewery for the next three years, during which time Crown Imports anticipates investing between $500 million to $600 million to expand the facility. The brewery currently produces 10 million hectoliters but will need double to 20 million within three years to meet the company's current demands, Obele says.  
New Structure, New Processes
The transformation of Crown Imports' supply chain presents both a great opportunity and a significant challenge for the company. "We are currently in the process of aligning our chain, taking on new roles and adding an entirely new group to our supply chain organization to handle manufacturing operations," Obele says. The company has retained the services of an outside consultant group help it through the transition. 
Technology upgrades, including manufacturing resource planning (MRP) systems, are a large part of the company's supply chain investment plans. IT is a key challenge as the company works to align ERP systems. Crown operates on JDE, while the brewery operates on SAP. "We're in the process of developing an end-to-end solution to our supply chain as we now have control of the overall supply," Obele adds.
Crown Imports earlier this year contracted with supply chain management consulting firm Plan4Demand to revise its sales and operations planning (S&OP) processes in preparation for the transition. The company now plans 24 months out, as opposed to the 90-day S&OP process it formerly employed, Obele says. 
Working 24 months out with in-depth data shared across its sales, marketing and distribution teams gives the team greater visibility into market risks and opportunities. "We are always making sure that we have the right amount of product in the right locations to meet wholesalers' demands and current forecasts," he adds. "Our new S&OP process has helped quite a bit in getting us the right amount of feedback from our sales, marketing and distribution departments to make sure we have the right amount of products going to the right locations."
In addition to revising its S&OP process, the company also recently hired an outside consultant group to perform risk assessment and network optimization studies. "We're looking right now at how we decide how much product should be in a warehouse based on supplier demand," Obele says, noting that the company currently utilizes a single supply chain for all goods and maintains a 30-day inventory. "Our volume has grown to the point where our products are now differing so much that we are looking at whether we should have different supply chains for different packages, such as case goods versus kegs."
Success Through Partnerships
Crown Imports will continue to oversee importing and distribution of its products. The company works with six third-party logistics providers who operate a total of 12 warehouses/distribution centers on its behalf. Products are then shipped to a network of more than 500 wholesalers nationwide.
The 3PLs contracted by the company also manage and own their own truck fleets or have their own carrier base which they utilize. "We've worked to find providers who offer warehousing as well as trucking, so they can be a one-stop shop for us," Obele says.
In addition to partnering with asset-based 3PLs, Crown Imports also has relationships with Union Pacific Railroad in the United States and FXE Railroad in Mexico. "Our general volume and the amount of product we move on a daily basis separates us from other companies," Obele says. "During the peak season, we can have up to 170 railcars per day shipping out of three breweries."
Building professional relationships with 3PLs, railroads and other partners is critical to the success of Crown Imports' supply chain. "We try to build win-win situations, and when we do have challenges, we resolve them by understanding the drivers of why the request is being made, for instance, things like rate structures and the reasons for cost increases. 
"Everyone goes through periods where they need extra help, and because of our relationships, we've been able to come out of those situations," Obele says. "The success we've had as a company in the supply chain isn't because of Crown Imports, it's because of the relationships we've established over the years." 
A Culture of Involvement
Crown Imports' ability to build long-standing professional relationship is just one of the company's strengths. "I would say I'm most proud of the overall company environment here," Obele says. "I've worked in other large companies, where you have limited interaction with executives, but here everyone is involved and there is a lot of interaction, whether work or non-work related."
Obele cites President Bill Hackett's level of involvement with the company as a specific example of its culture of involvement. "My entire staff knows (Hackett)," he adds. "He's very involved with all of our employees, and that creates a unique culture different from other companies that are out there."
Hackett is president of Constellation Brands' beer division, one of the company's two main business units. The beer division oversees importing, marketing and sales of the Modelo brands in the United States. Constellation Brands also operates a wine and spirits division with a broad portfolio of more than 100 brands including Arbor Mist, Black Box, Blackstone, Clos du Bois, Estancia, Franciscan Estate, Inniskillin, Kim Crawford, Mark West, Mount Veeder, Nobilo, Ravenswood, Rex Goliath, Robert Mondavi, Ruffino, SIMI, Toasted Head, Wild Horse, Black Velvet Canadian Whisky and SVEDKA Vodka.
Both divisions combine to have more than 100 brands and sales in roughly 100 countries. "We believe that industry leadership involves a commitment to our brands, to the trade, to the land, to investors and to different people around the world who turn to our products when celebrating big moments or enjoying quiet ones," Constellation Brands says. "We express this commitment through our vision: to elevate life with every glass raised." ­­­