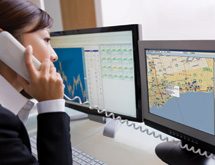 As one of the world's leading providers of logistics technology solutions, Descartes essentially is the central nervous system for a significant portion of global logistics. According to Executive Vice President of Marketing and Services Chris Jones, Descartes' unique technology gives users access to critical information when it is needed for optimal planning and execution. Finding new and better ways to increase the flow of information into their customer's hands to automate, streamline and improve collaboration are some of the company's goals. 
Just as a human being's brain and nervous system continue to develop and change throughout his or her life, Descartes has been developing and changing to meet the needs of its customers worldwide. Jones says the company's current management team took control about nine years ago and set to work on a plan that would give it an even stronger position in the marketplace. So far, that plan has been working, and the company has seen its revenues grow from nearly $40 million nine years ago to more than $140 million today. The company's solution portfolio has expanded to include transportation management, global trade management, routing, mobile and telematics, B2B network services and forwarder and broker enterprise systems.
Jones says that significant growth is due in part to a strategy of acquisition and expansion, but it also is owed to the strength of Descartes' solutions and its ability to provide users with a unified solution to their logistics operations needs. As Descartes continues to add to its capabilities and innovate new products, Jones says, it comes closer to its goal of unifying its community of users and giving them all the tools they need to succeed.
Singular Process
Jones says that when the current management team took over, it developed a strategy focused on three areas: customer success, strong financial positioning and innovation. 
Focusing on customer success means Descartes wants to ensure customers get exactly what they need, which was much more difficult for them to do a decade ago. The market was more fragmented, and Descartes found that customers preferred to get as many services as possible from the same vendor. "Less is more, in this case," Jones says. 
To help build Descartes into a more full-service provider, the company began an aggressive but targeted expansion and acquisition initiative, acquiring more than 20 companies in various areas of logistics planning to bolster the services it already offered. The company's development didn't happen entirely outside its walls, however. Jones says Descartes spend approximately 20 percent of its revenue on R&D and was able to leverage its considerable technical expertise in areas such as route optimization to develop mobile technology and intelligent dispatching platforms. These technology solutions allowed users to plan as well as execute their logistics from the same application. 
This combination of outside acquisitions and internal know-how has led to Descartes developing an extensive presence in the marketplace. Jones estimates that nearly 40 percent of all global air cargo shipments leverage the company's Global Logistics Network. Descartes used to have fewer than 20 people in its European operations, Jones says. Now, it has more than 350 and is one of the largest providers of B2B messaging and customs services in Western Europe.
"If you want to be a global company, you have to have a global presence," he says. "I would say we have one of the largest solution footprint in logistics technology." 
Secure and Innovative
Descartes' leadership position in many of these markets has helped the company meet its second goal of being more financially secure, Jones says. Many companies in the technology sector are focused on growth but don't have a strong position in terms of capital, he adds, which leads to many of them either failing or being absorbed by competitors. With the dramatic growth in revenue and EBITDA the company has experienced over the last nine years, Descartes is in a comfortable position that allows it to focus on serving its customers. 
Continuing to innovate is another essential element of Descartes' strategy, and Jones says there can be no substitute for continually working on new ideas. For example, over the last nine years the company has introduced the world's first multi-modal messaging network, integrated customs with transportation for global trade, logistics flow control for inbound operations and was a pioneer in cloud-based logistics solutions. "If anybody thinks it's all been invented in logistics, they're kidding themselves," he says. 
Developing the type of closed-loop applications Descartes has over the last few years is an innovation in itself, as many processes a decade ago were spread across multiple platforms and dedicated applications. Descartes has dedicated itself to developing platforms that address multiple needs while still being customizable.
"This gives our customers the flexibility between their partners to change and adapt without having to say that everyone needs to standardize on this one thing," Jones says. 
For example, Descartes is integrating mobile technology, routing and telematics to create a system that allows users to make running changes to their plans seamlessly and with significant reduction in risk. Jones says the company also has developed a home-delivery appointment platform that allows consumers to select a delivery window for their products and add additional services if necessary. 
Winning Combination
With its strategy proving to be a winning combination, Jones says he's optimistic about Descartes' future. As long as the company continues to focus on its mission of syncing the various moving parts of logistics into a single streamlined process, Descartes is well-positioned to enjoy continued success. 
"It's all about enabling the community," Jones says. ­