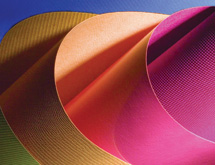 When companies such as Godiva or the Jack Daniel Distillery need packaging with special colors or textures, they turn to FiberMark, Vice President of Supply Chain Management Christopher J. Martin says. "We service the highest end of the secondary packaging industry," he declares. 
Based in Brattleboro, Vt., FiberMark manufactures fiber-based covering materials and durable paperboards for multiple industries around the world. The company's history goes back to 1861 with the formation of Case Brothers in Manchester, Conn.
Through the years, FiberMark grew and changed with acquisitions, Martin says. Today, "We are the progeny of a great number of companies that no longer exist or are divestitures," he states.
FiberMark serves a client base that includes brand owners,  design agencies, converters and manufacturers involved in the packaging, publishing, print, office and technical specialties markets. "Our products are to the benefit of brand owners and users of those materials," he says.
Tight Turnarounds
One factor that keeps FiberMark successful, Martin says, is its ability to efficiently move a product from a prototype to the final stage. "From thought to finish," he remarks. For instance, if a client gives FiberMark a specification for material for making a folding carton, it can deliver a paperboard prototype to that customer in 48 hours.
Two weeks later, FiberMark can deliver the final paperboard product. Additionally, the company can deliver it with a feel similar to leather, metal or cloth. "We have a wide variety of embossed textures," he says. "We produce products that are meant to be seen and felt." 
But meeting that turnaround time can sometimes be challenging, Martin admits. FiberMark continuously stocks its sampling department to maintain supplies for its more than 10,000 standard items. 
Weekly, FiberMark uses FedEx to deliver hundreds of samples all over the world, including to Africa, Australia, Europe and Asia. "Thirty [to] 40 percent of our total sales are for export," he says.
The diverse destinations require the use of different languages, Martin says. "The [product] specifier could be French and the manufacturer could speak Cantonese, so as a supplier based in the U.S., we are proficient at being a creative partner and solutions provider to these companies, no matter their location," he says.
To meet these demands, "We have customer service reps, R&D scientists and a global sales team who speak several languages and are adept to working with a sophisticated network of companies within many of the markets we participate in," he says. "We [also] keep on staff a large number of engineers and scientists to make decisions to quite exacting specifications [for the] highest-end luxury brands."
Meeting Customer Requests
Recently, FiberMark's customers have lowered the size of their orders, Martin says. "They want us to be competitive [price-wise] and reduce the order quantities," he says, noting that the company has adjusted to this change.
 This has included reducing the time it takes to go from one color to another in its paper machines. This helps "our customers improve their supply chain," Martin says. The lower grade change times allow FiberMark to provide smaller minimums which allows smaller order sizes, faster turnaround and lower inventory.
Although FiberMark has coped with aggressive competitors from overseas, it has seen a push among its customers to move packaging work back to North America. The reasons for this are convenience, consistent quality and reliable service from trusted partners, Martin says.
"When the source of supply is two continents away, correcting [mistakes] can be difficult," he explains. FiberMark has the ability to produce locally and distribute globally.
In addition to its six domestic locations, FiberMark has Avanté, a joint venture in China with CYP, as well as a security division in the United Kingdom. "We supply covering materials for passports and security documents for over 90 countries," he says.
The firm also has distribution partners that inventory its materials in Europe and Hong Kong. "FiberMark and our distribution partners work diligently to earn a specification and maintain the trust of the brand owners," he says. 
A Premium Player
A five-year veteran of FiberMark, Martin says he is proud of the company's continued focus on providing high-value materials to its customers. "[It's] a great thing to be part of FiberMark's process where the importance of quality is still a mainstay of the many niche markets we are involved in," he says.
Compared to its competitors, "We provide a slightly more expensive box material – be it folding carton or a box wrap – and we allow our customers to garner a premium for that tactile feel and superior performance," he says. "We do a very good job of maintaining our business without driving the value of our products down in an attempt to garner higher volume. We sell value and that's a tough sale these days."
Looking ahead, FiberMark plans to maintain its presence in luxury packaging, Martin says. "As we expand our presence in decorating board materials and folding cartons, we'll continue to grow and be the premium player in packaging," he predicts.
Martin adds that FiberMark is planning for the long term, with investments in research and development. "The future for FiberMark is bright," he says. "We will continue to grow organically."
He adds that 15 percent of the company's current sales are from new business. "[That is] pretty robust," he says. "I think that trajectory will continue." ­­­