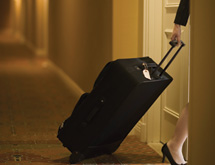 Hilton Worldwide is a name that is synonymous with hospitality. Given the size and complexity of the organization, it is also a company that must have a supply chain that is synonymous with efficiency.
One of the largest hospitality companies in the world, Hilton was famously founded by Conrad N. Hilton in 1919. Over the years it has grown though a series of expansions and acquisitions. In 2009, Hilton expanded to 76 countries, making it the largest full-service hotel brand in the world. In 2011, it was named as the No. 1 franchise opportunity in Entrepreneur Magazine's Franchise 500 ranking.
Today, the company boasts 10 brands, more than 3,900 hotels and more than 610,000 hotel rooms worldwide. It employs approximately 145,000 team members across 90 countries, and Hilton has design and construction professionals at 16 locations.
Suppliers are Key
Hilton says that operationally transparent, cost-efficient and sustainable supply chains can drive business profitability. The company is always looking to assess key issues for its supply chain and facilitate integration of solutions into its supply chain operations.  
In addition, Hilton sees the supply chain as an economic and franchise relationship driver of its business plan and franchise program. The company looks to select best-in-class suppliers, as well as for ways to manage risk and create increased value in its supplier relationships.
Hilton says it also looks to find methods of establishing, implementing and enforcing supplier rules of engagement and codes of conduct. It is concerned with establishing, measuring and enforcing supplier performance and obligations, as well as negotiating key contract provisions for protecting its brand.
Not only that, but the company has altered its procurement strategy. It has combined buying into national contracts for the Hilton brands, and uses local providers when doing so makes sound financial sense. Building strong relationships with suppliers helps Hilton to get good deals, and it allows the company to negotiate markups with distributors overseeing warehousing and delivery. Among the changes the company has made internationally has been its focus on integrating international procurement to help gain control of the whole supply chain.
Supplier diversity has been another important part of Hilton's operations, according to the company. The company wants its supplier base to be as diverse as its clientele. To diversify its procurement process, the company integrated its supplier diversity efforts into its overall procurement process. It also implemented a second-tier diversity program, encouraging its major suppliers to join its effort to cultivate diversity. Hilton is focused on growth of its supply chain diversity efforts, looking to increase its percentage of diverse suppliers and providing educational opportunities to help diverse businesses.
Beyond that, Hilton's supply chain operations look for ways to reduce costs and manage its demands for flexibility. The company also has looked to expand its supply chains internationally while also increasing the sophistication of logistics management, permitting transparency and access to data through a cloud supply chain. Hilton's supply chain efforts include tools for tracking and tracing products for government regulations and advancing the sophistication of its technology services.
Responsible, Sustainable
Hilton's supply chain plays an important role in the organization's corporate social responsibility and sustainability efforts. Hilton says it works across its business to integrate corporate social responsibility into its practices, looking to align it with Hilton's business needs and priorities. As for sustainability, it has become a brand standard for all properties. 
In fact, supply chain is a key piece of Hilton's proprietary LightStay system, which analyzes performance across 200 operational practices. These include housekeeping, paper product usage, food waste, chemical storage, air quality and transportation. Additionally, LightStay provides what the company calls a "meeting impact calculator" feature, which calculates the environmental impact of any meeting or conference held at a property.
The company leverages LightStay to help it improve its sustainability performance on a continuous basis. All of its properties are required to use LightStay.
Ultimately, LightStay helps Hilton to understand the impact of property-level and corporate initiatives, while allowing it to share best practices across its global system. It integrates sustainable actions into how it delivers hotel performance around the globe, analyzing and reporting on sustainability performance at each property. The company uses a third party to verify its system, processes and results. 
And the results have been impressive. For example, in 2010, the company reports that LightStay helped Hilton Worldwide properties reduce energy use by 6.6 percent, water use by 3.8 percent, carbon output by 7.8 percent and waste output by 19 percent.
Although it has a complicated supply chain and ownership model, as well as an expansive footprint, Hilton says it can ensure an efficient supply chain as long as employees are engaged in the process. That is an important part of success in the hospitality sector, as engaged employees lead to good guest experiences and profitability.
Looking ahead, Hilton says it sees great opportunities. The company anticipates that about 60 percent of its next 1,000 hotels will be in foreign countries. In fact, it predicts that China will have nearly 50 Hilton-branded hotels by the end of this year, as opposed to only four just four years ago. 
As the company continues to expand its footprint and its dominance in the hospitality industry, its supply chain must continue to keep up with the changes to ensure efficiency on all levels. ­­­