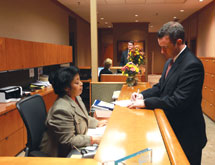 Imperial Trading Company was founded in 1916 by C.H. Pelias, carving out a place in the New Orleans market as a wholesale grocer for independent retail grocers. Over time, the company expanded throughout the region thanks to a focus on the convenience store segment.
The company is still family-owned, has annual sales of $850 million and an experienced and diverse management team, and is a top 10 convenience store distributor that carries more than 10,000 items such as candy and snacks, HBC and general merchandise, grocery items, and refrigerated and frozen products. The company's services include computerized space management, analysis reports, inside store design, shelving solutions, and shelf labels.
"Over the years we've added a lot of new categories like groceries, beverages, and food service items, and we've been a full service distributor for more than 20 years," said Wayne Baquet, president and CEO. "That's our focus: being the number one food service and convenience store distributor in our industry."
Today, the company's primary states are Louisiana, Mississippi, and the southern part of Alabama. However, in 2008, the company purchased Harrision Company, another southern player in the wholesale space. That made Imperial Trading and its new footprint into the first super regional distributorship in the country, extending its reach into nine southern states.
That sort of growth is a result of a strategy the company has been pursuing for the last decade. The acquisition of Harrision Company allowed Imperial Trading to take advantage of some of the strides Harrision had already made, despite its slightly smaller size. For example, Imperial invested in a new cold dock for its cooler so refrigerated and frozen goods can be kept cold during offloading and don't have to be rushed to a cooler.
The freezer was redesigned with new racks and software that allowed the company to triple the size of its freezer space.
"The software allows us to have closer to 100% accuracy when we batch and pull the orders and scan the products, and we use visual pictures to be sure we are making the right selection when picking orders," said Baquet. "If we don't deliver the right frozen and refrigerated product, we lose the product, and the retailer feels like they can't rely on us."
Investments on the back end are helping Imperial Trading continue to prove that retailers can rely on its service. Investments in purchasing systems and experienced and category-specific buyers and managers ensure the proper understanding on things like food service as it pertains to convenience stores. These investments helped Imperial Trading become a more efficient organization and a better partner for customers.
Recovery and renewal
The decision to become a super regional distributor came as a result of the damage done by Hurricane Katrina. The hurricane caused Imperial Trading to essentially shut down for several weeks. Baquet said it took months to get back to full strength. The company realized that kind of disruption wasn't fair to its customers, but it took Imperial Trading several years to determine what wholesaler in the region would make a good partner.
"We always had a lot of respect for Harrision, having competed with them in Louisiana on a small scale. We decided to approach the company, and we made a deal that worked for both companies," said Baquet. "The two companies are owned by the same stockholders but operate separately because we wanted to take advantage of the best practices from each company to make both of us better."
For instance, the company's food service initiative cames from Harrision, while many quality control programs came from Imperial Trading. In addition, Imperial Trading had more experience with retail merchandising and setting planograms that help retailers see the most profit. Finding areas where one company can help another makes it the best of both worlds.
"Now we are a regional player," Baquet said. "That has given us better opportunities in negotiations with manufacturers to develop better programs for our retailers. Being the highest quality partner for our retailers is what it's all about."
The integral aspects of the company's marketing plan work to ensure it is a three-way win for retailers, manufacturers, and wholesalers. For example, the company develops cafeteria-style programs that allow manufacturers to view 10 programs and choose the vehicle they believe will result in the best sales.
Retailers were also looking for more ways to interact with Imperial Trading and manufacturers. As a result, the company now has two trade shows per year instead of just one. Those shows may be expanded further in the future because it is more economical and efficient for retailers to meet with a number of manufacturers as possible in a single day than to travel to separate locations.
Imperial Trading created Imperial University after requests from retailers saying it wasn't cost-effective to send every manager to annual conventions. Using the resources of the manufacturers and Imperial Trading itself, Imperial University sessions offer local industry education to retailers.
"That is a continuing effort to drive profits and sales. It's not just about informing retailers on what's out there; it's about informing them on what's out there and viable," said Emile Cantrell, SVP of marketing and purchasing. "Then we can show them in our university how to take it to market and grow their business."
As the company continues to evolve as a super regional distributor, there are certain adaptations that must be made, such as dealing with tobacco regulations. The company is trying to determine what the impact of those regulations will be, as well as what the C-stores of the future will look like. That is the reason the company is getting more involved in food service and novelty items, looking at anything and everything that isn't traditional to convenience stores.
"Convenience stores are generally behind the grocery industry," said Baquet. "We are trying to close the gap and bring the products and programs that retailers combine in grocery stores, supermarkets, and big-box stores into the convenience store arena."