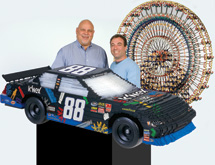 K'NEX is proud to call itself "America's Building Toy." Unlike other brands in the building toy market, the majority of K'NEX's plastic parts are manufactured in the United States, nearly 90 percent of its sales are in North America, and the company also distributes the American classics Lincoln Logs and Tinker Toys. 
When Larry Fanelle took over as senior vice president of operations for the company in 2007, he was surprised to discover how the company's supply chain model worked. Although the majority of the rods and connectors that make up the K'NEX building system were being manufactured by a sister company less than a mile away from its Pennsylvania headquarters, it still took the company more than three months to get its products from the factory floor to store shelves. Fanelle says this was due to a lengthy overseas detour that ostensibly saved the company money but also made it much slower to react to market trends. 
Tasked with the goal of streamlining the company's supply chain operations, Fanelle set to work to bring more of K'NEX's operations back to the United States. Even though working with domestic vendors can be more expensive than farming the work out to overseas companies, Fanelle says the value of being a mostly domestic operation far outweighs the slight increase in cost. K'NEX is proud to be the only U.S.-based manufacturer of building toys, and Fanelle says it's not just a patriotic choice, but a smart one, as well. 
Domestic Success
Fanelle says his first impression when joining K'NEX was that there was room for improvement in the company's production cycle. "When I came on board, they had kind of a strange supply chain model," he says. 
Plastic pieces were manufactured just down the street from K'NEX headquarters, but after those pieces were manufactured, they were shipped overseas for processing and then shipped back to the United States. "Because most of the parts were produced here and collated in China, we experienced excessive lead time both ways," Fanelle says. 
Shipping the pieces to China for collating was a cost-cutting move because Chinese vendors could do the work cheaper than domestic firms, but Fanelle explains that this put a crimp in the company's operations in other ways. Because it took more than three months for pieces to get to China and then come back, K'NEX could not react to trends in the marketplace as quickly as some of its competitors. This was especially noticeable during the holiday season, when K'NEX would be unable to capitalize on a hot trend that developed late in the year.
To help cut down the amount of time it took for the company's products to get to store shelves, Fanelle and K'NEX started looking for domestic vendors that could provide the same service as those based in China. Even if they were slightly more expensive than their overseas counterparts, Fanelle says, it would be worth it to add some flexibility and responsiveness to K'NEX's operations. "If we could afford to do [collating] at 8 to 10 percent more than China, we could justify bringing it back to the United States," he says. 
Stronger Framework
By finding U.S.-based vendors that could supply the same service as those overseas, K'NEX has significantly reduced its lead-time, which Fanelle says is very important for the company. Three U.S.-based national accounts make up nearly 65 percent of the company's business, and doing as much as it can domestically makes it more responsive to its key customers. 
Fanelle says being more flexible and responsive also helps K'NEX stay on top of the hottest trends, which has become more important now that the company produces licensed building sets. Fanelle says it is now easier for K'NEX to produce sets based on trendy brands like Super Mario Bros., Angry Birds, and Pac-Man in time for the holiday season. 
K'NEX continues to look for ways to improve its processes and keep as much of its operations in the United States as it can. "When you're talking about competing with China domestically, it's all about price," Fanelle says. 
Manufacturing through its sister company helps K'NEX save money through its extensive use of automation, Fanelle explains. The company also has consolidated some of its printing operations and grouped certain projects together to take advantage of economies of scale and eliminate unnecessary steps along the way. 
"You can't afford to touch the product because every time you do, it adds cost," Fanelle says,  adding that automation and economies of scale are crucial for helping K'NEX keep its production in the United States. "Of course, we look for partners that fit that model." 
Fanelle says that when he started with K'NEX, the majority of the company's post-production work was done in China, but now only labor-intensive items are done overseas. Some licensed products require specific injection molding and art deco capabilities that are hard to find domestically, but overall Fanelle says the company is committed to strengthening its position as "America's Building Toy" in the coming years. ­­­