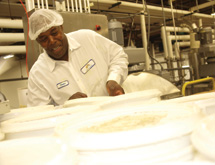 Lawrence Foods has been around for more than a century because it listens closely to its customers. Since it was founded in 1890, the Elk Grove Village, Ill.-based broadline manufacturer of premium bakery ingredients has grown by developing innovative product and packaging concepts for an array of large and small retail bakery operations, commercial manufacturers, foodservice operators and distributors across the country.
"As a broadline bakery ingredients manufacturer, we don't make finished consumer products," says Marc Lawrence, president, COO and general counsel. "We make the components for finished goods. Our product categories range from fruit fillings and icings to specialty bakery and confectionary items and glazes. We have clients across the country, and even do a limited amount of international work."
Footprint for Success
The company operates a 175,000-square-foot plant in Elk Grove Village, with a staff including a chief chemist, food technologists and master bakers. The facility includes a working baking environment operating as part of its testing laboratory. 
 Lawrence Foods specializes in fruit fillings and icings. Its product catalog includes cream fillings, dry mixes, fondant, fruit fillings, glazes, icings, nutrition bar components and savory spreads. Its customer base includes in-store supermarket bakeries, foodservice operators, consumer packaged goods commercial food manufacturers and wholesale bakeries. In recent years, the company has seen a significant uptick in work done with consumer packaged goods manufacturers.
 The company doesn't own interests in orchards or agricultural processing plants. Instead, it buys ingredients from external partners, looking for fresh, high-quality products from season to season. More than 90 percent of its ingredients come from partners located less than 300 miles from its manufacturing plant.
 "On many products, we have an industry-leading lead-time of five business days," Lawrence says. "We run a kosher-certified factory, and our suppliers must be very reliable so we don't break our commitment to customers."
 Not surprisingly, a great deal has changed about the company in the decades since it was founded. Lawrence Foods had created a strong wholesale distribution service by the 1940s, and it was a bakery ingredients manufacturer and distributor, and full-service foodservice provider, by the 1960s. In the 1980s, Lawrence Foods sold its distribution business to Sysco Corp. It remains one of Sysco's bakery ingredients supplier.
 "Now, depending on the channel, we partner with distributors or redistributors to get our products out," Lawrence says. "We use a core group of third-party logistics providers, and we also work with our customers to determine whether it makes more sense for us to deliver to them, or for them to pick products up." 
 Lawrence says bakery ingredients distribution tends to be a niche market and a small percentage of the overall broadline distribution category. Therefore, it is important that the company works closely with customers to determine economic lot sizes. Lawrence says that some customers own their own central distribution centers and can consolidate product to those facilities. 
For the smaller customers that don't possess that capability, the company works with them to devise a portfolio that makes sense and utilizes maximum load increments to achieve the lowest possible transportation costs. "A lot of that work falls on our salespeople to insure that customers understand the breadth of our product line," Lawrence says.  
Ways to Improve
Lawrence Foods uses a modern ERP system that provides visibility to all internal teams, from production planning and manufacturing to supply chain and beyond. The company uses internally generated metrics to ensure that it is appropriately measuring its effectiveness on everything from fill rates to inventory turns. It also ensures that all employees and teams are aware of what is important to its customers. All of this is critical to the company's long-term viability.
"That helps us fill customer orders," Lawrence says. "We've also invested extensively in training as a means of strengthening the company's culture of continuous improvement. Our systems are only as good as the users. If everyone takes ownership of the responsibility for creating customer satisfaction, we can generally work through the unavoidable business challenges that impact all companies in a manner that best serves our customers."
 The biggest challenges facing the company are always connected to ingredients. Market fluctuations impact pricing and availability, and a key objective of the business operations is to help customers anticipate and minimize the economic impact of supply disruptions. 
 "Continuous improvement has been a critically important element of our success, particularly over the last several years," Lawrence says.
"Employee initiated changes have been the critical factors responsible for the maintenance of product pricing that has been a great deal more moderate than the dramatic fluctuation of market commodity costs," he adds. "In addition, such changes have allowed us to modify processes to ensure we maintain industry-high order fulfillment performance, which over the last five years has averaged 99.98 percent in a made-to-order environment. As a manufacturer, our priorities are execution, execution and execution." ­­­