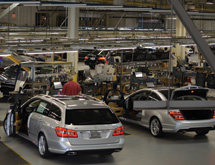 Headquartered in Montvale, N.J., Mercedes Benz USA is responsible for distribution, marketing and customer service for all Mercedes Benz products in the United States. One of the most respected brands in the automotive industry, Mercedes Benz USA has gone to great lengths to improve its supply chain to help optimize its performance. 
"It is challenging to get all the cars we need with all the options, and this is a growing market," says Rory Anne Hepner, general manager of vehicle distribution and logistics. Hepner manages retail vehicle distribution, imports and logistics, distribution systems, allocation and ordering, as well as vehicle preparation centers in Baltimore, Los Angeles, and Brunswick, Ga.  
"We then must have the allocation system in place to move the cars to where they need to go," Hepner says.
On the Upswing
Mercedes Benz USA has seen a period of growth recently. In 2012, the company sold 305,072 passenger vehicles in the United States, which represents year-over-year growth of 15.4 percent. 
Many of the Mercedes Benz vehicles coming into the United States are brought in by ship. Hepner works closely with her counterparts in Germany to devise a shipping schedule that allows the company to take advantage of market conditions and hit quarterly and annual targets. 
In addition, the company has plants in Alabama and South Carolina. The South Carolina plant manufactures Sprinter commercial vans, while the 3,000-worker Alabama plant manufactures luxury SUVs and crossovers. In 2012, the Alabama plant made more than 180,000 vehicles, a record for annual production at the plant. It has also undergone an expansion project to increase its capacity and allow it to begin producing C-Class sedans. 
"The facility is responsible for building those vehicles and distributing them domestically and to various parts of the world," Hepner says. "So we're not just dealing with distribution in the U.S.; we're dealing with exports, too."
To make sure domestic dealers have the products they need, the company has a priority system that oversees inventory. Mercedes Benz USA focuses on sold cars, and dealers let the company know when sales are made. Those sales then get precedent in processing and delivery. 
"We have a robust KPI system and incentivize our carriers to reach certain performance levels," Hepner says. "That helps us to be responsive to dealers, end-customers and internal departments. Once a car is loaded on a truck or railcar, it then goes into our tracking system, which dealers can see. This provides better transparency to our dealers and customers so that we can meet and exceed customer expectations." 
Footprint Enhancement
Mercedes Benz USA's supply chain operations have been strengthened in recent years thanks to changes made at the facility level. For example, in 2008 the company moved into its vehicle preparation center in Baltimore to help prepare for the future. 
"That facility will allow us to handle growth over the next five to six years," Hepner says. 
Additionally, Mercedes Benz USA moved out of a vehicle preparation center in Jacksonville and built its Georgia facility. Next, the company will move into a 1-million-square-foot vehicle preparation center in Long Beach, Calif.
"In our strategy, it is Mercedes Benz USA's staff that brings cars in, processes them and gets them out to the dealers," Hepner says. "We think it is an advantage to have our own employees involved in inspecting, processing and preparing MB vehicles for the market."
Hepner says the set up provides the company with flexibility, and she believes the employees take pride in their performance. Because the company has that level of control over vehicle preparation and processing, and because it has made significant investment in its vehicle preparation centers, Mercedes Benz USA can live up to its commitment to have the resources and infrastructure in place to support growth in the United States. 
"We've made infrastructure improvements and added manpower in Alabama to prepare for the C-Class from a logistic standpoint," Hepner says. "We've also developed better relationships with carriers, providing them with information on what we are doing with our products and our plans. 
"We're working together and learning about each other's challenges so that it is a better partnership going forward. All of that has made a big difference over the last few years."
Looking ahead, Mercedes Benz USA will continue to take the pulse of the market to be sure it is in tune with what products are hot or not. Hepner says Mercedes Benz SUVs remain in high demand, so the company must continue to plan meticulously to get what it needs from plants. She says 98 percent of each product that is produced every month is sent out, which takes a lot of planning and communication with plants, carriers and dealers. 
"My sales background helps there, as I can look at inventory and supply and try to determine what the dealers will want and what we needs to be given priority," she says. 
Additionally, the company also will be focused on getting the new California vehicle preparation center up and running. Hepner says the new facility is critical because it will become a regional campus and expand Mercedes Benz USA's presence in Southern California, one of its top markets.  
"We will continue to make sure that we have the staff and processes we need to operate in the most efficient way possible," Hepner says. ­­­