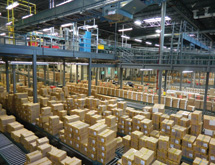 With a history that extends back to 1907, Neiman Marcus has an extensive legacy and a strong brand identity. Today, its supply chain operations play a critical role in the organization's ability to maintain its strength and growth.
"As in any organization, especially in the specialty retail sector, our customers expect high quality merchandise and exceptional service," says Jill Barron, vice president of supply chain. "Supply chain plays a large role in all of that."
Today, the Neiman Marcus portfolio includes Neiman Marcus and Bergdorf Goodman retail stores, Last Call and CUSP, as well as an extensive e-commerce business. The organization has its own distribution centers in Pittston, Pa., and Longview, Texas, which serve the brick and mortar stores, while fulfillment centers in Dallas serve the online business. The company utilizes two freight consolidators, one on the East Coast and one on the West Coast, as well as a fleet of leased trucks from NFI. 
"That represents about 70 percent of our freight," Barron says. "About 30 percent is small-package carrier or LTL, as well as a small volume of full container loads." 
Among the more pressing challenges that have been facing Neiman Marcus' supply chain operations in the last few years have been related to omnichannel strategy, which Neiman Marcus refers to as online-to-offline, or "O2O." In the last two years, Neiman Marcus has embarked on an O2O strategy that enables its customers to buy any product, any time, from any place and from any device. 
"That has been the major supply chain challenge for us," Barron says. "Our systems infrastructure has historically been segregated, and we run our business today on multiple legacy systems and have three separate group buying teams. Inventory visibility has been our top priority, and then we've focused on knowing what is the best way to fulfill needs. That has been a big logistic challenge over the last two years, and we've been trying to optimize all of those channels." 
Investing in Improvements
Neiman Marcus has been making investments into facilities and technology to leverage improvements. Most notably, the company opened its new facility in Pittston, Pa., earlier this year. Previously, it used a third-party distribution provider on the East Coast. 
The Pittston distribution center is a 200,000-square-foot facility. Opening the location provides the company with greater control and the ability to react quickly to rapid changes that are happening in the supply chain. The Pittston facility was outfitted with state-of-the-art material handling equipment and designed to be better able to cross-dock merchandise from vendors. 
"In addition, we have mandated EDI with all of our vendors and are asking them to provide us with floor-ready merchandise," Barron says. 
On the technology side, the focus has been on Neiman Marcus' EDI mandate. Vendors transmit advanced shipment notices to the company, which helps the company verify accuracy prior to shipment arrivals. The EDI mandate's positive impact on order accuracy and throughput has been important for both distribution centers, but particularly in Texas. A nearly 20-year-old facility, the Texas facility's layout is different than the more modern Pennsylvania facility. The EDI mandate – along with equipment upgrades – is helping the Texas facility become more efficient. 
One of the more important technology investments in the Texas facility in the last few years was the implementation of "tunnel or multi directional scanners." Previously, the facility used overhead scanners, which required the distribution center to print a secondary label placed on top of the carton in order to route the carton properly within the distribution center.  
"The multi-directional scanners have enabled Neiman Marcus to utilize the GS-1 side placed labels to route cartons, instead of investing time, resources and cost to print secondary labels," Barron says. 
"We also added a tilt tray sorter and a hanger sorter in Texas so vendors could ship in bulk. That technology allowed our vendors to ship items addressed to a single bulk store, and it allows our buyers to distribute those goods to the store as soon as received, based on trends and an item's selling history." 
Close Connections
These initiatives have required Neiman Marcus to work closely with vendors on compliance. The company is part of the Retail Value Chain Federation (RCVF), which helps it to stay in contact with vendors and find ways to collaborate through online forums and conferences. 
"Our compliance managers and myself also travel to visit vendors and their facilities to talk to them about changes or issues in the supply chain," Barron says. "We provide scorecards to vendors to help give them tools they need to resolve any issues. At the RCVF conferences, we put together a Neiman Marcus update session and invite vendors to come to that and give them updates on our facilities and requirements."
In addition, the nmgops.com operations portal is a tool designed to help vendors understand what is required to do business with Neiman Marcus.
"It covers everything from transportation, logistics, shipping and packing to invoicing, EDI and international and government requirements," Barron says. "Between that website, conferences and one-on-one personal visits, we stay in touch with vendors and create that collaborative relationship that helps both parties achieve their goals." 
Looking ahead. Neiman Marcus knows that the O2O strategy will continue to be a challenge from a logistics network standpoint. The company also will be embarking on a significant systems overhaul this fall as it begins to eliminate its legacy systems and replace them with a single merchandising system, integrated with their Manhattan WMOS system. Whether working with large or small vendors, Neiman Marcus is committed to creating strong working relationships that will work together to make sure our customer is well served. 
"Our customers expect us to be first with product from top designers and to give them exceptional service," Barron says. "The supply chain team works to make that happen in the most efficient and cost effective way possible." ­­­