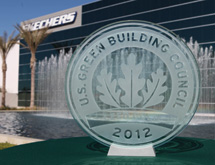 As one of the world's leading manufacturers of footwear products, Skechers takes the extra steps to ensure its shoes meet the comfort and durability needs of its customers. However, there are times when extra steps mean nothing but extra work, and Skechers USA found itself in that situation with its supply chain several years ago. 
According to Senior Vice President of Distribution Paul Galliher, the company's rapid growth in recent years created a situation where it had spread itself too thin from a facilities standpoint. To alleviate the headaches that developed from that, Skechers USA embarked on a plan to consolidate all of its distribution centers in North America into one mega-facility. 
Galliher says the new facility has made a substantial difference in the efficiency and speed with which Skechers supplies its customers in North America. He says the new facility is a point of pride for the company because of the value it places on being efficient and quick to react to customers' needs. 
"We have a very lean organization, and we are extremely flexible," Galliher says. "We have been able to be all things to all people. In other words, we can ship 100,000 pairs to a customer in bulk or we can do e-commerce fulfillment just as efficiently one pair at a time."
Back and Forth
Galliher says the problem, ironically, was a consequence of the company's success. Skechers USA first took notice of the problem in 2006. "At the time, we had four buildings in Ontario, and within a year we had five buildings in Ontario," he says. "Sometime in late 2007, we even had a sixth building for six months." 
Continually adding distribution centers meant Skechers USA was gaining market share, but it also meant the company's supply chain was becoming more complicated than it needed to be. "Territorially, we were expanding," Galliher says. "We were all over the place, and in that kind of environment we wind up being our own best customer. We were constantly shifting product from building to building." 
Under the old arrangement, retailers would choose which distribution center they received product from. This meant product at one distribution center might need to be relocated to another distribution center to fill an order. Galliher says this arrangement proved to be very inefficient and costly for Skechers USA, so the decision was made in 2007 to consolidate all of its North American distribution centers into a single facility. 
Big Impact
Skechers USA moved into the new facility in Marino Valley, Calif., in 2011, and Galliher says the impact on the supply chain efficiency has been overwhelmingly positive. Built around lean principles, the new facility features extensive automation to reduce labor costs and inefficiencies. 
"We've gone from a normal operating environment where we had roughly around 980 people on site in Ontario to less than 500," Galliher says. "The savings are just astronomical." 
The $80 million facility is expected to pay for itself in approximately five years through cost savings and increased capacity, Galliher says. Because it no longer needs to ship product between distribution centers, it saves more than $2 million a year in added transportation costs. 
Overcoming Obstacles
Although the consolidated distribution center has been a positive change for Skechers USA, getting to that point wasn't easy. According to Galliher, the company encountered a series of obstacles that threatened to put the project on the shelf. However, thanks to the company's flexibility and resources, it was able to negotiate these obstacles successfully. 
First of all, the company located the right property for the project just as the worldwide financial crisis began to take hold. 
Skechers USA's original plan was to simply lease the building from the developer, but the change in the financial climate at the time meant changing gears. Skechers USA chose to partner with the developer in financing the project in order to get it done, and now the company owns half of the building. 
Skechers' new North American facility means the company is better equipped than ever to serve its customers in the United States and Canada, but the company's global reach means there are plenty of other opportunities for it to hone its edge on the supply chain side. Galliher explains the company recently purchased a Japanese distributor to give it a stronger presence in the Pacific Rim, and Skechers continues to seek out new opportunities in areas including Eastern Europe and Argentina. 
Even though operating in so many different parts of the world means dealing with multiple situations, Galliher says Skechers is more than suited to deal with them all. ­­­