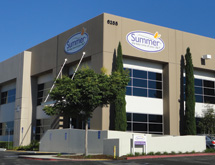 Summer Infant Inc. has a strong legacy that dates back to its creation by founder William Lockett III and the original Bouncy Seat in the mid-1980s. In 2001, current CEO Jason Macari purchased the company and began taking Summer Infant in new directions of product development.
The company has maintained a commitment to developing safe and innovative products. Today, its product portfolio spans the spectrum of infant needs, from bath and potty, nursery, and safety and health to monitoring, gear and travel.
"When we began developing other juvenile products, we started with video monitors and bedrails," says Joe Mabardy, vice president of operations and logistics. "We have grown a lot since then."
As Summer Infant's product line has diversified, so have its sales channels. The company's products can be found in major retailers such as Babies 'R Us, Walmart, Target, Home Depot, Lowe's, and Amazon.  Its products are sold all over the world, and it has warehouses in the United States, Canada and the U.K., working with second-party logistics providers in Australia. 
Summer Infant outsources all manufacturing, although design, sales and distribution is internal. When the company looks for manufacturing partners, it tries to find vendors that can dedicate a majority of their operations to Summer Infant. Currently, it has manufacturing partners in California, Vietnam, Taiwan, China and Israel.
"We look to find high-quality suppliers," Mabardy says. "All of the factories we work with must go through vigorous social and safety compliance auditing."
Working closely with retail partners is important to Summer Infant. It collaborates with retail partners to understand issues like product sell-through, the number of stores a product will be placed in and determining pipeline quantities. 
"We have close relationships with all of our customers," Mabardy says. 
Efficiency Improvements
Some steps taken to oversee its supply chain focused on technology. Several years ago the company implemented Demand Solutions for forecasting and inventory planning. Also, the company has long utilized Microsoft Great Plains as its ERP platform, and it continues to look to enhance its functionality. 
"We saw there were some modules we could add to Great Plains, like the Container Management add-on, and SalesPad to help us on the ordering and allocation side," Mabardy says. "We also implemented the inbound side of RedPrairie as our warehouse management system. This fall, we will implement the outbound side." 
In addition to enhancing its technological infrastructure, Summer Infant created new positions and brought in key people, such as an import compliance manager and logistics coordinator.
Another area of change  is freight-forwarding. In the past, the company dealt with one provider. Now it has several  freight-forwarding partnerships that help it with proactive suggestions for improvement. 
"Using multiple providers has brought us competitive rates, as well as ideas for ways that we can use their systems to improve," Mabardy says. "We now electronically transmit our data to them via EDI, and we are in process of getting EDI feeds back from them."
Life on the Web
Summer Infant has been making investments designed to support its growing and changing online business. In 2010, Summer Infant opened a 500,000-square-foot distribution center in California. 
"We previously had distribution facilities in a few places," Mabardy says. "After we consolidated, we set up our e-commerce area with conveyor belts and flow racks  to satisfy the growing e-commerce business." 
Summer Infant's updated distribution center allows the company to act as a drop shipper. If online orders come in through an outlet such as Babies R Us, the distribution center can handle sending the order directly to the consumer.
Another change in e-commerce operations has been the creation of a Summer Infant online store. "We aren't trying to compete against our retail partners. ­­­­­We are making products more available to consumers," Mabardy says.
Challenges are ahead, as Summer Infant will start outbound implementation of RedPrairie in its California distribution center. RedPrairie implementation wil occur at its Toronto and U.K. distribution centers, too. 
Summer Infant also acquired soft goods, furniture and feeding companies in the last few years, and could expand through acquisition again. It is looking to expand its Far East vendor base and to become fully EDI with freight forwarders. 
"We will continue our focus on superior innovation, brand building, and operational excellence," Mabardy says. ­­­