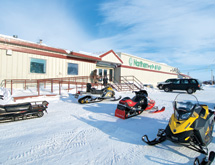 If there's any company that has experience in blazing trails in North America, it's The North West Company. With roots dating back to 1668, the company followed European settlers to the New World and has been a part of life in North America ever since. The company's tradition of exploration continues to serve it well today, as The North West Company is one of the leading retailers focusing on underserved communities in some of the most remote places in the Western Hemisphere. The company's stores can be found in northern and western Canada, rural Alaska, the South Pacific and the Caribbean. 
Naturally, serving those remote areas can be a true logistical challenge for any retailer, but Vice President of Logistics and Supply Chain Services Michael Sorobey says The North West Company has been meeting those challenges successfully for hundreds of years. "We've been managing it for such a long time that it's become part of the culture and part of how we do business," he says. 
And how The North West Company does business from a logistical standpoint is unlike any other retailer in North America, with nearly every mode of transportation put to use in getting goods to where they need to be. Despite the challenges that come with such an elaborate operation, Sorobey says The North West Company is known for doing it right. "I would say our strengths are that we're able to provide really good on-time delivery and good performance to very, very hard to get at markets," he says. 
Adverse Conditions
The North West Company's Canadian operations are centered around its distribution center in Winnipeg. From there, all of the general merchandise stocked at its stores originates. For fresh and frozen products, the company relies on third-party distributors, and another facility in Edmonton helps the company serve western Canada. Its international division supplies its Alaska stores from facilities there and in Washington state, and The North West Company also operates a chain of warehouse club stores in the Caribbean and the South Pacific islands. "So that's a massive geography that we have," Sorobey says. 
The majority of the company's business is conducted in the extreme northern portions of the Canadian Provinces and Alaska, which means often there isn't the kind of infrastructure carriers take for granted further south. Also, enduring the harsh conditions is not for the faint of heart. "It's a different world up north, and we've been able to experience all the various extremes," Sorobey says. 
To take on the grueling conditions, The North West Companies relies on virtually every mode of transportation available. Not only does the company use over-the-road trucking, but also air cargo, ice road trucking, river barge and by ship. Sorobey says it's not uncommon for shipments to be slung by helicopter over rivers during freeze-up and break-up that normally have ferries carrying loaded trucks across them. During the winter months, trucks will move across this body of water over an ice bridge, which is similar to ice roads that span across larger bodies of water.
Full Visibility
Getting its products to nearly 180 stores by these varied means is challenging, Sorobey says, but ensuring that everything is where it needs to be at all times involves more than simply loading it onto a vehicle. "I would say the biggest challenge that we've had is just the visibility within the network," he says, adding that with some of the distances The North West Company has to cover, shortening the length of time product spends in the network before it reaches stores is a high priority. "Visibility is something that has come up in any supply chain that I've been involved with." 
One of the ways the company has worked to alleviate this recently is the implementation of transportation management system software by Oracle. Sorobey says the company is rolling out that system right now, with additional track and trace capabilities provided by another software platform. The system is web-based, meaning stores will be able to access a portal from any computer and get up-to-the-minute information about where their shipments are. "Anything that leaves our facilities will be tracked, whether by pallet or by case, all the way to the store," Sorobey says. "It'll provide advantages not only for the company, but also for our carrier partners."
The enhanced visibility created by these systems will make it possible for The North West Company and its 3PL partners to make adjustments to shipments on the fly. For example, the company will be able to identify perishable items on shipments that have been delayed and reprioritize those items onto a different mode of transportation. 
Sorobey says transportation management system software will be a major component of The North West Company's logistical plans for the near future, and adds that it will only serve to bolster the company's already-strong capabilities. "It gives us the opportunity to know exactly where product is," he says. ­­­