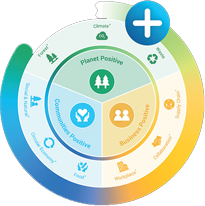 According to Dr. JJ Freijo, Brambles' Global Head of Sustainability: "For us 'regenerative' means restoring, replenishing and creating more value or capital for society and the environment than the business takes out. The business understands its responsibility around this ambitious vision which is why we are also seeking to account for both the Natural and Social capital of our 2025 programmes and validate our progress towards regenerative position."
Brambles shared its achievements over the past five years in its annual Sustainability Review released in September where it also unveiled its new targets, seeking to create a nature-positive business with re-use, resilience and regeneration at its core. This innovative sustainability strategy sees an evolution from Brambles' 2015 Better Planet, Better Business, Better Communities programme to a Planet Positive, Business Positive and Communities Positive strategy. In essence it's about doing more good, creating more positive outcomes rather than being 'less bad' by only reducing negative impacts.
Brambles believes this vision is ambitious and, right now, it admits it doesn't have all the answers. However, through the engagement of its people and commitment of its partners the company will collaborate to find the solutions. As a pioneer in the circular economy, Brambles is already well positioned to succeed in this new context and importantly, it has already begun.