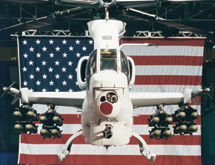 Whenever a person takes a flight, there's a strong chance they are riding on a plane with parts from Triumph Group Inc. The firm manufactures and designs aerospace structures, systems and components for "most every aircraft manufacturer," says Darren Hill, director of supply chain management and maintenance operations of Triumph Fabrications Hot Springs.
These include firms such as Boeing and Lockheed Martin Corp., which all expect "a quality part, on time at a good price," he says, noting that Triumph Group also serves the U.S. military.
The company has its roots in Alco Standard Corp., a conglomerate of the network of companies in multiple industries. By the early 1990s, Alco had acquired aerospace and specialty manufacturing companies.
In 1993, a group acquired the 13 companies in this group, forming Triumph Group. Since then, it has enjoyed aggressive growth, thanks to its strategy of acquiring established companies, Hill says. "Our largest acquisition of Vought Aircraft in 2010 doubled the size of our company," he says. 
Triumph Group employs a staff of around 13,000 people and has 64 locations worldwide. Hill says the company generated $3.7 billion in sales in its most recent fiscal year. Additionally, "Our stock has done really well," he says. "We were named the one of the best [companies] to invest in by Standard & Poor's." 
Strong Suppliers
Triumph Group has the backing of a strong supplier base, Hill says. "They fill their orders and give us quality products on time," he says, noting that Triumph Group aligns itself with dependable suppliers who operate under the same values of integrity, innovation, quality service, flawless execution and commitment, and maintain strong relationships with them. 
"We approach it as more of a partnership than a supplier/customer-type [of relationship]," he says. "The company has managed this through initiatives such as vendor-managed inventory programs, which allows the commodity experts to manage their products and supply our company on demand while allowing us to focus on manufacturing aerospace products. We also work with our supplier base to help them become more efficient."
The company also has Internet-based supplier management programs that give "suppliers the opportunity to look at their performance," he says. "It gives them input. They can monitor how they are performing and have access to several resources."
 Taking Pride
A five-year veteran of Triumph Group, Hill previously spent 22 years in the U.S. Air Force, where he worked in supply chain management. "I took a lot of things I learned in the Air Force and I tailored and implemented them in Triumph," he says. "We standardized our procurement, warehousing, shipping [and] transportation processes along with asset management and contract management."  
He adds that the company's autonomy over its divisions has made it successful. "Each separate company has its own autonomy to make decisions," he says, noting that it prefers to not use a corporate umbrella policy. Triumph currently has three divisions and each separate company operates on its profits and losses.
He adds that he is proud to work in the Triumph Group and how its employees support the end-result of its work. "We take [pride] in providing quality products that fly," he says. 
Additionally, "We provide the military with critical spare parts to protect the freedoms of America," he says. "Our employees have a huge, [direct role in] that."Hill sees more growth and acquisitions ahead. He explains that this goal will be accomplished through ongoing "investments in our employees, technologies and modernizations." ­­­