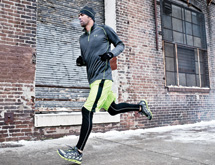 As a player in the sportswear industry, Under Armour Inc. puts a premium value on teamwork. The maker of athletic performance apparel, footwear and accessories has grown at 20 percent year-over-year and was founded in 1996 by former University of Maryland football player Kevin Plank. The company's unique fabrics and designs are made to make all athletes better.  
Its lightweight HeatGear fabrication wicks perspiration from the body, helping athletes keep cool and dry during the hot months. ColdGear helps keep the body warm during the winter months without the bulk of heavy layers. Using unique apparel technology, Under Armour's footwear, apparel and accessories become an integral part of the workout and not a hindrance to it. In a way, it's how the company itself strives to operate. 
Breaking Down Barriers
Instead of divisions operating as separate entities, Under Armour's goal is to work as a cohesive unit where each department knows how it fits into the company's larger picture. Within the supply chain, Chief Supply Chain Officer Jim Hardy says Under Armour has broken down barriers and put in lines of communication. 
"The first order of business when I joined the Under Armour team was to integrate our supply chain," Hardy says. "It had siloes in it and was broken up in a way that different functions reported to different leaders. Now it's consolidated into one leader and we are able to drive more integration into the supply chain. We made improvements to operate as one team with a common scorecard and common metrics. Now we're at the point where we're setting priority strategies to drive the supply chain to higher levels for performance and efficiency."
Under Armour's supply chain, which is housed in Baltimore, including two distribution centers – one in Baltimore and another in Rialto, Calif. – began holding monthly accountability meetings. The conversations have resulted in each team member gaining a complete picture of how Under Armour's supply chain works. Instead of seeing a portion of the supply chain, teammates can now see how their actions affect or are affected by another portion of the supply chain. It's also given the team the ability to apply metrics and begin tracking performance against a set scorecard. 
"We are beginning to understand the implications of one metric in an area like planning and how that metric plays out in terms of efficiency and effectiveness downstream to sourcing," says Hardy, who has been with the company for 16 months. "We're finding touch points where we can pinpoint key metrics that can predict success downstream in the supply chain. We are now able to anticipate business needs and as a result we can see problems faster and sooner allowing us time to react."
The company has people and processes in place to support these metrics and it's also investing in technology that aligns with its new business model. Under Armour implemented Logility software to organize its planning system. The company has gone live with the software to support downstream functions such as manufacturing scheduling. In September the company will go live with Logility software to support upstream planning functions such as demand forecasts. 
The company is also looking to up its game in the metrics field. Hardy says the company is beginning to benefit from its first set of metrics and now it's looking at tier 2 metrics that will allow the company to "be more predictive and give us more headlights as we look into the future."
Supply Chain of Events
The new measures aren't just good for Under Armour, but for its strategic partners, as well. The changes in Under Armour's supply chain allows the company to give 12- to 18-month forecasts to third-party manufacturers who handle all of Under Armour's production. About 70 percent of its production is sourced from strategic long-term partners. The company meets with these partners once a month to go over scorecards, discuss performance and talk about Under Armour's market performance and projected sales. 
Hardy says meeting face-to-face allows Under Armour and its partners to develop a shared strategy. As the company shares its growth projections with key suppliers, those suppliers can prepare for the future and invest in additional capacity if needed. The communication creates a trickle-down effect that has helped Under Armour lower replenishment lead times by 30 percent. 
"It's allowing us to see past the constraints of third-party manufacturing much sooner," he says. "It's allowing us to give forecasts and look forward to start planning capacity and demand changes. We are a 20 percent growth company so it's important for us to give suppliers visibility into the growth we anticipate. And it's allowing us to start making some very educated commitments on things like fabric much earlier, which allows our supply chain to be more nimble. 
"We can go to mills and produce fabric in advance, which allows our cut-and-sew manufacturers to be faster because they don't have to wait on fabric," Hardy continues. "It takes time out of the lead time so we can go to market faster." 
Which is a good thing, because as Hardy explains, the market is hungry for new products. The Under Armour brand was born out of innovation. It took the idea of a simple t-shirt and designed a product to wick sweat away from the body, support muscles and keep athletes cool and dry. Now 17 years later, Under Armour has an array of athletic apparel. Alter Ego, one of its recently launched lines, features Under Armour compression t-shirts and football gloves with a superhero spin. Hardy says the Superman-, Batman-, Iron Man- and Spider-man-inspired gear has been a hit. 
"The biggest trend we're seeing is that consumers are really responding to innovation and to new ideas and concepts so we're finding that when we come out with new things, the demand is there for those products," Hardy says. "We took our base layer, which is a core product and we launched Alter Ego. It's leveraging the popularity of these Marvel and DC comic characters and integrating it into our core item. We are seeing sales go up dramatically." 
International Push 
The company's newest focus is to drive that innovation into new markets. Under Armour's revenue stands at 94 percent North American sales and 6 percent global sales. Under Armour aims to double global sales by 2016. Hardy explains the company is working with SAP to design an enterprise resource planning roadmap to grow in new markets. 
"We're using a SAP product called Business One that will allow us to conduct business much faster," Hardy says. "We are now in the process of blueprinting and getting the playbook set up for IT implementation to go live later this year. As a growth company, our goal is for our international sales to one day surpass our North American sales." ­­­