Halla Visteon Climate Control Corp.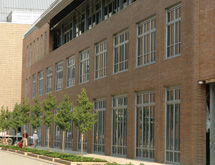 HVCC is a provider of automotive thermal energy management solutions. The company's products and services control cabin temperature in vehicles and provide powertrain cooling solutions using its state-of-the-art technologies. It has become the world's leading company in its market because of its technological capabilities and its ability to achieve a high level of customer satisfaction.
The company in its current form began to take shape earlier this year when Visteon Corporation and its Korean affiliate Halla Climate Control (HCC) entered into an agreement to consolidate most of Visteon's automotive climate business into HCC. The transaction was first outlined in September 2012, and it was completed in the first quarter of 2013.
Already established as a leading global automotive supplier that designs, engineers and manufactures climate, electronics and interior products for vehicle manufacturers, Visteon continues to own 70 percent of HVCC. The transaction created the second-largest global supplier of automotive climate components and systems, and one of only two "full line" suppliers in the industry. HVCC is headquartered in South Korea. It has 34 manufacturing sites, four global technology centers and 14,000 people working in 18 countries. 
"Our company truly has global scope with a focus on global growth and customer diversification," says Curt Crippes, HVCC MP&L leader for the Americas. 
Smoothing the Edges
Although Halla and Visteon had a close relationship prior to the transaction, any organizational change of this magnitude is bound to come with challenges. Given the complexity and footprint of the business, HVCC has been focused on seeking efficiencies in its supply chain.
 Many of the challenges have been focused on data and its integrity, visibility and access. Just like any company in the automotive market, HVCC is dependent on its MRP system. "Any supply chain is highly dependent on the systems and tools that are in place," Crippes says. 
At the same time that HVCC is looking at the tools it has in place, it also is keeping an eye on outside challenges. It is important for the company to be aware of the economic challenges impacting the industry such as fuel surcharges, increases in fuel prices, vessel capacity on ocean liners, tightening restrictions in the airline industry and the aging of drivers in the trucking industry.
"We're facing a lot of those challenges and we need to make sure the supply chain is tight so we can offset those issues," Crippes says. 
With its transportation operations, HVCC is working to ensure it is utilizing an integrated and dynamic network so that all tools are available to optimize each load moving from place to place. Those tools also are helping the company determine what transportation mode is the right one depending on the component.
"All of our departments are integrated, such as purchasing, customs and manufacturing," Crippes says. 
On the customer delivery side, the OEMs typically pick up components at HVCC's docks. 
"We have various types of delivery methods," Crippes says. "We are EDI capable with all customers, providing us with daily, weekly, monthly and six-month visibility.  We ensure our manufacturing facilities and supply base are aware of customer requirements so the materials get to where they need to be and are not sitting idle." 
Another area HVCC always is looking to improve is its stable of distribution centers, and whether they should be wholly owned or managed by third parties. The company first attempts to project the size and scope of the operations that will pass through the distribution center. If it chooses to go to a third party, the company looks for key players, competitive costs and the best service. 
"We work closely with the vendors to make sure they understand our scope and needs," Crippes says. 
Pursuing the Future
The process to bring together the two organizations to form HVCC has been as efficient as possible. That is, because HVCC has been leveraging best practices from both sides of the organization since before the integration, the company continues to redefine processes and procedures as needed to improve its operations. 
HVCC will continue its pursuit of customer diversification and expanding its global presence. The company plans to keep launching new products and adding to its internal expertise, investing in R&D efforts and innovative technologies to suit the vehicles of the future. 
The company's supply chain organization is focused on aiding in these pursuits by continuing to seek avenues of improvement and leveraging its already existing strengths. As the company adds to its footprint and business volume, HVCC's supply chain team will strive to function at an optimized level and ensure it has information visibility and the access it needs to succeed. 
"We want to utilize the available tools so we can have the most dynamic and integrated supply chain possible," Crippes says. "We have a lot of supply chain experience in each of our regions and we will continue to leverage our expertise." ­­­