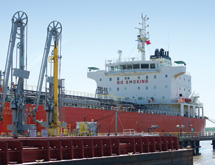 Although The Dow Chemical Company was once widely known for producing sought-after commodity chemicals and plastics, in recent years the company has transformed itself into a solution-driven science and technology company with a rich innovation pipeline. Dow's global supply chain is essential in supporting the company's innovation and commercialization objectives, as well as its growth and profitability around the world.
The diversification of Dow's product portfolio has increased the complexity of the company's supply chain by orders of magnitude over the commodity days. "Today, supply chain is a much more integrated part of our business strategy and day-to-day operations," says Jacqueline Faseler, director of Dow's global supply chain technology and expertise center.
Organizing to Optimize
Dow is structured into six operating segments, each of which has its own businesses, business leadership staffs, growth objectives and business supply chain organizations that focuses on supply and demand forecasting operations within that segment. These segments include electronic and functional materials, coatings and infrastructure solutions, agricultural sciences, performance materials, performance plastics and feedstocks and energy. Because of Dow's raw material integration, the company has also grouped inter-related businesses into "envelopes" to promote holistic decision-making, optimization and implementation of best practices.
Supply chain operations are also a vital part of Dow Operations, which consists of manufacturing and engineering, supply chain and environmental health and safety (EH&S) Operations. This combination of business / envelope specialization and company-wide standardization helps Dow broadly apply valuable lessons learned from one business or envelope.
Recently, Dow Operations implemented a simpler and more efficient organizational model that allows operations envelope teams to translate business strategies into operational priorities and improved results. "We make sure we're as efficient and integrated as we can be across our various product chains," says Don Taylor, Dow's corporate vice president for supply chain, environmental, health and safety operations and operations services. "Several of our businesses are co-dependent on each other and operate together."
Each of Dow's businesses works with a centralized procurement organization to negotiate contracts for raw materials from suppliers, a strategic process that can take between six to eight months for each material. The procurement group ensures optimization of materials between the businesses, Taylor notes.
All of Dow's businesses and envelope organizations are united by a global ERP system that the company is now in the process of upgrading. "Our ability to operate as a global company is one of our greatest strengths," Taylor says. "We are able to apply our expertise to systems around the world, which allows us to be very quick in responding to our business needs."
Prioritizing Efficiency, Safety and Reliability
Dow's global ERP system is one example of the company's emphasis on efficient operations and standardized processes. Recent years have seen Dow embrace the use of lean manufacturing methodologies as a way to eliminate waste.
"As a company, we've seen that we have to attack structural costs in the aftermath of the world economic crisis," Taylor adds. "We've leaned down our management structure, helped our businesses find ways to improve their operations through external manufacturing, and are continuously looking into and analyzing our contracts and the way we supply labor and services to our various businesses."
Environmental responsibility and safety are paramount among Dow's corporate priorities. "We see ourselves as a leader within the chemical industry and manufacturing in general when it comes to sustainability and safety," Taylor says.
Dow's supply chain addresses these priorities in part through a company-wide effort to prevent chemical spills in facilities and during transit. The company has also worked closely with Union Pacific and Union Tank Car on the Next Generation Rail Tank Car Project to help design an even safer and more secure rail car for the future.
Collaborating to Accelerate Progress
All of Dow's supply chain operations are supported by its global supply chain technology and expertise center, which works across all operating segments. The center's experts provide supply chain design input during new product launches and advise businesses on transportation, logistics and other needs.
"We are using a lot of advanced technology, such as 3-D modeling and simulation programs that help us determine production locations as well as where we need terminals and other facilities," Faseler says.
Effectively Applying Expertise
The technology and expertise center also assists Dow customers. Earlier this year, Dow supply chain experts helped a customer minimize its production of scrap and improve its operations overall, Supply Chain Innovation Director Martin Fernandes notes.
One of the center's biggest on-going projects involves helping to plan the supply chain operations of the largest single chemical complex ever to be constructed in one phase. The joint venture company, Sadara Chemical Company – is working with its parents, Dow and Saudi Aramco – Saudi Arabia's national oil and gas company – to build a complex comprised of 26 manufacturing units. The actual size of this site is 8 square kilometers. This project will begin initial production in 2015. By the time the complex becomes fully operational in 2016, it will produce more than 3 million metric tons of product.
Dow's supply chain personnel play a critical role in helping the company attain its goals. "As I interact with many of the new people we've hired in recent years, I see a lot of excitement about the work they're given to do," Fernandes says.
Taylor says he is proud of the level of knowledge and expertise all of Dow's staff bring to their roles. "By staying on the leading edge of technology, we're able to bring tremendous value to our businesses and our customers," he adds. "Everyone sees Dow as a very progressive company in the chemical industry when it comes to new technology and its implementation."