Chief Supply Chain Officer & Inventory Optimization Summit wrap-up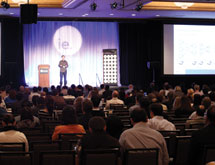 There is nothing more annoying than waiting on a delivery. 
If you order something online that you expect to arrive at a certain time, then it can be a huge inconvenience to make sure you are available to receive the delivery. Relatively often, customers find their efforts to be pointless when their parcel arrives late, or even not at all. This can personally affect their schedules and daily routines, because more often than not customers will take the day off work, arrange for a neighbor to take the delivery or even work from home.
Now think about that, but on an industrial scale. 
Tom France, director of logistics and transport for Caterpillar, presented at the Chief Supply Chain Officer & Inventory Optimization Summit in Chicago on Nov. 7 and 8, and if his Caterpillar products don't arrive to the customers on time, it can cost companies millions of dollars.
France explained how this is not just vital to the company that it is supplying to, but also to its business model. If an oil company has a diesel generator that breaks and costs them $1 million per day, they will more than likely just buy a competitor's model rather than wait for weeks for Caterpillar to replace the broken unit. This is why Caterpillar has a 48-hour part replacement pledge. 
The issue that arises with this is simply that with a global supply chain, it could often be almost impossible to know where exactly everything is at any one time. 
Therefore, France and his team took on the task of revolutionizing the supply chain to make it both resilient and flexible, allowing Caterpillar to have a supply network that would not only keep to this 48-hour pledge, but also nullify any issues if they did arise. 
To do this, they took to data and to the cloud. 
Through the use of a cloud platform, Caterpillar could track where any part was at any given moment. This meant that it could see who was responsible for any delays, who currently held the item and the likely delivery date. The system utilized a hub and spoke system that many working with supply chains will be familiar with. 
Utilizing these hubs as watchtowers, France was able to track where anything was at any time. This may not be revolutionary, but the ability for all of the watchtowers to have this information due to the cloud-based nature of this information is what has made this system so effective. 
One of the most interesting aspects of what France discussed is the difficulty in dealing with variability in supply chains and how the rule of averages does not make for effective planning. He demonstrates this with the apt metaphor of saying that a human could have an average temperature of 98 degrees, but if his legs are in a fire and head in a freezer, this does not make a healthy body. This is the same in supply chains, where variability holds the key to success or failure.
What the new system – called Global Material Management – offers is the ability to negate the extremes in the systems. If a delivery is running five days behind due to issues in a port, it will be identified early and plans can be put into place to speed up the process as soon as it hits port, from individual trucks or airfreight. 
Normally if this is the case and a ship docks five days late, a company would need to fly out emergency inventory using faster and vastly more expensive means to keep the order on time. The ability to forward plan means that Caterpillar can avoid this, make more deliveries on time and also save on additional inventory. 
The proof of this is in the pudding, with the new system cutting $250 million from its sitting inventory and $5 million from the inventory in transit. This is a considerable saving even for a company of Caterpillar's size. 
One of the unique ways of showing this data is through the use of visualizations, used by Caterpillar to quickly and simply demonstrate the data to a variety of hubs around the world. 
The prime example of how this was used to great effect was during the Japanese tsunami, which caused a huge humanitarian crisis as well as mass disruptions of supply chains. France noted that the front page of The Wall Street Journal had a picture of supply chain executives surrounding a white board and trying to repair supply chains that had been disrupted. This was something that was happening all over the world, but France could quickly see what was in the country at the time, what was on the way there and what needed to be there. He utilized the system to divert deliveries to more accessible areas and in this way, minimized the damage to the supply chain in an area that caused considerable damage to many other companies. 
This innovative use of technology has resulted in considerable success for Caterpillar. 
The next summit organized by Innovation Enterprise is on Jan. 23 and 24 in Las Vegas, where companies such as Nike, Philips and Energizer will be giving similar case studies about their innovative uses of technology in their global supply chains.