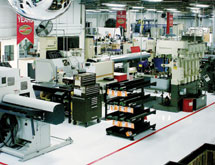 Building strong supplier partnerships and providing real-time access to on-hand inventory is key to streamlining the supply chain and providing improved customer service at Hartzell Propeller Inc.
Founded in 1917 when Orville Wright suggested to his friend Robert Hartzell that he use walnut from his father's company, Hartzell Hardwoods, to build aircraft propellers, Hartzell Propeller Inc. got into aviation component production at the dawn of the industry and has remained in the forefront of aviation technology ever since.
In 1988, Hartzell Propeller was sold to James Brown Jr. Today, the company is under the leadership of his son, President Joe Brown. His brother, Jim Brown III, is the president of the parent company, Tailwind Technologies.
The company now produces propellers for piston engines and turboprops with horsepowers from 160 to 2,200, along with spinners, governors and deicing products for general aviation, unmanned air vehicles and hovercraft. Propeller assemblies are predominately manufactured with aluminum blades, although the current trend is for lighter and stronger structural composite blades. Hartzell Propeller also repairs and overhauls aircraft and provides training, technical support and aftermarket parts.
Portal Power
Obtaining direct materials to manufacture and service propellers and ensuring the quality of these products are among the responsibilities of Suzan Phelps, Hartzell Propeller strategic sourcing director. She, Chris Mikolajewski, procurement specialist, and Sarah Huelskamp, buyer, have been involved in establishing the company's supply chain portal, which went live in June 2012.
The launching of this portal, Infor's Supplier Exchange, is the culmination of a six-year continuous improvement plan that prepared the supply base and the Hartzell procurement team to implement supplier managed inventory (SMI).
A value stream map of the current state of supplier management was created in 2007. It became very apparent where the opportunities for improvement were located. Supplier rationalization was one of these. The number of suppliers was reduced 45 percent between 2007 and 2010. "Seven years ago when I started at Hartzell, we had 315 suppliers," Phelps recalls. "We've reduced that to about 175, with the majority of our spend with 30 key suppliers. We also realized that we did not have a documented quality standard to which we held our suppliers accountable."
Hartzell has since issued a manual of supplier requirements that details the quality system, such as how to qualify a new part and how to control changes within the manufacturing process. "We wrote this manual so we had a common approach for all suppliers that would help us keep nonconformances down, as well as ensuring regulatory compliance," Phelps says. "We weren't doing enough proactive work. So the manual describes a process that suppliers follow to minimize the risk of nonconformance when they make a part for us for the first time, or when a change to the design or manufacturing process occurs."
The next step was to ensure that suppliers were getting up-to-date technical and quality data with their purchase orders. An initiative was launched to link drawings and specifications electronically to a part number that a buyer could attach to the purchase order with one click of the mouse, creating a "PO Package." Hartzell's product data management system was modified to provide this functionality. "I have all the relevant, up-to-date data available to me when I inquire on a specific part number," Phelps declares. "Compared with other places I've worked in this industry, that is definitely world-class."
Ready to Launch
"What we're doing is we're sharing our on-hand inventory balance on our routine items with our suppliers and giving them minimum and maximum values to keep our inventory between," Phelps explains. "So twice a day, they get a picture of our inventory position. Rather than wait for a purchase order from us, they just go ahead and ship product that keeps us within the goal posts. So it eliminates a lot of non-value-added work on our end, such as cutting purchase orders and managing the schedule changes driven by a typical MRP system."
The portal also facilitates discrete purchase orders for non-routine items as well as a document manager for drawings, specifications and other miscellaneous documents that can be uploaded by both the supplier and Hartzell.
Suppliers are required to publish an advance shipping notice (ASN) for each shipment. Hartzell's buyers can readily see what is in transit and use this information to support their internal customers. Additionally, suppliers attach their certification documents to the ASN and thereby eliminate the need to send hard copies that potentially can get lost in transit.
Implementation of the portal – which is based on off-the-shelf software called Supplier Exchange that Phelps saw at an Infor Users conference in 2010 – is continuing. Hartzell's information technology partner, Guide Technologies, including its president, Fred Cramer, Consulting Manager Kevin Fox and Programmer Jaysam Thanki, have been instrumental in launching the portal, Phelps says. "They are giving us the ongoing support to do some enhancements and final tweaking of this portal," she adds. 
"We have 13 suppliers using it today, and we have a total of 30 key suppliers," Phelps notes. "We want to get all 30 on the portal working to SMI signals by the end of next year." The software also has a supplier report card and other quality modules that Hartzell Propeller will implement soon, along with modules that will allow the company to eliminate all the documentation on paper that each aviation part must have.
"The paper weighs as much as the parts," Phelps maintains. "Eventual­ly, this portal will allow us to go totally paperless." Supplier report cards currently are handled through a monthly email. Future considerations include managing outside operations through the portal as well.
Better Communication
Hartzell recently held its third annual supplier conference to build partnerships with key suppliers. The conference is designed to emphasize the important role they play in Hartzell's success, recognize new certified suppliers, review performance metrics and provide a general business update on the general aviation market.
At the first conference, the portal was introduced to give the suppliers a heads-up as to what lie ahead and pave the way to implementation. Most recently, the first pilot supplier provided a very positive testimonial to the benefits that company has experienced since the launch in 2012, which in turn spawned interest from those suppliers not yet on the portal.
Business Results
Several significant benefits have been realized to date with the launch of the portal. First and foremost, customers have experienced an improved fill rate resulting from supplier-managed inventory. Because the signal that inventory is near or below the designated minimum value is immediate to the supplier, it is able to react faster to replenish the shelves. Thus Hartzell is able to ship from stock to its customers at an improved rate.
Secondary to that is the elimination of non-value-added purchase orders for routine items, freeing up the buyers and procurement specialists to focus on new product launches and continuous improvement. The third benefit is the reduction in inventory associated with SMI because the process defines a maximum quantity to be on hand. Hartzell Propeller is committed to meeting its customers' needs by building a stronger supply chain while practicing its motto of "Built on Honor." ­­­