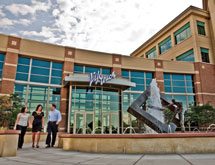 Lifetouch, an employee-owned company and the market leader in school and family photography, has been providing innovative products and services to customers across North America for nearly 80 years. Since its founding in 1936, Lifetouch and its business units have proudly continued a tradition of unmatched service and excellence. 
Lifetouch National School Studios captures portraits of millions of preschool, elementary, and junior and senior high school students each year, in addition to senior portraits, individual athlete and sports teams, other school organizations and special events. 
Lifetouch Portrait Studios serves families and individuals in the retail market through 800 photographic studios across the country, including FLASH Digital Portraits, Target Portrait Studios, jcp portraits, Cilento Photog­raphy and Lifetouch Business Portraits. 
The Lifetouch Church Directories and Portraits subsidiary provides photographic services and portrait directories to places of worship. 
Lifetouch Services provides internal yearbook and commercial printing services.
And, Lifetouch Media Productions offers an array of company-wide services, products and media formats for creating visuals to support sales, training and marketing, and also is available for visual support to external customers.
Working Together
The Lifetouch Supply Chain is a centralized shared-service model that supports all of the company's business units. Because the business of each subsidiary is constantly evolving, supply chain's role can be a challenging one. "We must stay connected to the key decisionmakers within each business, not only senior leadership, but with everyone who is responsible for seeing that we receive the right information at the right time from the right places," says Josh Cagle, senior director of supply chain. 
A careful approach to supply chain starts with sales and operational planning teams and buyers. This helps the company maintain a solid grasp of what each business unit's projections are. "Ours is a very seasonal business. Lifetouch does a lot of school photos in the fall and a heavy retail business during the holidays and in the spring," Cagle says. 
"Managing seasonality and partnerships with vendors is critical. Our suppliers have to know what our projections are so they can plan for capacity and production."
From a warehousing perspective, Lifetouch uses a hybrid distribution center model. It operates one warehouse internally, and partners with a third-party logistics (3PL) partner to operate another. This allows the company to have a hub-and-spoke model rather than a decentralized warehouse model. 
"We have decentralized photo production labs and book facilities around the country," Cagle says. "For inbound raw materials, we try to go directly from vendors to the labs as much as possible so we don't have to warehouse too much." 
Close Analysis
The outbound side of supply chain is managed through a highly structured shipping system. Lifetouch maintains close working relationships with UPS and FedEx. It also works with several less-than-truckload (LTL) and truckload carriers. 
"Nearly every dollar of our revenue goes through our freight systems before it gets to the customer," Cagle says. "We measure everything, and we rate-shop every outgoing package. There is a lot of competition among carriers, and our systems are smart enough to know which carrier is the right one based on such factors as arrival dates and distances from labs." 
This is an area where Lifetouch constantly analyzes its spend. Supply chain meets monthly with production teams and business partners who influence spend in this area. This allows Cagle's team to provide its partners with extensive reporting on how they are performing in terms of freight spend. "We provide them with immense levels of details and then partner with them to find the best options to help us save money," he says. "Extensive reporting and analysis help drive change."
One of the more challenging aspects of controlling spending is related to the decentralized nature of Lifetouch and its subsidiaries. The company doesn't operate in an environment where one group of people in one location is buying everything. To help solve this challenge, the company has invested in technology that allows purchase of products according to contractual agreements, no matter where people are based.
"This is a web-based procurement system that can be accessed by any manager in the company," Cagle says. "They can log in to the Lifetouch Supply Network and gain access to all of our core contracts, including details on vendors, pricing and ordering information. That network process is not yet complete, but we are continuing to work to make it more accessible throughout the organization." 
Lifetouch understands that its supply chain operations can only be successful if it provides excellent levels of customer service internally. The supply chain organization must consistently work to earn the trust of its partners around the country. It must also ensure continuity of supply and effective management of product and equipment life cycles. 
Going forward, Cagle believes the supply chain team at Lifetouch can become an even more important part of the company's operations. In areas like IT and contract services, he believes the team can help the company to source and procure in smarter and more cost-effective ways. 
"We want people in our subsidiaries to be able to focus on selling and not have to worry about basic supplies," says Cagle. "We are always looking for ways to be innovative and working with vendors to lower costs – to weed out levels of inventory and carrying costs. Fortunately, we have a great team at Lifetouch and seasoned supply chain veterans who can help us do that." ­­­