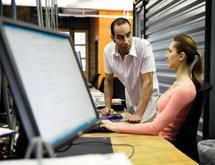 Logility introduced its first supply chain solution to the market in 1996, and since then, it has gained more than 1,250 customers and become known for its leading-edge supply chain management (SCM) systems. Using what it's learned from so many customer implementations, Logility is dedicated to continuously improving its collaborative solutions, providing customers with innovative demand management, optimized supply chain planning, synchronized production, streamlined warehouse and improved transportation management. 
"We get a lot of feedback that we work very closely with our customers, and that is key to our business," says Allan Dow, executive vice president of worldwide sales and marketing. "We don't sell them a solution and leave them alone, we build a close relationship and work with them to collectively develop a good approach to help their business operations. We have a long working tenure with many companies, and we are proud of that. We believe close working relationships are important to their and our success."
Logility works with any company that manages inventory, including those in the food and beverage, apparel, chemicals, consumer electronics and durable goods markets. Its customers can range from having $250 million in annual revenues to $10s of billions, Dow says, but Logility's strength is in creating solutions that are best for each customer. The company scales each solution to the needs of the user and how complex the customer's business requires. 
"As market and business conditions improve, we're seeing a move from a focus on managing inventory and costs to managing profitable growth," Dow says. "Our customers want to bring in enough inventory to ensure they can address their customers' needs. We're seeing a strong trend in sales and operation planning. We can help bring different areas of a business together and help open a dialogue about how things are going."
Nimble and Dynamic
Logility has been working with a well-known sports apparel and equipment manufacturer, Dow explains, and while this client is in line with profitable growth, it is working on long-term strategies to get closer with its suppliers. "This company wants to interact more effectively with its suppliers to provide a long-term view of its needs," he says. "We are providing systems and education to help them do that more effectively."
In another example, Logility is working with a food company that had a product showcased by Oprah, driving up demand considerably. Logility is helping this customer better manage this opportunity, the product's popularity and ensure it responds appropriately to the demand. Dow notes it also works with clients that have a disruption in their supply chains – either with a natural disaster or something man-made like a strike. Logility helps these clients keep their products moving around significant barriers. 
"What's important to most of our customers – and we try to council this – is that supply chain management and use of these systems is like a journey," Dow says. "They could involve additional training, adding people or bringing in outside analysts, and any of this could come up each year as the business evolves. You can't really solve all of your issues in just one big project – the solution has to be very nimble and dynamic and able to adjust to market conditions."
Regardless if the project is large or small, Logility has a reputation for working with its customers to ensure their needs are met. Just this year, the company was selected as Consumer Goods Technology Readers' Choice 2013, named as a 2013 SupplyChainBrain Great Supply Chain Partner, recognized as a Top 100 Technology and Service Provider by Food Logistics, and received a 2013 Supply & Demand Chain Executive 100 Award.
"We are known for successful deployments and we have a very strong track record of customers that have licensed our programs and used them to success," Dow says. "We also have very deep capabilities. We are recognized as one of the supply chain leaders, and that is because we have developed a set of applications that are very deep in functionality but also very adaptable and easy to understand.
"Additionally, we provide value," he continues. "We implement our solutions quickly, make them easy for users to adopt, and that ensures quick ROI for our customers."
He notes that combined, all of these strengths have helped Logility to be the success it is now. "We are successful from a revenue and profit standpoint, and we continue to capitalize on the market vacuum," he says. "Right now, we are very stable and continue to grow the business – the climate is good and supply chain needs are strong. That really bodes well for us in the coming years. It is an exciting time in this market and we know that continuing to focus on our customers will drive our success." ­­­