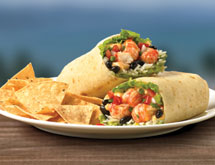 As a veteran of the foodservice industry, Clynn Whitworth has seen a lot of things change. The past 15 years of Whitworth's 33-year career have been spent as director of supply chain at Rubio's Restaurants. New and improved technology has transformed the supply chains of restaurants in this country and Rubio's is no exception. The company started in 1983 as a walk-up stand in the Mission Bay area of San Diego selling fish tacos, now a beloved Southern California staple. The fast-casual restaurant has come a long way since then and though it still carries its Original Fish Taco recipe, it has greatly expanded its menu. 
"We used an antiquated supply chain system when I came here and there was really no way to support the planned growth with the tiny warehouse company we were currently using," Whitworth says.
When Whitworth joined Rubio's to head its supply chain department, the San Diego-based company had 67 company-owned and operated stores. Today it's a family of 191 stores with 147 of those in California. It also has three franchises within Las Vegas casinos and five company-owned Las Vegas locations. Its portfolio also boasts four Denver locations, six in Utah and 26 spread between Phoenix and Tucson, Ariz. Rubio's has two or three other locations planned to open next year. 
Strength in Supply
With the amount of the growth the company has seen and will continue to see, Whitworth explains that he has  to find the right suppliers and adopt the right technology to nourish its current portfolio and future growth. One of the first changes Whitworth made to Rubio's supply chain was to contract US Foods as its drayage partner. US Foods manages inbound product coming from suppliers into its warehouse facilities and outbound product traveling to individual stores. 
"Regarding our proprietary products we can connect directly with their systems to monitor both inbound and outbound inventories on a daily basis," Whitworth explains. "Everything they generate is integrated with our back-office system. It's important to see that information because if we need 500,000 pounds of shrimp and it has to come from a certain supplier, I need to make sure US Foods has it or is able to get it from our supplier and into our restaurants when our guests demand it." 
US Foods has the capacity to handle warehouse and distribution for Rubio's 190-plus stores, but Whitworth says his department is still in charge of managing supplier relationships. Certain items such as trash bags and wrappers are selected via US Foods contracts, but the rest – roughly 90 percent of its supply – is managed through in-house contracts, full details of which are shared with US Foods. 
"We deal closely with our suppliers," Whitworth says. "We write the specifications, develop the products and negotiate all the contracts. We visit and inspect their U.S. and overseas plants on a regular basis. I know the CEOs, I've had dinner with their families and have gone fishing with them. It may be a bit old-fashioned but I think face-time and relationships are still very important in this business. If it's me versus another restaurant and we both need product that's in limited supply, they are more likely to allocate it to Rubio's because we are more than just a customer to them."
Tool Basket
Rubio's sources its contracts six to 12 months ahead of time, which means the supply chain department works closely with culinary and marketing to determine what it needs to source for the coming year. While Rubio's is evolving toward more of a coastal cuisine, with seafood as its primary focus, the restaurant continues to offer the differentiated chicken and steak dishes its customers crave. 
The supply chain, culinary and marketing departments work together to plan promotions, for the coming 18 to 24 months. In 2013, the company had five such events and has six on the calendar for 2014. A market basket tool that forecasts pricing structures on certain food items helps the departments plan the most advantageous products to market for the coming year.
"We built an internal market basket where we partner with suppliers who give us details on their whole value chain," Whitworth explains. "If it's a chicken supplier, it could include information on the mortality rate of chickens or the cost to feed them. If commodity corn futures are projected to be down to $4.70 per bushel corn for March and chicken is essentially corn with feathers, we could recommend to marketing that chicken would be prudent to focus on for our second celebration in 2014. Since there are few commodity projections on most seafood, and we promote seafood during Lent, our focus would obviously be to do some forward buying on needed quantities of seafood." 
With all that technology has improved today, Whitworth still has even bigger hopes for the future. He looks to grocery stores, which have mastered the food supply chain in a way that the restaurant industry is still striving to catch up to. The ultimate supply chain system, he says, would be able to calculate just how much of each ingredient was sold in a particular product, communicate that information to Rubio's and its suppliers on a real-time basis that would result in automated replenishment. 
"Barcodes on grocery store products contain a wealth of information.," Whitworth explains. "The ideal situation would be to have an integrated system so that when a customer  buys a fish taco, our [point of sale] computer can tell me I sold 1.4 ounces of fish, and it would also tell our fish supplier we sold 1.4 ounces of fish and all the way back down the chain including our distribution warehouses. That's how it happens in grocery stores. Managers don't go around and order to replenish the shelves. When a product is scanned at the register it goes into the supply chain pipeline and is added automatically to the next delivery. The warehouse already knows what the store needs based on real-time data captured as each item is sold. With this communication every step in the supply chain is updated – the farmer, the fisherman, the processing plant, etc." 
But even at that level of supply-chain sophistication, Whitworth says it will be as important as ever to have the face-to-face interaction and to continue to build long-term relationships as businesses become more connected through technology.  
"It is that level of commitment and partnership that sets us apart from just being buyers; something I am sure computers cannot replace," Whitworth says.  ­­­