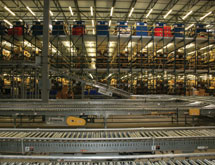 Sears Holdings Corp.'s supply chain operations continue to evolve to meet the needs of not only the company's brick-and-mortar locations, but also the expectations of online consumers accustomed to next-day shipping.
The company, formed in 2005 after the merger of Sears, Roebuck and Co. with Kmart Holdings Corp., leverages a network of 45 distribution centers and more than 100 local delivery operations to ensure its almost 2,500 retail locations remain stocked and that online orders are fulfilled. 
Sears is a home appliance, tools, lawn and garden, apparel, consumer electronics and automotive repair and maintenance leader, known for its Craftsman, Kenmore and DieHard brands. 
The company makes a significant annual investment on transportation and to maintain its 46.5 million total square feet of distribution center space. 
"What really sets us apart is the breadth of what we do as a supply chain – we are one of the most complex supply chains out there in that we handle everything from big-box appliances, flat screen televisions and exercise bikes down to very small items," Vice President of Logistics Services Jeff Starecheski says. "We support online orders, pick-ups in store and home deliveries all in a way that allows us to be very flexible."
Sears can fulfill home delivery orders for large items such as refrigerators to 85 percent of its U.S. customer base on a next-day basis. It achieves this by shipping from distribution centers to local delivery docks close to the customer's location. For smaller items, Sears checks the nearest store capable of shipping the item first. The company contacts with partner carriers such as UPS to ship items.
Partner carriers also handle inbound shipments. Most items are shipped from manufacturers into Sears' distribution centers within two weeks. 
"We manage transportation inbound from our vendors," Starecheski says. "We provide vendors with shipping dates and hold them accountable to ship on time to meet our outbound distribution center dates."
Investing in Flexibility
Current supply chain investments include an enterprise-wide warehouse management system developed by HighJump Software, as well as a new enterprise routing system. The company also recently implemented a distributed order management system. The new systems reflect the company's transition to an omnichannel retail approach. 
"Our current systems are tuned toward the traditional, retail-centric Sears and Kmart business models, and are highly integrated with other legacy systems in terms of accounting and inventory management," Starecheski says. "Making changes to the system can be costly and time-consuming. Our new technology will open up the door for us to be very flexible to changing demands from our clients and the demands of omnichannel retail."
The new technology will also enhance the company's ability to offer its distribution and supply chain expertise to other companies. "We can take our asset base and make it available to clients who are not in Sears Holdings and basically serve as a 3PL to them," he adds. "That's an exciting opportunity that will allow us to leverage the network we already have."
Other benefits of the new systems include adding visibility and transparency across the supply chain operation. Ultimately, the company hopes to link supply chain operations systems to its customer care network. This would allow representatives and customers to better track shipments. "We want to make some of the information the customer wants to know such as where their order is and make that detail available to them via text, e-mail or other means as opposed to their having to call in," Starecheski says.
'A Great Talent Base'
The integration of new technology into its operations will allow Sears to further its reputation as an innovator in its supply chain operations. The company was among the first in the industry to assemble a flow path optimization team to examine its supply chain configuration. 
"This team looks at what we stock out of each distribution center and where those centers are located, and finds ways to optimize the path those items take to the store," Starecheski says. "We've realized millions of dollars of savings through optimizing our flow paths."
Other strategic planning teams include a network design team, which looks at the company's physical needs including the number and capacity of its distribution centers. "Many companies will hire consultants to do that, but we can do it in-house," he adds. "I think we have a great talent base, knowledge and capability within our supply chain."
Starecheski credits his staff for the company's strong ability to consistently deliver products on time and keep its shelves stocked. 
"I'm most proud of the culture we have across our supply chain organization – one of highly engaged associates with a very high talent level that has continued to deliver success story after success story in our operation," he says. "For an organization as broad as we are and that has as many distribution centers as we do to have that culture of success and innovation be in place year after year is not an easy task, but we get the results we're looking for year after year." ­­­