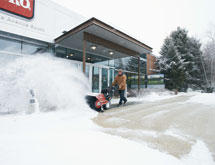 Strong relationships with suppliers, logistics providers and customers help The Toro Company maintain its position as a worldwide leader of turf, landscape and irrigation products. "We care for customers across the supply chain and try to maintain those relationships beyond the days our products are shipped," Sourcing Director Shreenivas Rengarajan says. "Our supply chain approach is about understanding what's needed, knowing what supply problems are out there and finding quick solutions."
When it comes to suppliers, the company enjoys preferred status for many of the components needed for its products. "Our suppliers are ready to help meet our needs throughout the production cycle," Rengarajan says. "This happens through building trusted relationships with suppliers understanding our expectations, open communication and working together to take care of our customers." 
Relationship building is one of the company's core values. "One of the things we're most proud of is that we do what we say we're going to do," he adds. "When we make a promise, we keep that promise.  There is a lot of commitment and pride that goes into our products, and the services we provide customers. We're able to come out with successful products ahead of our competition because of our collaboration and integration with suppliers."
Keeping in Touch
The company's S&OP process (Sales & Operations Planning) enables manufacturing, sourcing and distribution to work closely with suppliers to source components on a timely basis. Most supply chain communication is done through an online supplier portal, where the company schedules deliveries and updates its short- and long-term supply needs. 
Typically, Toro produces winter-oriented products, such as snow blowers, during the summer season, and lawnmowers and landscape equipment during the winter. High demands for in-season products can also be accommodated, Rengarajan notes. 
Toro's supply operations are also enhanced through its implementation of transportation and warehouse management systems. The systems help the company coordinate inbound and outbound deliveries with a number of third-party logistics providers (3PLs), he adds. 
The company's manufacturing facilities and warehouses are located strategically near the markets they serve. For example, a manufacturing facility in Italy produces irrigation products specifically for the vineyards of Italy, lowering Toro's shipping costs to customers.
Toro has enhanced its supply chain operations in recent years through lean manufacturing methods, such as kaizen projects and just-in-time inventory management. Toro's supply chain operations earned it recognition in 2013 as one of eight national finalists for the Institute for Supply Management and Michigan State University's award for supply chain excellence.
A Worldwide Leader
Toro manufactures products in multiple plants and operates dozens of distribution centers worldwide. All of the distribution centers serve individual markets. In addition to consumer lawn and snow products, the company serves the golf course, professional landscaping, agriculture, light construction and sports field markets. Toro's strong network of professional distributors, dealers and retailers serves more than 90 countries.
"At the Toro Co., we take our responsibility to customers, shareholders and environmental stewardship seriously," the company says. "We have built our business and reputation based on trusted relationships and constant innovation to help our customers enrich the beauty, productivity and sustainability of the land."
Toro's commitment to sustainability is evident in its development of water-saving irrigation technologies that help turf and agricultural customers use water more efficiently, as well as its advancement of propane, biofuels, hybrid, advanced battery, electronic fuel injection and hydrogen fuel cell technologies. 
The company will mark its 100th anniversary in July 2014, a milestone Rengarajan attributes to its reputation for making innovative and high-quality products. "Our products are the most innovative available, and we pride ourselves in taking care of the customer," Rengarajan says. ­­­