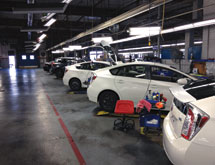 Although Toyota Logistic Services (TLS) isn't the division responsible for making Toyota vehicles, it still plays a vital role in their end quality. 
As the division handling all finished vehicle shipments to dealerships – whether manufactured in the United States or imported – as well as all U.S. exports, TLS employees are often the last set of eyes representing Toyota to see the car before sending it off to its final destination and user. 
"We're the last Toyota associates to touch that vehicle, so we're the last chance to make sure we get it right and make sure the quality is right and everything is perfect," explains Brian Mason, national TLS manager. "We are the last chance, and we take that responsibility seriously. Throughout the organization, people are proud of that fact. We look for challenges and any ways we can improve all aspects of our supply chain." 
Not only does TLS check to ensure the vehicles are "just right," but it also ensures they reach their destinations right on time. It's not an easy task when considering that TLS moves 2.2 million finished vehicles a year – and that includes all Toyota brands, including Lexus and Scion. The company coordinates importing and exporting logistics from six U.S. ports and a Mexican port as well as eight North American marshaling yards. 
TLS also handles post-production installations with customer-requested functional and aesthetic enhancements. 
Within the United States, most of Toyota's inventory comes from North America – about 70 percent. However, an increasing number of North American-manufactured Toyotas are making their way into other countries. TLS exports to 23 different countries. 
Changing Market
"One of the biggest areas where we're growing is in exports," Mason says. "That's an area where we've seen the most dramatic change in the last year or two. We passed 124,000 units in 2012, and that was a 45 percent increase over the previous year. It's part of our strategy to establish the U.S. as a global export hub."
TLS supports a growing export market into the Middle East, to which it exported 27,000 Toyotas this year. The company is prepping to launch exporting operations into Australia with its mid-size crossover SUV, the Toyota Highlander. At the same time, exports into China and Russia continue to increase. 
"We're really excited about these export opportunities because not only have they helped grow our North American manufacturing plants but they've been beneficial to us, as well," Mason says. "We already have product moving from existing manufacturing facilities to most port areas for our existing markets, so for us, we can add these new export markets by piggy-backing onto established routes. It helps us fill more rail cars and trucks and makes the overall network more efficient." 
It's these kinds of efficiencies that have allowed TLS to absorb the increasing demands both in North America and abroad. As consumer demand for automobiles has increased, TLS has relied more heavily on both internal and external trucking operations. TLS strives to keep trucked shipments to a 200- to 300-mile radius – anything further and you start to lose cost efficiencies, Mason says. Longer hauls are typically saved for rail, but because vehicle demand bounced back faster than expected, it's taken railways a bit longer to get on track. 
"The whole logistics industry has had to ramp up very quickly as the market recovered faster than anyone anticipated, so it's been a challenge across the industry," Mason says. "There was a shortage of rail cars, and it was a fairly dramatic shortage. But because we wanted to satisfy customer demand, we ended up deviating off rail and putting more on trucks. Railroads have recognized that the market is back and they are making fairly significant investments in rail cars, and so we are starting to see that ease. But in the meantime, we still have a substantial number that we deviate onto trucks." 
Trucking Overhaul
In today's market, the logistic improvements TLS has made are not just wanted investments, but necessary investments. It has a small internal fleet that carries 15 percent of its volume. It recently replaced all 91 of its U.S. trucks with new Peterbilt Trucks with controlled trailers. The new trucks have resulted in fuel savings, with drivers getting one to two miles more per gallon – a considerable savings when multiplied by 91 heavy-duty trucks.
Each truck is equipped with a PeopleNet electronic onboard recorder system that automatically tracks key records, such as mileage and driver hours. 
"The PeopleNet system really helps us track driver performance as required by the Department of Transportation," Mason says. "In the past, this was a manual effort that we kept in paper logs, but shifting to the PeopleNet has helped us keep up with the requirements that are getting more stringent."
When it comes to third-party carriers  – and TLS works with 13 or 14 at any given time – Mason says the division fosters a tight-knit relationship where the third-party carriers become an extension of TLS's own operations. Giving 3PLs greater knowledge into TLS is a win-win for both sides. These third-party carriers handle 85 percent of TLS's volume, so as Mason puts it, "We want them to be successful and we need them to be successful.
"Most of the 3PLs we've worked with, we've had relationships with them for decades," Mason continues. "We want to partner with them so they are successful and profitable because we need long-term partners, not just short-term partners with the best rates. We look for long-term commitments from partners who share our focus on quality and customer service."
To help 3PLs meet TLS's standards for quality and customer service, the division has invested in technology that creates a more accurate and transparent logistics system. The investments achieve greater visibility not only internally, but externally, as well. 
TLS recently implemented an Oracle Transportation Management System that allows it to optimize freight routing. The new system, which was a multiyear implementation endeavor, also calculates more accurate freight payments to third-party logistic partners. 
"The Oracle system provided us with the ability to create tiers of vehicles," Mason explains. "In the past, we came up with blended rates, and when using a blended rate, you are always overpaying or underpaying the carrier because we had vehicles as small as iQs or as large as Sequoias. So what the Oracle Transportation Manager allowed us to do is to break the vehicles into tiers, and we pay an appropriate rate for each one of the vehicles we move. So we can give the carrier an accurate payment, and we get the value of fairly significant savings and much better transparency into the logistics for inland freight." 
TLS also invests in technology that verifies it is on time. An ICL system that gives estimated time of arrival benefits both the trucking companies receiving shipments from rail and the car dealerships who accept the final delivery. The trucking companies are able to plan their loads better based on fleet positioning and arrival times. On the dealership side, Mason says giving them visibility into shipment tracking provides peace of mind. 
"Giving dealerships visibility into when the vehicle was shipped and when it will arrive is good for customer service," Mason says. "Especially in the rural parts of the United States where someone may have to drive two to three hours just to get to the dealership. So it's important when they get there that the car is factory-fresh and ready. Our ICL system helps them plan that." 
Weathering Storms 
The relationship TLS maintains with third-party carriers is the same type of relationship it fosters with its third-party warehouse partners. The close communication paid off in dividends when Superstorm Sandy struck the East Coast in October 2012. TLS's Newark, N.J., distribution center was hit by the hurricane and lost 2,300 vehicles. Although it was able to recover to full operational capabilities within two weeks, TLS had to do a great deal of strategic shuffling to continue receiving and distributing finished vehicles. 
"During that reconstruction effort to restore equipment that had been submerged, we still had inbound vehicles coming from Japan," Mason recalls. "The New Jersey port was closed and we couldn't accept them there, so we turned to a trusted and good 3PL, Amports. We diverted the shipments to Baltimore and processed the vehicles there. Typically, we use Baltimore for exports to the Middle East, but they were able to deliver those imports to Baltimore. Amports got the vehicles discharged and processed and they were delivered to all the dealerships."
Amports is also able to conduct post-production installations using Toyota's standard of service. Having a trusted extension of its own operation allowed Toyota to focus on full recovery after Sandy, ensuring that the Newark operation was back and ready to meet the growing demand for Toyota vehicles and at the quality consumers expect. 
"One thing I see across the division and with our partners is there is a dedication to customer service and customer satisfaction," Mason says. "It actually permeates the entire company. All of Toyota really is focused on customer service and satisfying the end-customer. When I worked in IT, it was all about customer service. It doesn't matter which division you're in. It's been a cornerstone of Toyota as long as I've been here." ­­­