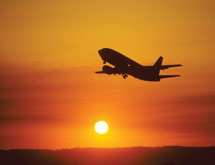 Founded in 1993, Triumph Group has grown by following a strategy based on aggressive acquisition and internal growth. This has allowed the company to take on a leadership role in aerospace design, engineering, manufacturing and maintenance.
Headquartered in Berwyn, Pa., Triumph Group currently consists of more than 40 specialized manufacturing companies, which are organized into three groups: aerostructures, aerospace systems and aftermarket services. It is a major player in the aerospace supply chain from single components to complex aerostructures and their contents. 
A global leader in manufacturing and overhauling aerospace structures, systems and components, Triumph Group operates more than 60 locations around the world. It designs, engineers, manufactures, repairs and overhauls a vast array of aerostructures, aircraft components, accessories, subassemblies and systems. Triumph Group serves original equipment manufacturers of commercial, regional, business and military aircraft and aircraft components, as well as commercial and regional airlines and air cargo carriers.
Past and Present
The company and many of its subsidiaries have a legacy that extends beyond the early 1990s creation of Triumph Group. Triumph Group can trace its history to the former Alco Standard Corporation, which at one time was a large conglomerate that was founded in 1965. By the time the 1990s came around, Alco Standard had acquired a number of aerospace and specialty manufacturing companies. 
In 1993, a group that included management and other investors purchased those 13 aerospace and specialty manufacturing companies to create Triumph Group and make it an independent company. In 1996, Triumph Group completed an initial public offering and TGI stock was listed on the New York Stock Exchange. 
Today, Triumph Group's specialty manufacturing companies span the spectrum of the design, engineering, fabrication or overhaul of almost any kind of part, component or assembly.
On the design and engineering side, the company focuses on transforming ideas and concepts into finished product solutions for customers. This extends from simple brackets to major structural assemblies.
With contract manufacturing, Triumph Group serves customers in need of specialized manufacturing capabilities when outsourcing the fabrication of many parts and components. The company manufactures many airframe structures for some of the world's top aerospace manufacturers, and it can form and machine large and small components. The company also has expertise in exotic metals, composites, metals finishing and thermal technologies. 
Around systems integration, Triumph Group can leverage its diversity and scale so it can contribute to the process of producing fully integrated products or assemblies. This includes everything from large structural components to sophisticated systems and controls. It has expertise in a number of systems and controls that monitor and manage the operation of complex equipment. 
These include geared products, electromechanical controls, hydraulic systems, actuation systems, thermal control and instrumentation. Companies within the Triumph Group umbrella can collaborate with each other in this area to recommend and produce the best system for customer applications. 
Finally, Triumph Group's maintenance, repair and overhaul capabilities allow it to maintain, repair, overhaul and provide replacement parts for almost any major aircraft system. The company supports many of the world's commercial and air cargo carriers, private aviation and the military. Triumph services all of the structures, components and assemblies it manufactures, as well as many other products developed by other manufacturers. 
Future Forward
Triumph Group's business strategy relies on five key elements. The company strives to continually add products and services, expand operating capacity, acquire aggressively, market its complete portfolio of capabilities and expand its international presence.
International growth has most definitely been a large part of the company's expansion strategy. Although most Triumph companies are based in the United States, it also maintains a presence in Europe, Asia and Mexico. The company opened a major new maintenance facility in Thailand in 2007 and a new manufacturing facility in Mexico in 2010. 
Acquisitions also have been a critical part of Triumph Group's growth. The company has completed more than 40 acquisitions since the mid-1990s. These include the early years acquisitions of Triumph Controls from Teleflex in 1995, Triumph Composite Systems from Boeing in 2002 and Triumph Thermal Systems from Parker Hannifin in 2003. 
 In 2010, Triumph completed the largest acquisition in the company's history when it purchased Vought Aircraft Industries. This move more than doubled revenues and moved Triumph Group up alongside the aerospace industry's top-tier suppliers. This acquisition allowed the company to successfully compete at any level of the aerospace supply chain.
Triumph Group has continued to execute on its strategy in 2013. In October, it announced the completion of the previously announced acquisition of General Donlee Canada Inc., a leading manufacturer of flight critical complex machined components. The new business will operate as Triumph Gear Systems-Toronto and be part of Triumph's Aerospace Systems Group. The move strengthens Triumph's position in its engine and main rotor shaft product capabilities. 
This followed the May 2013 acquisition of Primus Composites from Precision Castparts Corp. The business consists of two manufacturing facilities in Farnborough, England, and Rayong, Thailand. It will operate as Triumph Structures-Farnborough and Triumph Structures-Thailand as part of the Aerostructures Group. The acquisition increased Triumph's global presence and expanded its structural composite capabilities.
Prior to that, Triumph Group announced the completion of the acquisition of the pump and engine control systems business of Goodrich Corporation from United Technologies Corporation in March 2013. The business, based in West Hartford, Conn., will operate as Triumph Engine Control Systems LLC and be part of the Aerospace Systems Group. It is a leading independent aerospace fuel system supplier for the commercial, military, helicopter and business jet markets, and it provides Triumph with new capabilities in a market where it did not previously participate, diversifying its customer base. 
This year also saw Triumph earn a win as part of its efforts to market its complete portfolio of capabilities. In June, it announced that its Triumph Aerostructures-Vought Aircraft Division was selected to design and build the center fuselage section III, rear fuselage section and various tail section components for Embraer's second-generation E-Jet family. The contract expands Triumph's presence in the jet market and develops its relationship with Embraer.
Looking ahead, Triumph Group will continue to focus on executing the key elements of its business strategy. It will seek to leverage the resources and expertise of its portfolio so it can continue to be a major player in the aerospace industry, meeting the needs and goals of customers and investors. ­­­