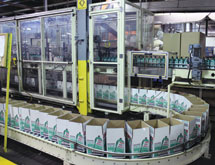 When a truly revolutionary product is introduced, sometimes a major investment is required to capture the new market. Wakefield Canada made the decision in 2010 to invest in production equipment and distribution infrastructure for H2Blu, its diesel exhaust fluid.
The Environmental Protection Agency (EPA) and the Canadian Environmental Protection Act (CEPA) require all on-road diesel engines built after 2009 to meet new air quality regulations focused on dramatically reducing the emission of nitrous oxide in the United States and Canada.
Currently, the only technology that enables diesel engines to meet the new standards is selective catalytic reduction (SCR), which requires the use of a diesel exhaust fluid (DEF) that is sprayed into a vehicle's exhaust stream to virtually eliminate its emission of nitrous oxides. Despite industry uncertainty about the acceptance and effectiveness of the new technology, Wakefield Canada decided to invest in offering it.
"It has to be incredibly pure and clean and can be easily contaminated," emphasizes Mike Cowley, Wakefield Canada vice president of supply chain. "SCR vehicles have their own separate DEF tank, and every link in the supply chain from manufacturing right through to dispensing it into the vehicle's DEF tank has had to be created from scratch."
Wakefield Canada's national transportation manager, Don McKinnon, and Dependable Truck and Tank in Brampton, Ontario, designed and fabricated the pumping equipment and trucks to deliver and dispense H2Blu. Wakefield Canada also developed several sizes of tanks to store and dispense H2Blu at its customers' sites.
An additional complication of designing the delivery vehicle pumping and metering systems was that they have to be certified by Measurement Canada. Measure­ment Canada is the governing body for all legal-for-trade measurement systems in Canada. 
Wakefield Canada recommends the size of tank a customer needs based on the quantity of the customer's consumption of H2Blu. It installs a TankLink device on the customer's tank that signals Wakefield Canada through a cell phone connection when the tank is getting low.
"We manage your inventory for you," Cowley explains. "You don't call us. We manage your inventory through TankLink, plan and perform deliveries as required, and then send you a bill for the amount of H2Blu we delivered."
Different Software
Wakefield Canada is the sole blender and distributor in Canada of Castrol oil products in addition to H2Blu. The company was founded in 2005 out of a strategic partnership with BP Lubricants to assume stewardship of the Castrol brand in Canada.
Cowley estimates that the company's fleet of 40 trucks stationed in six locations deliver 97 percent of Wakefield Canada's bulk oil throughout Canada. Package goods are delivered to distributors and major retailers, which then ship them to each of their locations.
Currently, Wakefield Canada is using two different generations of the same enterprise resource planning (ERP) software. One version was installed when Wakefield Canada purchased the blending and packaging plant from BP in 2010. Soon, the two generations of software will be converted to one unified version of the next generation so the entire company will be on the same ERP software system.
Wakefield Canada uses forecasting software to anticipate how much product will be required in the future. "We import our sales history, and we go through the process of removing past promotions and other things that aren't necessarily going to happen again," Cowley explains. "Then we add in known promotions and new customer acquisitions to ensure that they are included in the forecast." 
That information is combined with input from the sales team about expected sales, and the resulting forecast is loaded into the ERP software. "We use the master planning module to tell us whether we need to make or buy each SKU," Cowley explains. "It also helps us replenish all physical inventory locations throughout our network."
For the approximately 20 different types of motor oil that are promoted, accurately forecasting these special sales is crucial. "We could be selling on average 2,000 cases of something a week, and then when Canadian Tire has it on promotion, we might sell 70,000 cases in that week," Cowley notes. "We would have had to build up ahead of time to ship them such huge amounts. The retailers use their internal supply chains to make the final store deliveries in time to support the promotions." 
Hybrid Trucks
Another type of software that Wakefield Canada relies on is Optrak4, a transportation management system (TMS) that does dynamic load-building and routing for its delivery trucks.
"It will tell you exactly where to put things on the truck in terms of axle weight management and everything," Cowley says. "You feed in all your orders with the agreed-upon delivery window for each order, and the TMS will create the optimized route and build the load taking in all of the truck, driver, customer site and product-specific details that you have already configured into Optrak4. The resulting plan is reviewed by a transportation planner, and once approved, it is published and ready for execution." 
Wakefield Canada uses hybrid trucks that carry totes of different grades of motor oil. The company's biggest trucks can carry 16 totes with 16 different grades of motor oil in them or four or five of one grade, six of another, and so on, depending on what the customers being visited need. Pumps inside the truck dispense the motor oil into the customer's bulk tanks. "It's like a mobile pop machine," Cowley quips. These trucks also can carry packaged goods.
Wakefield Canada uses third-party warehouses and an inbound logistics management company for inbound shipments from the United States. The company employs third-party trucking companies for shipments that don't logically fit on their fleet of trucks or are to more remote areas, such as to the Northwest Territories.
Cowley attributes the success of the company to bold actions and investment in new products, such as H2Blu. He credits "being willing to go into the market and assume that we can figure it out and put the sales representatives in place to go get the business – to put the money in the infrastructure to make, test and distribute H2Blu efficiently – and hire enough employees to make it happen. It's really just having the confidence to believe we can win in this new business." ­­­