AMCOL International Corp.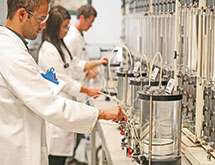 AMCOL International Corp. has grown into a top producer and marketer of an array of specialty materials since it was founded in 1927. Based in Hoffman Estates, Ill., it is a publicly owned company with 2,800 employees in more than 26 countries.
"We're raising the bar to be sure we are a best-in-class organization," Director of Purchasing Renee Juranek-Adamski says.
AMCOL's core expertise is in minerals and polymer science. It operates in many end-markets including automotive and heavy equipment metalcasting, water treatment for oil and gas offshore platforms, water proofing of concrete structures and energy and infrastructure drilling fluids. It holds more than 375 patents worldwide and places a great deal of emphasis on research and development to ensure industry leadership. AMCOL combines technical expertise with strong customer relationships in its quest to be a trusted partner in major end-markets.
AMCOL has grown organically through a focus on product innovation and investments in key developing regions around the world. The company says its goal is to create solutions focused on enhancing the quality, efficiency and sustainability of customers' products and services.
Purchasing Power
One major area AMCOL has focused on in recent years has been the creation of a global purchasing organization within this billion-dollar company.  The company has been putting the structure and processes in place to enhance its operations, drive down costs and become more strategic. Juranek-Adamski was recruited into the company five years ago to start the global purchasing organization, which did not exist previously.   
"I worked in the automotive industry for more than 23 years in many areas and spent the last 16 or so years in purchasing," Juranek-Adamski says. "I came here to centralize purchasing and develop a global purchasing department. Prior to this, purchasing was decentralized with a lot of rogue buying and no defined strategy. Everything was transactional with inadequate compliance and supplier proliferation, and we had multiple ERP systems around the company."
The initial creation of the global purchasing organization put a lot of focus on cultural change and redefining roles. Previously, the company had many people who had purchasing as one of their many jobs. AMCOL brought in some new people to build the department and worked to improve purchasing operations in North America. As it measured KPIs, it began to see some gaps where it had room for improvement. 
"We started to take care of the direct side of the company, the raw materials needed to keep plants running and on large indirect and capital-intensive items," Juranek-Adamski says. The company also introduced formal RFPs into purchasing and national agreements for items like travel, office supplies and a few global agreements, too. 
"We also introduced market analysis, divided up by commodity with people held responsible for specific commodities," Juranek-Adamski says. "We standardized terms and conditions across our entities in North America and are moving toward that in Europe for goods, services and capital equipment." 
AMCOL also implemented a global code of conduct and is implementing a single ERP system that will ultimately replace the multiple systems that have been spread throughout the company. 
"It has been hard for us right now to see cost across the globe and to leverage our spend," Juranek-Adamski says. "This ERP will allow us to be more connected, increase efficiency and standardize processes."
The Process Continues
Recently, the global purchasing organization has been working on everything from setting up inventory reduction and beginning demand planning to bringing in new innovations with supplier collaboration. AMCOL has been working to minimize its risk through the elimination of single sources, and it has also put processes in place for strategic sourcing within commodities. The company has also worked closely with vendors and created relationships with them throughout the global sourcing department.
At the same time, AMCOL's global purchasing organization has been keeping up with the company's overall growth efforts. For example, the company has opened two plants over the past three years. 
"Our work on capital projects, like those in India, included everything from EPCM and land-lease agreements to capital equipment, security services and lab equipment," Juranek-Adamski says.
Juranek-Adamski and her team have needed to support AMCOL's operations at the same time that they have tried to foster transformational change.  "Overall, we've tried to minimize risk in the supply chain," Juranek-Adamski says. "We are now doing what makes sense by looking at the total cost of ownership for the company based on the quality, price, service and innovation provided by suppliers." 
Having found success with its transformational efforts in North America, AMCOL is working to globalize change. Over time, people are seeing the value of the global purchasing organization. 
"Having contracts in place meant that we had some warranty clauses in place that we were able to execute and saved us money," Juranek-Adamski says. "We are building the foundation and will take it into Europe and then Asia. We now have a vice president of supply chain that reports straight to the CEO, which is helping to accelerate adoption."
This year, AMCOL's global purchasing team will continue to lead the supply chain initiative while continuing the transformation. It must ensure that all facilities run smoothly and customer expectations are met, while transformative efforts such as the implementation of the new ERP continue to progress.
"Our people are making this happen because we have a great team that works well together," Juranek-Adamski says. "Even though we're spread out, we work closely together and rely on each other to provide open dialogue and ideas." ­­­