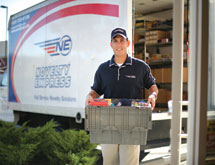 Staying in business for more than three decades requires the ability to think ahead. North Carolina-based MR Williams, a second-generation, family-owned convenience store distributor, has used an uncanny knack for staying ahead of the industry and investing in technology to become one of the top 50 distributors in the country.
Headquartered in Henderson, NC,
MR Williams supplies more than 1,000 convenience stores in five states. The company is a full-service wholesaler, providing everything from fresh chicken and food service to candy and tobacco. It operates two facilities, one that is completely related to its Novelty Express division, another that serves as its grocery facility.
Reading the signs
Adapting to the needs of the convenience stores is natural process for a company like MR Williams. Nowadays, the future of tobacco is in the spotlight because of issues surrounding legislation and tobacco cessation programs, but according to Lawson Williams, president, convenience stores are always changing.
"Most distributors over the course of their existence have tried to figure out how the market is changing," he said. "That occurred with us in the early years when we supplied small country stores, but as markets consolidated, that type of business exited and newer, larger retailers entered. Distributors always have to be positioned for change."
Williams pointed to foodservice as another area of recent change, referring to it as the new thread that is everywhere today. "Every retailer and distributor wants to be positioned well in the foodservice arena, but it takes years of groundwork to be sure facilities are properly structured to accommodate that," Williams said.
"Waking up one morning and deciding to pursue food service is great, but I don't think companies should expect to be excellent in a matter of months," he continued. "I think our company is more nimble than most, and we've been working on foodservice for years. We're pretty excited about what we offer, but we still have work to do and always will."
MR Williams was ahead of the curve with novelty sales. Williams said the company realized several years ago that retailers and distributors could do a better job on impulse purchase products. Studies have shown that somewhere near 70% of all purchases at c-stores are impulse purchases, and the trick is capturing that business. Williams said the traditional method of selling general merchandise novelty-related products through a grocery wholesaler environment has never worked well.
"We knew we needed to have our guys in the store, working the category and being able to customize it for each location," he said. "That was the beginning of our Novelty Express division, and it has done very well."
Tools of the trade
To stay ahead of the industry, the company needs the right information and the right connections. The focus for MR Williams has traditionally been keeping its field operations and distribution centers closely connected. While many distributors  reduced costs by cutting front-line personnel, MR Williams reinforced its field staff to be sure it has representatives in the field who can get products on the shelf.
"Speed to market is an overused phrase, but if distributors have an infrastructure in place to make sure they get the product out on the street, they're better positioned to ride out a softer economy," said Williams. "The traditional way many larger suppliers introduce a new product is by putting it in a catalog or deal sheet and relying on customers to order it.  We've found that front-line field support generates much better numbers for our customers, our vendors, and ourselves."
The company has focused recent investments on technology that assist retailers and its inhouse sales force. Williams said keeping everything proprietary was a good decision. Keeping the technology inhouse means that as the industry changes, MR Williams can make system modifications and get them out on the street in days or weeks.
"Retailers want better information, particularly when creating their order. The old telxon devices simply captured an item number and quantity and transmitted that data to the distributor," he said. "We looked in to finding a better solution, and we decided to hire programmers and developers and create our own. It has grown over time, and it now gives our customers almost any amount of information they could want. It has been a great asset toward helping them balance their inventory levels and maximize sales."
The company has devoted time, energy, and money to improving the tools used in convenience stores by its sales reps and customers. Among the capabilities of handheld technology used by sales reps is the ability to print shelf tags, analyze store categories, access real-time data, and issue computer generated credits. Units used by store operators provide information like sales data, inventory reporting, order reminders, and movement reports.
An unexpected benefit was the reception the technology has received from other distributors. Around a half-dozen other distributors learned of the technology MR Williams created, and now they, too, are using the system created by the company. Williams said that is a testament to the value of the software.
Staying put
Since the company has plenty of room for growth within its current geographic area, Williams said he doesn't expect to see new plants or new states in the fold. He said the focus for MR Williams will be increasing the throughput it can generate with the two distribution centers it currently operates. The company is in the middle of a major renovation project, redoing its entire picking system in its warehouse.
"Our focus is trying to be efficient and make decisions that are easily measurable and will give us the opportunity for growth," said Williams. "We don't think jumping into an acquisition or building a new facility would be right for our company."
As a result of that focus, the company is concentrating on marketshare growth instead of expanding its distribution radius. Williams said the company's marketshare is small compared to the amount of accounts available in the market, so as the company continues to develop its reputation, more profitable growth will come by taking its current structure and tweaking it slightly to suit the markets it's already a part of. Its technological innovation will continue to be a big part of that organizational development.
"All of the things we are doing with technology, whether it is customer technology or picking technology, is geared toward making sure we are generating information to be sure our energy is properly focused," said Williams. "We've become very measurement focused through the gathering of data, and that data can help us make better decisions for our company and likewise serve our customers well."