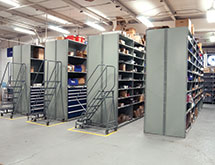 As warehouse, dollar and bulk-format stores become more popular, the end-of-line, secondary packaging of a single group of products is becoming more visible to consumers. This is just one of the markets that Arpac services by manufacturing the production equipment that makes such packaging possible and more attractive.
Arpac provides custom-engineered products with what it says are the fastest delivery times in the secondary packaging industry. This would not be possible without a world-class supply chain supporting the company's operations. Heading up the supply chain at Arpac's 180,000-square-foot headquarters and manufacturing campus in Schiller Park, Ill., and throughout the company is Director of Materials and IT Audrey Gulbinas.
"We've done a lot of add-on programming to automate many of our processes," Gulbinas notes. A web-based module can be applied to most of the company's software that automates routine tasks. "Aftermarket sales, which includes parts, sales, service, installation and retrofit, make up about one-third of our business, and it's a very rapidly growing segment," Gulbinas declares.
When stocked parts are nearing depletion, they are automatically reordered. "A purchase order gets generated automatically and gets sent to our supplier, and purchasing never has to touch it," Gulbinas says.
"There have been multiple improvements across all departments," Materials Manager Lisa Hamersly adds. She cites the example of technicians billing their customers with the data collected for their service calls. "The service technicians will import the data directly into our system," Hamersly points out. "So the invoices are sent out within 48 hours of the customer visit."
The software generates an automatic email to a supplier if an order is not received by Arpac within 24 hours of its due date. Arpac also uses web-based order confirmation. When Arpac creates purchase orders, suppliers receive an email asking them to log onto Arpac's website and confirm the delivery of the merchandise. If changes need to be made, a return email is sent back to Arpac. 
Suppliers print packing slips with bar codes on them for each shipment, and these are used for receiving as well as by the supplier to invoice Arpac directly in Arpac's system. "As long as there are no discrepancies, this is all automated and paperless," Hamersly notes.
Purchasing Variety
Gulbinas oversees purchasing the components – such as electronic controls, motors, gearboxes, belts and chains – that are used in the company's packaging equipment along with the sheet metal, steel bars and tubes that are shaped into the finished machines. "We use every type of bar stock you can imagine," she says.
"Roughly 70 percent of our business is engineered-to-order, and that requires unique designs, often new designs that are calling for different components that we haven't purchased in the past," Gulbinas points out. "Ninety-five percent of our purchases for building equipment are just-in-time and purchased for the job. They arrive from our suppliers when production starts assembly."
Arpac stocks approximately 7,000 parts to support aftermarket sales. "We support machines that have been out in the field for 25 to 30 years," Gulbinas says. "We ship between 2,500 to 3,000 line items a month. Half of those are manufactured, fabricated components, and 50 percent are shipped within 24 hours of order receipt. We reevaluate what we stock every year and assess the order quantities in order to meet changing customer requirements to support our growing product lines." These supply chain efforts have reduced lead-times "dramatically," Gulbinas says. "We can design, engineer and build a piece of equipment in anywhere from eight to 14 weeks from start to finish."
Gold Suppliers
Having supplier-managed inventory onsite and quick delivery for non-stocked parts requires suppliers who are partners. To reward its best suppliers, Arpac established its supplier recognition dinner 11 years ago. Arpac's supplier rating program determines the top companies that will attend. "We really hold our suppliers accountable, and that results in suggestions from suppliers themselves, bringing new products, processes and extra cost savings, either through stocking strategies, blanket orders or more standardization," Gulbinas says.
Suppliers are rated monthly with the names of precious metals on delivery, quality, overall performance and cost efficiencies. "This year, more than 50 percent of our spend was concentrated on these gold suppliers," Gulbinas declares. "Our spend is concentrated really among 60 to 70 suppliers, and we promote the gold suppliers by giving them more business."
Arpac reserves special information about its business for its best suppliers. "The supplier rating program is the core of our success," Gulbinas emphasizes. "We have continued to raise the bar, and our suppliers continue to respond. We are committed to our supplier program. We share business information with them freely if they achieved gold status. We want much more than a transactional relationship with our suppliers. We have an outstanding group of suppliers who have stepped forward, taken the challenge and really helped us achieve another level." ­­­