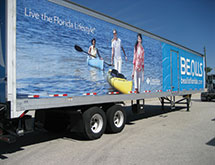 After nearly 100 years, Beall's Inc. has stayed successful in large part by not underestimating the importance of logistics, Divisional Vice President of Transportation Richard Higgins says. "Our company is very supportive of our transportation and distribution division and our never-ending efforts at identifying efficiencies and cost-savings within the supply chain," he says.
Based in Bradenton, Fla., the company operates stores in 17 Sunbelt states that sell apparel, home products and footwear. Beall's started operations in 1915 and has since grown to operate Beall's Department Stores Inc., Beall's Outlet Stores Inc. and Burke's Outlet Stores LLC.
"Our stores feature exclusive brands and fashions especially chosen for Sunbelt climates," Higgins says. "We are the source of choice for lifestyle and priced-right apparel and home goods."
Streamlined Supply Chain
As Beall's ensures its stores provide the quality and value its customers deserve, it keeps focused on identifying areas of efficiency for its supply chain, Higgins says. "With over 150,000 inbound domestic purchase orders and over 535 Beall's stores in 17 states, reducing costs and improving service are our two primary goals," he says.
For example, with the help of its Sterling/IBM Transportation Management System (TMS), Beall's can route all its outbound store deliveries. This allows it to eliminate out-of-route miles and reduce costs.
"On the inbound, we now have visibility to all open purchase orders and can now combine [those] together that are within close proximity of each other," he says. "This allows us much better cube utilization, reduces the overall number of loads to be received and saves transportation expense."
Beall's also has implemented large pool distribution operations in Charlotte, N.C., and Tifton, Ga., with partner Premier Transportation. "These two operations provide more efficient deliveries that are both time and date specific to 190 Beall's Outlet stores in nine southeastern states," Higgins says.
This strategy also has opened up valuable space in Beall's distribution center, which will allow more growth, he says. "We are currently reviewing other pool distribution options in the Southwest," he says.
Beall's gives e-commerce the attention it deserves, Higgins asserts. "Under the new direction and leadership of [Senior Vice President of Distribution and Transportation] Mike Perkins, formerly of L.L. Bean, we recently opened a new central fulfillment center to supplement the existing store-centric e-commerce process Beall's has followed for years," he says. 
"With a new High Jump WMS and the internal expertise now on site, we are confident [that] the efficiencies and cost savings attributable to a centralized fulfillment model will now be realized," Higgins says, noting that the company had expected to enjoy strong business in the Christmas season. The results were as expected, he adds.  
Ensuring Continued Success
A longtime veteran of supply chain operations, Higgins previously worked for other retailers, such as Zayre Stores, J. Baker Inc., KB Toys and Bradlees Stores. Higgins joined Beall's in 2006 and won its Chairman's Award one year later for achieving cost-savings and operational efficiencies.
Today, Higgins says he is proud of the savings Beall's has achieved and the execution of its special initiatives, including the implementation of TMS and two pool distribution operations that serve 40 percent of its outlet stores. He advises his peers to be advocates for change.
"There is no place for complacency and patting yourself on the back in supply chain positions," he says. "Everything in our industry is improving, changing and we have to be on top of those changes and take advantage of them.
"We need to accept the fact that we can learn from many of the outstanding 3PLs and providers in the industry," he continues. "At the same time, it is imperative that we continue to challenge our providers to improve operationally and administratively, negotiate better, reflect the same sense of urgency we have and give us an immediate action plan if there is a lack of execution on their part.
"The business relationship with our supply chain partners needs to be both collaborative and a win-win for both parties in order to succeed," Higgins says. "With that said, those in our positions need to maintain the upper hand in that relationship."
Beall's will celebrate its 100th anniversary in 2015. "A company needs to establish trust and respect in the marketplace in order to be viable for 100 years," Higgins says. "[Our] continued commitment to [our] customers as well as the principal operating strategy to expand through the reinvestment of profits will ensure continued success in the 21st century." ­­­