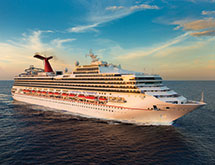 Carnival Cruise Lines offers a variety of amenities for guests during their stay on-board and is often unveiling new designs, shows and restaurants. Behind the scenes, making it all work, is its supply chain operation, which ensures products are delivered on time, of high-quality and in line with the company's vision.
Carnival Cruise Lines operates a fleet of 24 ships that are ported along the East Coast, California and Australia. Carnival Corporation, a British-American multinational cruise company, owns the Miami-based cruise line. The ships of Carnival Cruise Lines travel to Alaska, the Bahamas, Canada, the Caribbean, Mexico, Hawaii, Panama, Tahiti and Fiji Islands.
While on board the cruise ships, passengers are enticed with casual and formal dining, 24-hour room service, stage performances, clubs and lounges, and youth programs. Passengers can have shore excursions that include sightseeing, adventure tours, historical landmarks and family activities. 
Creating Magic
The company's supply chain team provides for anything the cruise ships need to purchase to operate, which includes engine parts, hotel needs and food, Vice President of Supply Chain Scott Thompson says.
"What makes this supply chain exciting is the diversity of what we have to manage," he explains. "It's perishable items and technical items, so it's a wide spectrum."
A wide spectrum of needs can include ordering routine products, such as engine parts, and it can also include looking to secure a supplier for products that are new, such as entertainment costumes. "On one end of the spectrum you have highly controlled technical parts and on the other you have creative people who are working on guests' experiences, maybe a new show, and the requirements are more fluid," Thompson explains. The supply chain operation needs to be aware of the many different products that will be required to pull off a new feature and wow guests.
The latest new guest experience is a partnership with Dr. Seuss Enterprises called "Suess at Sea." Thompson says planning for this event required the supply chain to determine which suppliers to use, what shade of blue and how many wigs to purchase. The cruise line also developed a new restaurant recently, which requires much more than food. Designers need to think about the details including napkin rings and plates, for example. "The people creating this create something from nothing," Thompson notes. "We are then challenged with taking these ideas and turning them into parts to buy."
Once a supplier is chosen as a possible candidate, the company will bring final samples of its product and meet with the department launching the new program or restaurant. "The team responsible for that creation approves the supplier," Thompson explains. "A new product is always tough, but fun."
Close to Real-Time
When a Carnival Cruise Lines ship pulls into its home port, the supply chain crew has only eight hours to load the ship with the new products it needs to set sail, Thompson explains. To achieve a successful departure, the supply chain team is split into three groups: sourcing, buying and receiving. 
The sourcing team determines which suppliers to select, and is responsible for contracts, negotiations and fair pricing. Buying receives requests from the ships, and turns them into purchase orders, which it sends to the company's suppliers. The final team receives the inbound freight and gets the product to the ships. Carnival Cruise Lines hires outside companies to run its warehouse and logistics in Miami. 
To keep things running smoothly and ensure the orders arrive at ports on time, Carnival Cruise Lines maintains excellent relationships with its suppliers. A majority of its vendors have worked with the company and for the cruise industry for many years. Thompson also implemented a new strategy where he meets with the supplier leadership more often to provide feedback. 
"The feedback we give is how well we met the needs of the ship and guests," he adds. "We look for suppliers who can deliver directly to the port." This is essential for items such as fresh produce and dairy. However, if an order is too small or the supplier is too far from the ship's home port, the company's warehouse will receive the package and send it by truck to the ship.  
Carnival Cruise Lines can process 40,000 purchase order lines per week and 30,000 to 35,000 orders are handled automatically because of its in-house software system. "The software system allows the ship to place an order and within hours it's received in Miami and sent to the suppliers electronically," Thompson explains. "We are operating close to real-time. A chef can check and see if a lot of kids are coming on the next voyage and looking in his freezer, he decides days before departure he needs more chicken fingers, for example. These orders going in are much closer to consumption point. It makes it a fun environment." ­­­