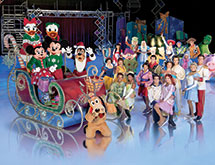 There are many factors that can affect an audience's enjoyment of a circus or ice show. One that most spectators probably aren't even aware of is the supply chain, but FELD Entertainment does not overlook its importance, Vice President of Trans­portation and Logistics Thomas Higgerson says.
For instance, if any show component, the performers, costumes, merchandise, props, sound systems or lighting equipment do not arrive on time for any of its shows, there won't be a performance. "It's a very time-sensitive [operation]," Higgerson asserts.
Based in Palmetto, Fla., FELD Entertainment is a leader in family entertainment, with productions such as Ringling Bros. and Barnum & Bailey®, Disney On Ice and Disney Live! The firm also produces motorsports shows, such as Monster Jam, Nuclear Cowboyz and Monster Energy AMA Supercross, and its largest show to date, Marvel Universe Live!, debuts this summer.
Founder Irvin Feld started the company in 1967, after a career as a rock promoter. That same year, he acquired the Ringling Bros. and Barnum & Bailey circus. Although the circus industry was in decline, Feld made changes so the show traveled year-round, performing in newly constructed arenas and continued attracting audiences.
He also added a second touring unit and innovations that included television specials, national ad campaigns and other public relations efforts. Since then, the circus has become the only source of live, family entertainment that has performed non-stop over three centuries. 
Throughout the years, Feld and his son, Kenneth, added to the company's portfolio with productions including Disney On Ice, George Lucas' Super Live Adventure and Siegfried & Roy, which Feld Entertainment produced until 2005. After his father died in 1984, Kenneth took over leadership of the firm and is its current chairman and CEO.
Today, Feld Entertainment does more than 5,000 performances annually in 72 countries, Higgerson says. "Feld is the largest provider of family entertainment in the world," he declares. "They've just done a fantastic job."
Product Paths
FELD Entertainment has two supply chain operations, Higgerson explains. The first consists of FELD Consumer Products, which designs and develops all of the products that are sold exclusively at the company's shows. "Our consumer products are unique. Except for our Motorsports products, you can't go online or buy them anywhere else except at one of our performances," Higgerson asserts.
When kids come through the gates for its Ringling Bros. Circus, Disney On Ice or Disney Live! shows, "It's the first time they've ever seen these particular products," he says, noting that most are sold without packaging. "[It] is great merchandising and kind of a green initiative as well. It spares all the extra plastics and coverings most retail products use."
In FELD Entertainment's process, "We source and procure our products in a typical manner," he says. Higgerson adds that most of the products are made offshore and eventually reach its distribution center via all-water services in Jessup, Md. FELD also will be relocating to a new state-of-the-art facility in Maryland at the end of 2014 where it will be leveraging technology for improved processing efficiencies.  
"From that distribution center, we service all of the tours that are on the road," he says. "We have [more than 20] tours domestically and internationally that are actively touring at any one time."  
100 Percent or Nothing
FELD Entertainment's second supply chain is focused on assembling and transporting its shows to the venues. In this process, "We look at our productions as if they were products going to market," Higgerson says. 
With the exception of the Ringling Bros. Circus trains, the company transports its show equipment, consumer products and performers via air, ocean vessels and over-the-road carriers, requiring it to work with several firms around the world. "We're constantly in conversations internally and externally with what-if scenarios," he says. "[For instance], transportation will be asked if we can squeeze a Lima, Peru, engagement between a returning tour from New Zealand and Bogotá, Colombia, and still have time to arrive at the Bogotá venue for its opening.
"As an example, we may have 15+ trailers of props, costumes, sound systems and lighting [for one show]," he says. "But if one of those trailers and/or containers doesn't arrive exactly as planned, then it doesn't work. It's 100 percent or nothing." FELD plans and executes these move schedules week after week worldwide.
FELD Entertainment ensures that its equipment and merchandise reach their destinations on time by working with the right partners, Higgerson says. "A lot of people come to us and say, 'We'd like to do business with you,'" he says. "[But] if you're going to be a partner of ours, you've got to understand our business. Our service requirement is 100 percent on-time delivery." 
Swift Transportation, Trade Show division is its largest over-the-road carrier domestically. Internationally, FELD uses a variety of entrepreneurial forwarders who have specific experience with the live entertainment industry.
Extraordinary Work
Higgerson is proud of his team at FELD Entertainment, which succeeds at accomplishing complex transportation and logistical tasks on a daily basis. "It's not a nine-to-five job," he says. "At the end of the day, it is extraordinary people throughout the organization who ensure our shows go on successfully. I truly appreciate the efforts of all of the FELD associates worldwide."
FELD Entertainment plans to grow as it starts production on Marvel Universe LIVE!, which will be the largest touring production the company has ever produced. The show will open in Tampa, Fla., in July and run for two years domestically before taking it internationally. It will  feature iconic Marvel Entertainment characters such as the Avengers, Spider-Man and the X-Men. 
"There is a strong interest in the Marvel characters," Higgerson says. So strong, in fact, that FELD Entertainment may do spin-off versions featuring a single superhero. However, "We'll continue with the Disney themed ice and stage shows, which have been a big draw for years and are quite successful," he says.