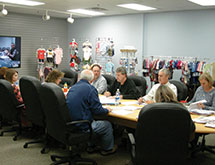 Anyone who has children knows how difficult it can be to keep up with their growth when it comes to clothing. If the typical home with children were examined as a supply chain, it would be operating under a just-in-time model for clothing as kids grow almost faster than their parents can keep up with buying new sizes of clothing and shoes. The Gerber brand for a very long time has been synonymous with helping parents raise their children, and Gerber Childrenswear (GCW) LLC focuses specifically on clothing. 
GCW was created as a subsidiary of the Gerber Products Company in 1989, spinning off from the company in 1996. Today, GCW is a subsidiary of Providence Apparel Inc., a private company that does more than $2.5 billion in sales every year. According to Director of Global Sourcing Chuck Landers, GCW continues to be a leading provider of evergreen brands in childrenswear. The company has strong partnerships with brands including flagship brand Gerber, Jockey, Lamaze and the NFL. GCW also has the proprietary Onesies brand. 
Landers says GCW excels at meeting its customers' expectations, whether those customers are mass retailers, mid-tier department stores, specialty stores or Internet retailers. "Our customers' expectations are for us to provide a trend-right, quality product for a value price with on-time delivery," he says. "Also, our customers expect us to understand their business, where the marketplace is trending and be able to react accordingly." 
GCW is able to meet its customers' expectations in large part because of the strength of its supply chain operations, Landers says. The company has made sure that its supply chain stays up to date with all the recent developments in technology, which has made it possible for GCW to meet customer demands with 98 percent on-time delivery. The company also has been recognized as Vendor of the Year by retailers such as Target, WalMart and Babies 'R' Us.
Technological Edge
Even though its production and infrastructure play an essential role in GCW's supply chain, Landers says information is just as important to maintain an effective supply chain. "GCW's forecast models are built with customer POS data, as well as retailer communication meetings where numbers are updated on a weekly/monthly timeframe and loaded into our systems and available as forecast to our strategic supplier partner factories," he says. "The online transfer of information has helped significantly, as well as being able to do video conferences with our suppliers overseas. 
"Technology will continue to play a major role through real-time communication with overseas partners, speeding up the product development time, being able to react based on customer POS sales trends and warehouse solutions such as pick-to-voice to improve warehouse efficiencies," he adds. 
Information is such an important element of the company's supply chain that GCW makes sure all of its partners are connected to its information infrastructure. "Fully integrating demand information to all stakeholders in Gerber Childrenswear's supply chain network is achieved through online data-sharing features of our native GPM/PMD integrated system," Landers says. "Suppliers have direct and real-time access to forecasts by style and component demand information, as well as current orders online."
Information Network
Providing third-party partners with such detailed information is only part of the company's ongoing dedication to maintaining strong relationships with vendors and customers. "Gerber maintains excellent relationships with its supply chain partners globally, including component and trim suppliers, fabric supply chain partners, finished goods manufacturers, logistics service providers, shipping and brokerage companies, and strategically located distribution centers," Landers explains. "We consider all of these relationships as strategic and long-term partnerships."
With more than 15 suppliers spread across nine countries, GCW understands the necessity of keeping those suppliers fully informed at all times, through technology as well as face-to-face contact. "We have ground-level professional associates and managers in the U.S.A. and abroad assuring quality, timeline adherence, social compliance, security, safety and sustainability – another very important aspect of Gerber's commitment to the environment and the final consumers," Landers says. 
Foundation of Success
Thanks to the company's commitment to technology, information and its partners, GCW operates a supply chain that meets and exceeds its customers' expectations and should continue to do so well into the future. "Gerber Childrenswear's longstanding success is directly attributable to a companywide commitment to its customers and final consumers' satisfaction with our products," Landers says. "We provide safe, reliable, essential, children's apparel and accessories at a great value with fashionable appeal and 'cuteness' as befits the precious final consumers of our products. 
"Gerber has teams of experienced, qualified, and caring professionals in sales, marketing, design, product development, sourcing, quality assurance and customer service that challenge themselves and each other to constantly improve our product and service," he adds. ­­­