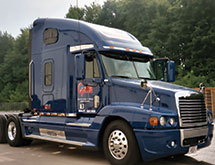 Trust is an essential component of the products made by Grote Industries LLC. As one of the world's largest producers of vehicle safety systems including lights, mirrors and emergency signals, its users need to be able to trust that Grote's products will work. It's the same with the company's supply chain and logistics because the company's global footprint means it needs to have strong relationships with its partners around the world to ensure that products are where they need to be when they need to be there. 
Keeping an eye on all of that is Logistics Manager Debbie Sherman, who says Grote believes a partnership is more than simply signing a contract. Although the meaning of "partnership" has been watered down by many in the supply chain world, Sherman says Grote holds itself and its partners to the true definition of the word. "That term is loosely used now, but I want to feel like I can trust the people that I work with," she says. 
Founded in 1901, Grote remains a family operated company today, even as it has expanded its reach with facilities in Canada, Mexico and Germany. Sherman started with Grote 27 years ago as an assembler  before moving to the warehouse. When her current position opened up about 10 years ago, it involved little more than managing traffic through the company's facilities. Today, however, Sherman's responsibilities include a broad network of international logistics. 
Sherman says her time spent on the production floor and warehouse has given her a clear understanding of the company's supply chain operations, especially when it comes to managing expectations. "It's knowing that I can't expect people to ship something quickly when it can't physically be  done," she says. 
Her experience also has helped Sherman make decisions such as arranging shipments from Shanghai on slip sheets rather than wooden pallets or floor loaded. She says having the experience of unloading containers gave her the knowledge that slip sheets would be easier for unloading, and they save Grote money because wood is more expensive for international shipments.
Strong Culture
Grote's growth into an international player over the past several years has been an exciting development, but not one that has come without challenges. Sherman says that without the strengths it has developed over the years, Grote would be ill-equipped to handle the demands of global logistics. For example, she says, sourcing products to or from certain countries is made more difficult by the fact that some of them don't have the same level of infrastructure as in more developed nations. "We like to buy things competitively priced, but that doesn't mean that we can get the product quickly, and that's really been a struggle for us," Sherman says. 
Despite the issues that arise when operating across different countries, Sherman says Grote has a strong culture in place that emphasizes quick-thinking and easy cooperation between departments. Being able to think on its feet and work together to solve problems right away is essential in an environment that changes as quickly as international logistics, she says. "Sometimes you can never prepare for something that happens," she adds. 
Whether internally or externally, Sherman says the most important aspect of Grote's ability to get things done with partners comes down to being able to communicate effectively. "I think communication is key," she says. "I don't expect someone to coddle me … but I do expect them to stay in contact with us." 
Grote has cultivated numerous long-term relationships with suppliers and customers over the years, and Sherman says that's due in large part to the company's emphasis on trust. "The reason we have had long-term relationships is because they are built on trust," she says. "You want to be able to trust who you're dealing with."
Looking Forward
Although Sherman says there's no crystal ball that can predict the future, Grote's intention for the next few years is to continue its growth in international markets. To help ease that process, the company has initiated a series of programs such as lean manufacturing as well as reinforcing the company's values throughout the organization. 
Grote wants to instill a culture focused on problem-solving at every level of the company.  "We've grown quickly as far as the global market and it's a good problem, and we have to make sure we proactively address issues," she says. ­­­