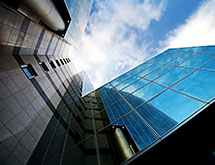 As an organization, Jones Lang LaSalle is focused on creating and delivering real value through commercial real estate for its clients and shareholders. The company's experience and market research allows it to deliver integrated commercial real estate services that its clients can rely on.
Jones Lang LaSalle offers an array of services as a commercial real estate company, including lease administration, brokerage services and facility management. Jones Lang LaSalle is based in Chicago and has a presence in dozens of markets in the United States. 
"We are located in all major market U.S. cities and have a presence around the world," says Marc Campbell, senior vice president of supply chain management and procurement. "But our focus is not on being a brick-and-mortar company. It is on serving clients so they can focus on their core business."
The company works in many industries. These include banking and finance, healthcare, higher education, hospitality, life sciences, retail and beyond.
Complete Offerings
Among Jones Lang LaSalle's key services is facility management. The company helps clients lower facility costs while providing them with  high service levels and reduced risk. 
"We define facility management as managing a facility and all of its inner workings," Campbell says. "Everything from landscaping, janitorial service and foodservice to elevators, security and light engineering. We provide services that keep the facility running efficiently." 
Jones Lang LaSalle's integrated facility management professionals measure and manage the performance of clients' buildings. This helps clients to maximize the efficiency of their real estate staff while optimizing spend through strategic sourcing and reducing energy costs by lowering consumption.
In all, the company manages approximately 2.6+ billion square feet of property around the world for its clients. Its integrated facility management services include critical environment management, engineering services, energy and sustainability services, and sourcing and supply chain support. Jones Lang LaSalle helps clients save $100 million to $150 million in energy costs annually and manages $2.5+ billion in sourcing and supply chain spend.  
"My responsibility is focused on supply chain, sourcing and procuring services required to maintain a facility," Campbell says. "We source the services and manage that spend on behalf of the clients." 
Jones Lang LaSalle aims to provide the best facility management services possible. When working with clients, it looks at their portfolio of suppliers to understand who the client has been using. Its clients may have preferred or strategic suppliers they want to work with. 
"We start there and compare that list to our strategic and preferred suppliers," Campbell says. "We look at their baseline spend to see how they are buying and how much better can we do. We make sure their suppliers are good corporate citizens, strong financially and have the right capabilities. If we can find a global supplier that overlays nicely with our clients, we can deliver more cost-effective service."
Depending on the size, scope and complexity of a client's spend, Jones Lang LaSalle can have a supply chain team co-located with the client. This helps the company adhere to client purchase policies while taking advantage of Jones Lang LaSalle's commodity strategy.
"We can meld them together, aligning client expectations with our strategies," Campbell says. "Embedded teams can then manage the bucket of spend locally."
Jones Lang LaSalle also has category managers who are subject-matter experts. These category managers understand the different services required to operate the facility properly. The company also has regional and vertical sourcing leads that oversee the markets. 
"The leads report to me and provide support to the local team," Campbell says. "I have responsibility for North America, and I have counterparts in Europe and Asia. We make sure we work well as a unit around the globe to ensure continuity in our processes."
Always Doing More
Jones Lang LaSalle regularly makes investments into its facility management services. These investments have included risk and performance management tools that allow the company to better vet and qualify suppliers. The company has also invested in supplier diversity, tools that support higher levels of engagement with clients and suppliers, and e-procurement tools that allow the company to be more efficient.
Going forward, the company intends to focus on spend analytics to help it understand and analyze information faster and make better decisions. Supplier relationship management is also a critical area for the company. It wants to foster an environment where strategic suppliers are successful while also providing a path for qualified suppliers to become strategic suppliers.
In many ways, outsourcing of facility management services is still relatively young. Traditionally, companies have felt that facilities are strategic assets that they need to self-manage. Many companies that Jones Lang LaSalle works with  have never before outsourced facility management. Jones Lang LaSalle needs to continue to show that its services are cost-effective and efficient.
"This is a growing industry; more companies are looking to outsource facility management," Campbell says. "We must show that we can care for client facilities as good or better than they can through our tools, systems and processes. We can make  facilities more sustainable and efficient, allowing clients to be more successful."