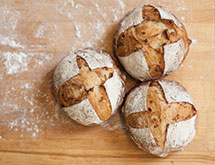 Going into its 24th year in business and its 17th year in the United States, Le Pain Quotidien (which is French for "the daily bread") is still on a steady growth track. Founded by chef Alain Coumont, Le Pain Quotidien is a restaurant that keeps the art of old-world breadmaking alive while also serving up thoughtful in-house recipes such as sandwiches, salads and pastries, as well as a mix of proprietary retail items such as its European-made jams and spreads. The international operation was founded in Brussels and has more than 200 restaurants around the world. Seventy of those locations reside in the United States and that number is sure to grow. 
"We've been going at a pretty good growth spurt since I've been here," says U.S. Director of Supply Chain and Logistics Ralph Mercuro, who has been with the company for five years. Mercuro explains that his comments are from personal experience and do not represent the company as a whole. "We've opened eight to 10 restaurants a year in the last four years and we have the same plan for this year."
Le Pain Quotidien serves three U.S. markets. Its New York market, where the company is headquartered, maintains a robust market particularly in Manhattan and Brooklyn. Its Northeast presence also includes locations in southwest Connecticut. It also has an established and growing market in the Washington, D.C., area with a focus on D.C., Maryland, northern Virginia and Philadelphia. In addition to its Eastern U.S. presence, Le Pain Quotidien also has a thriving West Coast presence with stores throughout the Los Angeles region, including the city itself and its neighbors such as San Fernando Valley, Orange County and Santa Monica. 
Midwest Moves
This year, the company is embarking on a new mission that will take it into the Midwest with three new stores set to open in Chicago this spring. 
"Opening the new market in Chicago this spring is the biggest project I'm working on right now," Mercuro says. "We are getting the supply chain ready and it has to be set by the first week of April. We will have a smaller-scale bakery to start off our Chicago operations which will handle the bread, pastries and other baked goods. All of the cold-prep items, such as our dressings and sauces will be produced at the store level and other food items will be delivered at the store level." 
Step one, Mercuro says, is finding and contracting the right produce distributor. With only three stores planned, the Chicago operation doesn't warrant contracting directly with a grower so the supply chain team works with distributors to reap benefits off their greater buying power. In fact, that's how Le Pain Quotidien gets produce for all of its locations. It currently works with three regional produce distributors – one for each of its existing markets – and will be contracting a fourth for the Chicago market.
The challenge, Mercuro says, is finding a regional distributor that matches Le Pain Quotidien's national standards and finding a distributor that works with seasonal and organic products. Le Pain Quotidien doesn't have a totally organic menu, but it strives to use as many organic products as possible. In fact, it works mostly with Organic Valley for its organic dairy needs, including organic milk, organic half-and-half and organic shell eggs. 
The second major objective in regards to the Chicago launch is setting up a regular system to import proprietary products coming out of Europe, a total of 100 SKUs. For each U.S. market, Le Pain Quotidien ships in a variety of retail products. The New York market, where 60 percent of its U.S. business resides, receives containers every four weeks whereas the smaller but well-established D.C., and L.A. markets bring in containers every six weeks. Chicago will start off smaller so the supply chain has to come up with an optimal and cost-effective delivery schedule. 
The third concern is setting up contracts with necessary services such as music in the stores, pest control and waste services as well as a host of other products that keep the restaurants functioning. 
"Another challenge we have in the different regional areas is contracting with a paper-product and janitorial distributor," Mercuro says. "We just don't have the space in commissaries to store and ship paper goods, including our proprietary cups, etc. We also can't ship janitorial products with our food items from our commissaries. We partner with Imperial Bag & Paper out of Bayonne, N.J. They ship direct to our East Coast stores a few times a week. They currently ship to Chicago for a few of their customers from their Jersey facility. This is a long haul for them, but when we discussed opening up in that market, they immediately stepped up and decided to open up a warehouse in Chicago."
Le Pain Quotidien's U.S. supply chain is managing the Chicago-market entry while still making sure its other markets are functioning as normal. 
Le Pain Quotidien operates three commissaries for its standing east and west coast markets – one each in Long Island City, N.Y.; Hyattsville, Md.; and Inglewood, Calif. 
"We have commissaries in each region that handle all of the baking for our restaurants," Mercuro explains. "Each one is a certified organic bakery and they also handle all of the cold prep for our sauces and dressings. The commissaries ship to our restaurants every day. In New York, we actually ship twice a day. The Chicago market will start off with a smaller bakery; it won't have the mass yet to warrant a full-fledged commissary. We'd probably need a good 10 to 12 stores to get the volume necessary to open a commissary there." 
Although, if the company grows in Chicago the same way it has in other regions, building a commissary to handle the Midwest operations could be happening in the near future. 
"I work in the New York corporate office and we've grown internally to handle the growth on the restaurant side," Mercuro says. "It's positive to be a part of a growing company that's actually growing worldwide. We sell in 17 countries and although I don't handle distribution around the world, I do collaborate with colleagues in the rest of the world and they are growing just like we are in the U.S." ­­­