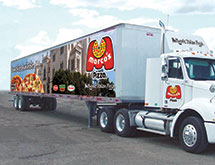 Marco's Franchising LLC is confident its authentic Italian pizza will win over anyone who tries it, which is why it plans to expand to all 50 states and overseas for years to come. 
Founder Pat Giammarco was born and raised in Italy until he was nine years old when his family moved to Toledo, Ohio. Giammarco never forgot the delicious food he grew up with in Italy. He followed in his father's footsteps in the restaurant industry when he opened the first Marco's Pizza in his hometown in 1978. Giammarco's pizza is unique and has become a success because he stayed true to his roots and uses only the best and freshest ingredients. "In Italy, they take pride in what they serve, whether you go to a restaurant or to someone's house," he said in a statement. "I eat pizza almost every day. I'm proud to serve my pizza to anyone who comes here from Italy."
Among the top-25 pizza franchises in the United States, only one was founded by a native Italian: Marco's Pizza, the company attests.
To be sure every restaurant can serve its pizza with pride, Marco's uses four vital steps to make each pie. The dough is made fresh in-store every day using premium spring wheat flour, specially filtered water and high-quality yeast. The sauce is a special recipe developed by Giammarco and his father and blanketing the secret sauce is a blend of three fresh cheeses from Wisconsin and Iowa. Toppings are made using only premium, thick-cut and top-quality meats, including two types of pepperoni and meatball-sized sweet Italian sausage.
Marco's believes the key to its success is combining the best ingredients with a passion for making a great pizza every time.
Tasting the Difference
The company expanded by opening 112 restaurants in 2004 and today operates more than 432 in many states, the Bahamas and Panama, Vice President of Purchasing and Distribution Don Vlcek says. "What makes us unique is that Pat Giammarco is the only founder of a pizza chain in the United States who was born and raised in Italy," he adds. "Authentic Italian is our niche." 
CEO and President Jack Butorac bought the franchise rights to Marco's in 2004 with a focus on national expansion, but before his purchase he hired a third party to conduct a four-month study and evaluate the pizza. "They said of the people who tried it, 72 percent said they would buy it again," Vlcek explains. "The company said Marco's was the highest score in the pizza category in its history." 
The survey prompted the development of a marketing plan to give free slices of pizza to people who visit a new restaurant. "I think pizza is the No. 1 chosen food; 100 percent of people like pizza," Vlcek says.
The idea behind giving a free slice of pizza is that once customers eat it, they will notice the brand difference and become loyal customers. "A location in Oklahoma worked this marketing strategy and sales are 400 percent higher than an average Marco's location," Vlcek notes. "Once they try it, they are hooked."
Today's market has changed significantly in that customers look to buy their pizza based on what special value a pizza company is offering. 
"The $5 pizza or $10 unlimited topping pizza, it's like Burger King and McDonald's going after the dollar menu," Vlcek explains. "If you look instead at a company like Five Guys that has a real quality product. It's opening up a whole new niche of hamburgers that are based on quality, not quantity. Marco's is doing that in the pizza industry."
Non-Perishable Power
The goal at Marco's is to make each store profitable so franchisees are more likely to open additional locations. Marco's Pizza Distribution is the company's internal distribution center, which was established to maintain and deliver inventory to its restaurants. "We really want our supply chain to provide the least possible cost to operators so we opened Marco's Pizza Distribution," Vlcek explains. "We set it up to find ways to provide the least amount of cost to stores. We do a lot of commodity market management." 
As president of Marco's Pizza Distribution, Vlcek focuses on changes in product cost to maintain those low prices. If he knows the market cost of a product will increase the following year – and he adds that it usually does – he will make bulk purchases to get the best rate. "I have no hesitation to buy one years worth of non-perishable product to get inventory to the stores at the lowest possible cost," he adds. "We were able to make these decisions and changes when we opened the internal distribution center."
Marco's compared its purchasing to other major pizza chains in the United States and found its cost to its franchisees on half to two-thirds of comparable products were cheaper. The difference is because of vendor loyalty, Vlcek says. "Some pizza chains bid products on the Internet and choose the least cost; I take the complete opposite approach," he explains. "I will not switch for a lower price to save on sales tax because I am looking for long-term relationships with vendors. I think that's what sets me apart."
Vlcek explains that he builds relationships with Marco's vendors because he understands that those companies are counting on the business to keep its own people employed.
"We need to do what's right and fair," he adds. "I have many vendors that have called me a breath of fresh air because they never leave Marco's Pizza wondering if what I said was truthful or something else is going on that wasn't said."
A slight hiccup in the company's supply chain is the lack of truck drivers. Marco's stores prefer a driver to rotate its stock and place items where they belong versus leaving it on a pallet.
"My take on the transportation industry is that it's not something young people want to get into, they don't want to drive a truck," Vlcek explains. "The problem is the drivers are getting older and past the point where they want to be hauling 50 pound bags of flower and setting it on a shelf."
To combat the driver shortage internally, Marco's looks to attract drivers with the promise of job security, an increased rate of pay, and offer bonuses and raises for staying with the company.
Developing its Future
A major challenge for Marco's is to ensure its vendors keeping up with the rate at which the company is expanding, Vlcek explains. Its growth reached 35 percent in 2013 and is projected to be 40 percent by the end of 2014. "I'm experiencing supply issues because Marco's is growing and our growth is going higher," he adds. To combat those supply issues, Marco's utilizes both its internal and external distribution centers to ensure each location has what it needs to deliver quality pizza to its customers. 
Now that most of its local growing pains have been worked out, Marco's will be expanding into more states and Puerto Rico. 
"We are definitely going to be in all 50 states, we are in the Bahamas and Panama already, and this year we are headed for India and Puerto Rico," Vlcek says. 
The company will work with its current vendors for product shipment to Puerto Rico, for which Vlcek says he doesn't anticipate any issues because it's similar to shipping to the Bahamas. 
Marco's Pizza also plans to open locations overseas in India this year, which will be a bit more challenging than the locations it's in currently. "That creates all kinds of challenges for the supply chain with the different ways customs handles our exports and their imports," Vlcek adds. "India is a way different scenario, but we are fortunate that a very successful franchisee in the Atlanta area will be spearheading that. He is familiar with sourcing in India and pizza ingredients used there." 
Because of Marco's emphasis on growth in 2013, along with its continued focus on quality and making the perfect pie, helped propel it to No. 104 on Entrepreneur's list of "Top 500 Franchises." Last year, Marco's added 109 stores and increased the company's overall size by 35 percent.
The magazine sees the food industry as a solid bet in franchising and listed it among its top five segments to watch. Investors can expect to pay, on average, $350,000 for a Marco's Pizza franchise, with a franchise fee of $25,000. Those interested will need a net worth of $150,000 and $100,000 in liquid assets.
Marco's plans to continue its growth and has plenty of palettes to please with 91 percent of Americans eating pizza at least once per month, according to Gallup. The demand remains high. Although Marco's is true to its Italian roots, the company says it embraces pizza as an American tradition. 
Pizza will always be the company's signature item, but Cathy Hull, the company's new chief marketing officer, was hired in December and will be exploring the option of rolling out new menu items at Marco's Pizza locations. Marco's Pizza Distribution has been distributing marketing items to its franchises including hats, t-shirts and sweatshirts for customers to purchase and wear. This year, the company will align products with marketing plans such as Halloween bags for children and pink uniform shirts and hats in October for Breast Cancer Awareness month. ­­­