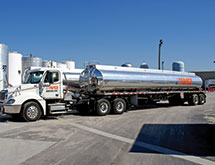 PAPCO customers can't afford to run low on the product the company distributes. "PAPCO supplies a number of large municipalities, wholesalers and transit systems in the eastern United States," says Frank Daniels, director of marketing for the Virginia Beach, Va. based petroleum distributor. "We're dealing in a highly regulated market, and are ever-vigilant as we administer and operate deliveries in a dynamic business that changes on an hourly and daily basis.  We manage all the complexities for our customers and share knowledge that helps them run their operations."
The company serves as a critical link between petroleum producers and a diverse customer base that also includes manufacturing companies, transit providers and retail gas stations. PAPCO utilizes trucks, barges, rail cars, storage facilities and pipelines to move petroleum from refineries to customer facilities in 15 eastern states. "Our diverse mix of assets provide us the capability to serve our customers with added flexibility," says Eric Rosenfeldt, vice president of sales, supply and trading. 
PAPCO owns select fleet and storage assets and partners with third parties to provide services and utilities such as barges and back-end pipeline storage facilities. "Our approach to ownership is market specific," Rosenfeldt says. "In some we've taken a heavy asset view where we want to control the assets we use, while in others we have an asset-backed model where we look to partners to help us distribute products in an efficient manner." 
The company stores petroleum in secondary storage facilities owned and operated by partners including Kinder Morgan, an asset-based midstream oil supplier. Refinery and pipeline partners include Citgo and Colonial Pipeline Co. "We make sure we're dealing with quality suppliers whom we have a good relationship with," Daniels says. 
Understanding Needs
PAPCO is dedicated to offering customers more than just a variety of petroleum products such as gasoline, diesel fuel and lubricants. "We believe that what we do very well is to provide a variety of product and supply solutions to our customers, especially in today's volatile energy markets," Rosenfeldt says, noting the company also offers many ancillary products and services like bulk fuel storage systems as well as fleet fueling cards.
The company helps its customers navigate the volatility of the fuel markets by offering price risk management strategies using several different hedging strategies that match their financial goals, risk tolerance and individual budget goals. For example, customers can 'lock-in' set prices for a specific pre-determined period of time. 
"We look at our customers and their needs and supply them a customized solution to meet all those needs," Rosenfeldt adds, noting the company can also work with clients who exceed their initially budgeted product use because of unforeseen business needs. "We can get entrenched with our customers to understand their needs and risks. This allows us to create and execute a program specific to them, and then monitor their results on an ongoing basis and make recommendations for future purchasing and supply strategies."
PAPCO also keeps a close eye on its customers' supply through the use of technology. Customer fuel tanks can be equipped with a monitoring device that sends a satellite feed directly to the company's main office, where usage is tracked through a number of third-party software programs. 
Data management is one of the company's biggest challenges. There is no single program available that will allow PAPCO to manage every piece of inventory that the company oversees, so instead, several different software programs are used to track data, including Schneider Electric's DTN software and the Intellifuel logistics and dispatch platform. 
"We've also created a proprietary system that enables us to track where our inventory is, and what the value of that inventory is at every second of every day," Rosenfeldt says. "We have invested in the capability of taking that data; centralizing it and talking to the people who manage our supply chain on a daily basis so that we can add value to our customers and ensure they're getting the price they expected and the product they need to run their business."
PAPCO's data consolidation efforts have paid off in terms of its ability to meet customers' fuel needs. "We've never shorted a customer even after some pretty severe natural disasters," Daniels says. "Every investment we make is about serving customers and ensuring a secure supply."
The company's technical and logistics offerings are backed by a passionate staff committed to its mission of providing innovative solutions through personalized customer care. "We believe that we are not simply in the petroleum business delivering fuel products, but rather we are in the people business delivering energy solutions," added Daniels.
"Our team has a lot of industry experience, and we've very proud of the fact that everyone in our company, from the front line to the back office, is focused on our customers," Rosenfeldt says. 
"Many other companies we've seen believe in doing their job just to sell a product – we want to understand why a customer is buying a certain product or amount or why they're not. We're focused on the customer and what their needs are." ­­­