Porsche Logistics Services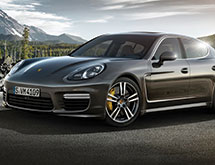 A wholly owned subsidiary of Porsche Cars North America (PCNA), Porsche Logistics Services LLC is responsible for the distribution of Porsche parts to dealers and handles all of Porsche's aftersales parts-related freight management. It has three distribution centers in Easton, Penn.; Atlanta; and Ontario, Calif. 
The Easton and Ontario facilities have 105,000-square-foot footprints, while the Atlanta facility is 155,000 square feet. Porsche Logistics Services has 90 employees and pushes out more than 2.5 million lines of product between its three facilities each year.
Tactical Approach
The company's history began as a result of a less than desirable external 3PL endeavor in the late 1990s and early 2000s. PCNA soon realized that by finding entrepreneurial-minded people and putting the right processes in place, the operation would function better as a wholly owned subsidiary.
"Our parent company is in the driver's seat," Director Rob Nemchik says. "They see us as a subsidiary and a 3PL, but they have 100 percent transparency into what we do. Our board consists of two executives from Germany and two in North America. They provide guidance and support as well as oversight."
Early on in its existence, Porsche Logistics Services focused on building and establishing a strong rapport with Porsche's German headquarters and the Porsche dealers. One thing Nemchik brought to the organization was the experience in Kaizen, the Japanese version of Six Sigma and continuous improvement. 
"That has been part of our culture since day one," Nemchik says. "We've extended that circle of involvement to the point that we have Kaizen activities extending through the entire Porsche group here in North America and across the pond."
Since it is a subsidiary of an OEM, Porsche Logistics Services' primary supplier is Porsche AG in Germany. In fact, 95 percent of the product the company stores comes from Porsche AG. "We don't have to deal with hundreds or thousands of suppliers," Nemchik says. "That gives us an advantage." 
Porsche Logistics Services doesn't have to own its inventory, either. PCNA retains ownership of the millions of pieces of inventory in the company's three facilities. 
Becoming Better
The company is always looking for ways it can improve operational efficiencies. In its facilities, it is constantly evaluating automation to see if it will enhance service. "We focus on blocking and tackling, mastering the basics," Nemchik says. "Every warehouse is designed as a warehouse within a warehouse, making sure everything is right-sized."
Efficiency is critical for Porsche Logistics Services because its footprint, while significant, is still smaller than the largest automotive OEMs. It doesn't have a distribution network with 10 to 12 distribution centers, but it still wants to provide its dealer network with rapid service. Today, the company works with Georgia's Action Expediting Inc. and Black Horse Carriers from Illinois to help it with deliveries. In addition, FedEx is its express partner.
Another unique aspect of the company's operations is the way it goes about working with independent repair facilities. For those independent repair facilities that work with Porsche dealers and have been designated as authorized facilities by Porsche's corporate office, Porsche Logistics Services will drop-ship parts to the facility on behalf of the dealer.
"That cuts a leg out of the logistics process, and the dealers love it because there is no handling involved," Nemchik says. "Many of our dealers may have relationships and past experience with other OEMs. The industry expectation is that if a part is ordered, it will be there the next day. We want our dealers to get that same high level of service." 
One major recent investment Porsche Logistics Services made was into its warehouse management system (WMS). It had previously been using an older system that didn't have some modern enhancements. The company went through the process of investigating its options so it could deploy a new system, one that would be more robust. Ultimately, Porsche went with JDA Software's RedPrairie WMS solution. 
"We chose that system because of its simplicity and ease of use," Nemchik says. "The system is recognizable, and some of our staff members had experience with the package from previous usage. All in all, its functionality, simplicity and compatibility with SAP, as well as the potential for further use of its modules and capacity, won the day."
Porsche Logistics Services is sure to continue pursuing strategies and investments that will help its operations improve and expand. It is looking at everything from the increase in carrying costs of opening a new distribution center to the pros and cons of expanding one of its current facilities. It is constantly looking at issues such as fuel costs and delivery prices, and it is engaged in close collaboration with Volkswagen and Audi in the United States.
"Porsche is a Volkswagen brand now, and we are in close contact with them to look for opportunities and synergies that are mutually beneficial and can provide a higher level of service," Nemchik says. 
In the years to come, Nemchik and his team plan to continue to work to position Porsche Logistics Services as a support and profit center for PCNA. Nemchik explains that the company has seen nice growth coming along with some new model launches. 
In fact, Porsche has a new vehicle coming out in May, which will be the company's fifth model line. Although growth is a challenge, Porsche Logistics Services will strive to deal with growth effectively and still provide quality service. 
"We will look for cost reduction opportunities and service enhancements during our collaboration with our Volkswagen and Audi colleagues," Nemchik says. "Fortunate­ly, we have a culture of empowerment here that encourages our people to make suggestions and be engaged. We reward our people for their inventiveness, innovation and entrepreneurial nature to ensure that they are directly involved with everything we do." ­­­