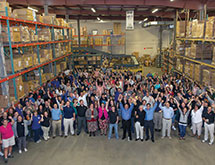 Any company that reaches its 108th anniversary has to be doing something right – many things, in fact. But that doesn't mean there isn't room for improvement. In fact, it's safe to say that any company more than a century old has likely mastered the art of continuous improvement. 
Since 1906, the family owned and operated S&S Worldwide has been designing and delivering a variety of activity-based products, such as arts and crafts, games, holiday and party novelties, educational supplies, recreational products and rehab and therapy products. S&S Worldwide's mission is to make it easy for their customers to play and learn. With recent investments to modernize its supply chain, S&S Worldwide is making even greater strides in that mission. The company has certainly retained those old-school values that seek to make its customers' lives easier, but today, it's doing it in a distinctly 21st-century way. 
Out with the Old
"We've been around for more than 100 years and because we've been around for so long, there develops a more tribal knowledge mentality," says Director of Global Supply Chain Cheryl Zebold, who started with the company in 2005. "We knew that would not help us as we went into the future, so we created processes and procedures and continued to make the department a true purchasing team." 
Zebold says the owners, the Schwartz family, knew exactly what they wanted the company's supply chain to look like – a consolidated purchasing team with set guidelines and accountability resulting in efficiencies that save on overall costs. The issue, however, was in getting there. To do that, the department needed to make some changes to its foundational structure. 
"When I got here, I knew there was opportunity for improvement and change, especially with the fact that the buyers didn't report centrally," Zebold says. "That was a big issue and because of that, there were too many different messages and things weren't consistent. Sporting goods were way overstocked and we didn't have enough arts and craft supplies. Because of that, back-orders were at an all-time high."
And the problems didn't stop there. The lack of a vendor compliance program meant there was no clear way to hold vendors – both third-party and contracted – accountable. Also, out-of-date pricing information often resulted in sticker shock when S&S Worldwide received invoices from vendors. But with a future goal in mind, S&S Worldwide began to knock down each issue one by one. 
The first task was to consolidate the planning  and purchasing team under one umbrella. The second was to create a set of procedural guidelines of how the supply chain should operate and document it – no more "tribal knowledge." It gave the company a clear view into problem areas and how to fix them. With those internal structures in place, Zebold says the purchasing team was ready to look outward and create a thorough vendor management program. 
Perfecting Partnerships 
"The next step was to consolidate the vendor base," she says. "We had well over 1,250 vendors in our system. There were duplications, incorrect data and information. We had to go through a data cleanup and then create a vendor management system." 
After completing the necessary legwork, S&S Worldwide created a vendor compliance program with set guidelines on what it expects from vendors – such as on-time delivery, quality product, fair pricing, honesty and consistent updates on any new programs or innovations. 
Next, the team went searching for a system that would allow it to communicate efficiently with all of its product suppliers. It selected a real-time communication vendor portal designed by B2B Connex that allows it to perform four major tasks. 
The first is the sending and confirming of basic purchase orders. S&S Worldwide uploads the PO and the vendor confirms or negotiates the delivery dates and pricing. The second major function is advanced shipping notices. S&S Worldwide's customers want and often need to know when their products will arrive, which means the company needs that same information from the vendors. The third efficiency is conducting annual price requests and negotiations. Last but not least, the B2B Connex system allows S&S Worldwide to send out sourcing requests to a select number or type of vendors that those vendors can then bid on. 
"The system allows the vendor and buyer to communicate effectively online and update our systems so that we can remove those day-to-day data entry tasks. This provides more time to source other items and decrease the time it takes to get those products to market," Zebold says. "Because at the end of the day we want to carry more items and not just that, but fulfill unique item requests. A customer might have 12 items they need and we carry all but two. We can go out and source those additional items for them much faster due to our automated systems and improved vendor response times." 
Into the Future 
Setting up these structures has put S&S Worldwide in a prime position for future efficiencies. It's already seen labor costs reduced by 40 hours a week for the team as a whole. That means the team can spend more time on special and complex projects rather than mundane tasks. 
Also, laying down procedures and collecting easily accessible data means the company can start analyzing information to make even more improvements in its supply chain. Which vendors do or do not confirm POs on time? Which vendors do or do not issue advance shipping notices? Who are the top-20 performers? Are their duplications in the supply chain? These are all questions that S&S Worldwide can answer so it can make more informed decisions. 
"The goal for 2014 is analyzing the data," Zebold says. "The owners have really empowered the management team to make this possible. There aren't a lot of roadblocks to prevent us from moving toward this goal, and in the end, it has put us ahead of the competition. There are only so many dollars to go around for the product we sell, but because of our customer attention and sense of urgency, we are gaining marketshare." ­­­