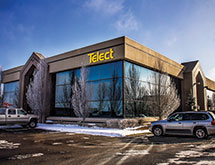 For the past 31 years, Telect has provided critical infrastructure to the telecommunications industry. The company has secured its position as an industry leader by providing solutions and adapting to market changes quickly.
The Liberty Lake, Wash.- based company was established in 1982 and is a leading manufacturer of connectivity, power and rack solutions for the global communications industry. Telect has more than 5,000 diversified customers around the world, and an installed base of more than $2 billion. The company is focused on data center, telecom network, enterprise and CATV markets and is standardized with every major carrier.
Telect offers copper, fiber and power distribution equipment, enclosures, racks, power systems and integrated solutions. "This wide product offering gives Telect the distinct advantage of providing a one-stop shop for communication infrastructure needs," says Barbara Haugen, corporate logistics manager. Telect's teams mobilize to deliver cost-effective, reliable solutions.
"We are known for quality and our customers will attest to that," Haugen says. "Our customers expect the five nines – 99.999 percent up time – so our equipment has to meet this expectation. Our equipment cannot fail." Downtime is not acceptable in the telecommunications industry, Haugen explains, so Telect provides industry-leading product warranties. 
"We feel we differentiate ourselves because we partner with our customers to rapidly develop prototypes and new solutions," Haugen adds. "We offer higher responsiveness by taking a proactive approach and being sensitive to our customers' needs."
KGP Logistics is one of Telect's distributors and KGP President Trevor Putrah says the two have developed a strong relationship. "Over the years, Telect has developed products with a singular goal in mind: to solve specific challenges for customers through collaboration and an innovative spirit," he adds. 
Carrier Consolidation
Telect opened a manufacturing plant in Guadalajara, Mexico, in 1997. By 2007, business had grown to the point where the company decided to hire its first logistics manager. "They needed someone with that expertise," Haugen notes. "Telect did their due diligence to bring someone on with experience and luckily that was me."
One of the major supply chain issues Haugen addressed when she stepped into her role was the company's practice of using a variety of carriers. She took the company's shipments out to bid and reduced the number of carriers from more than 20 to no more than five at any given time. "We have been able to put enough volume in front of the carriers to make it worthwhile for them and we didn't have to deal with the financial obligations of being with a variety of different carriers," Haugen explains. "It became a partnership versus them just picking up freight."
A number of Telect's products are shipped one time to one customer and to locations the company has never shipped before, which makes it challenging to negotiate contracts with carriers. However, Haugen succeeded in securing a discounted rate by guaranteeing them a certain volume and committing to use them for two years. "Nothing is static," she adds. "We don't have a constant flow so we have to think outside the box."
The best advice Haugen says she can give to her peers is to not become trapped in the mindset that "this is the way it has always been done." A business that does not evolve will fail, she believes. "As soon as you think you have made it, something changes. Our goal is to embrace the change, play in it and invest in a new path," Haugen adds.
Inventory Innovation
Because the telecommunications industry changes rapidly, Telect's inventory is based on high-mix, low-volume activity. "We are sending out a different mix of products every day," Haugen explains. "Because we offer solutions that are customized, we don't buy in large volume." 
Telect's low-volume inventory pushed the company to regionalize its suppliers, which Haugen says is a new concept for the company. Instead of internationally sourcing a component that is a nickel less than buying it closer to one of its facilities, Telect is examines the component's full landed cost. "By regionalizing our supply base, we can quickly respond to any quality issues, engineers can go help with the design because it's closer to home and suppliers hold inventory for us so we pull as we need," she adds.
Telect works with suppliers to ensure that even on its build-to-order products inventory levels are minimized, while remaining viable to meet delivery dates. Haugen also works to ensure Telect's customers receive inventory where and when they need it. "As the market and technology change, we are seeing more acceptance of suppliers saying they can hold inventory," Haugen says. "I think more and more companies will shift to a similar model."
"KGP Logistics is always striving to find solutions that reduce challenges for our customers in innovative ways," Putrah says. "With Telect and our national distribution presence, we believe we are successful through actively working together to ensure we have the right products in inventory in the locations closest to the customer deployment."
"Velocity is the key to our success," Haugen says. "Getting products to our customers when they need them and in the configuration they need is our competitive advantage." ­­­