Thompson Creek Metals Co.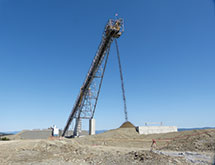 Thompson Creek Metals' supply chain operations go deeper than just moving goods to and from the mining company's facilities. 
"I think that what we've experienced in the last few years, and what we're driving home within our operations, is that the supply chain is more than transactional – it's now viewed as a strategic resource to drive savings throughout the organization," says Rob Rutledge, supply chain director for the Denver, Colo.-headquartered company. "Our supply chain contracts are for more than just supplies of material; we work with all of our stakeholders at an operational level to increase our internal efficiencies."
Examples of vendors who have helped Thompson Creek Metals become more efficient abound in the company's operations. One of its largest vendors, Caterpillar dealer Finning Canada, operates an on-site part store at Thompson Creek Metals' newest venture, the Mount Milligan copper and gold mine in central British Columbia, Canada. "They have their own parts people on site managing their inventory," Rutledge says. "That has reduced our amount of capital spending and also made us more efficient from a human resources perspective." 
Several vendors of maintenance, repair and operations (MRO)-related products also help manage Thompson Creek's inventory levels on those items. Suppliers maintain vending machines containing safety supplies and other commodity-type items that are strategically placed near production areas. This prevents the need for employees to regularly venture into warehouses for these items, Rutledge notes.
Cabinet manufacturer Vidmar played a significant role in helping design a state-of-the-art new warehouse facility at the Mount Milligan mine, which commenced production operations in September 2013. Vidmar's Stanley® Vidmar®- brand cabinets are one of three organizational methods used in the Mount Milligan warehouse, along with pallet racks and stacking systems. 
Thompson Creek Metals also works with all of its vendors to control and minimize commodity price increases. "The contracts we have with our suppliers each typically have a continuous improvement portion, with language that drive home the need for cost savings and quality products," Rutledge adds. 
Operational Support
Thompson Creek Metals relies on its vendors to quickly get it the materials and supplies it needs to operate Mount Milligan and two other mines. The company mines and processes molybdenum in the Thompson Creek Mine in Idaho, the fourth-largest of its kind in the world; and the Endako mine, located near Fraser Lake, 100 miles northwest of Prince George, British Columbia.  
Thompson Creek Metals also roasts roughly 35 million pounds of molybdenum annually in its Langeloth Metallurgical Facility, located 25 miles west of Pittsburgh. Molybdenum produced in the company's mines and refined in the Langeloth facility is used in a variety of applications including as a steel strengthener, a paint catalyst, for light bulb filaments or in batteries.  
The company regularly contracts for supplies including mill liners, filters, ground tools and gauging tools, packaging suppliers, lubricants and fuel. "We try to leverage our spending across the organization by going out to market for materials that are common across our operations," Rutledge notes.
Shipping and transportation services to and from its facilities are also contracted out. The company uses large, established transportation carriers to help it ship goods on a timely basis. "Our supply chain team inside of Thompson Creek Metals can be counted on to assist in situations such as shutdowns," he adds. 
Thompson Creek Metals uses many of the same vendors for the two sites in British Columbia. "We've captured synergies between those two operations and narrowed down our supply base through amalgamating vendors," Rutledge says. "We've leveraged off of our existing operations at Endako for the Mount Milligan project."
Many of the links in the company's supply chain have been in place for a long time. "We are most proud of the reputation that we have with our vendors from a supply chain perspective," Rutledge says. "We have a long-established presence with them and work with all of them in a professional and courteous manner."
A Single Platform
Thompson Creek Metals recently invested in a standardized ERP system that will make it even easier to communicate with its supply base. 
All three of Thompson Creek Metals' mines and the roasting facility now use the MinePoint ERP suite, built on the Microsoft Dynamics platform. The new system has made internal reporting processes and asset management easy. Future enhancements to the system include integrating Finning Canada's parts store, which would reduce overall data entry and invoice processing times. 
Technology such as the ERP system plays a role in helping Thompson Creek Metals identify opportunities for cost savings and efficiencies within its supply chain well into the future. "I see our supply chain operations continuing to evolve," Rutledge says. "We will continue to lean on our vendors for their support and expertise, and to help us identify opportunities for savings or streamlining our operations." ­­­