Trinity Services Group Inc.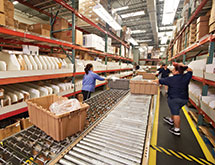 For Trinity Services Group Inc., maintaining a team environment is the only way to do business, Director of Communica­tions and Marketing Jim O'Connell says. "That's a key point of pride for us," he says. "We have unusual challenges that aren't faced by a typical business."
Trinity's work is anything but typical. Based in Oldsmar, Fla., the company provides support services for 400 correctional institutions in the United States, the Virgin Islands and Puerto Rico. President Larry Vaughn founded Trinity in 1990, and initially, it served facilities in Florida and the Southeast.
In 2000, Trinity was acquired by Compass Group USA and continued its growth across the country. The company's footprint changed significantly in 2012 when Trinity and its sister company, Canteen Correctional Services, were divested from Compass Group and formed a new standalone company operating under the Trinity name. The company now  provides foodservice, inmate commissary and banking services across the country. "We serve 300,000 inmates [daily]," O'Connell adds.
Trinity works alongside inmates, as well. The company supervises nearly 8,600 prisoners who help prepare its meals. "Typically, we use inmates who have a release date on the horizon, don't have a violent history, and are willing to work and learn a trade," O'Connell says.
This gives prisoners the chance to gain skills they can use after they are released, CEO Jim Long says. "We are right in the heart of the facility," he says. "That is the one area where inmates are part of the process."
Trinity has a concise, streamlined supply chain, Vice President of Purchasing Mark Keller says. "It begins with the individuals who order the products, which are our team members in the field," he explains.
These members place the orders using managed guides that are associated with primary distributors, and Trinity's own team handles the product procurement, arranging delivery to distributors, who then deliver all products to each secured kitchen. 
The company employs several team members who have up to 40 years of experience in procurement. "That enables us to maintain contacts with key suppliers across the grid," he says, noting that the team manages 985 products for all of the prisons combined.
Menu Management
Complications arise for Trinity with the menus at the facilities. Only 180 of the items are common to all the prisons. "It's not like it's an Applebee's and we're serving the same menu," Long says. "We have jails that are run by sheriffs, detention facilities and so on. Every one of them has a fairly unique menu."
They also can have prisoners with diverse diets. Trinity regularly delivers kosher and halal products, as well as food for diabetics and a mixture of other religious and medically necessary menu plans. "It adds a layer at every one of our facilities that we have to take into account," O'Connell says.
Additionally, some prisons may not want their inmates in the mess hall three times a day, which requires Trinity to package a meal as a sack lunch, and serve it at breakfast. Some facilities require meals to all be served in their cells or pod. 
Despite these variables, Trinity maintains a high level of quality. "It's not just a slopping of food on the tray as many in the general public presume," Keller says. "We truly try to present the best product to our customer as possible."
Staying Ahead
Trinity distinguishes itself by being innovative. "You have to grow with the market changes," Keller says. "That is something we seem to do quite well."
The company has stayed on top of new technology by implementing new tracking systems that not only tell Trinity where its trucks are, but also can keep them locked. 
Trinity also has kept its commissary services current with machines that are built-to-last and provide secure credit card transactions. "They have to withstand the rigors of being in high-security facilities, and have to work flawlessly day after day," O'Connell states. 
He predicts a strong future ahead for Trinity, which has only flourished since its merger with Canteen. "We've spent a lot of time pulling these two companies together," O'Connell says. "Mark has done an incredible job of merging the two purchasing groups [to] better leverage our partnerships with our suppliers."
Long also praises Keller, who has 24 years in the industry. "Mark and his team understand what's going on at these facilities," Long says. "We can't just bring somebody in and say, 'Just begin doing this job,' because there are so many nuances to it. It really takes somebody who understands what's acceptable and what's not."
Trinity wants to continue improving. "We want to better serve our customers," O'Connell says, adding that the company strives to take burdens off of the prisons. "They shouldn't be in the business of running a kitchen. We're able to provide a service, save the taxpayers dollars and keep the inmates satisfied. We want to do more of that in the future." ­­­