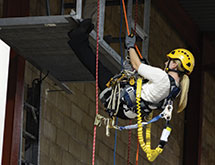 UniTek Global Services knows that for it to meet the needs of the ever-changing technology market, the company itself must evolve. 
"UniTek is short for 'universal technician' and though our company has evolved greatly during the past nine years, the concept of the universal technician and our people providing that service remain the foundation of our strategic and balanced growth strategy," says UniTek Chief Executive Officer Rocky Romanella. "We aspire to always have the best, brightest, most-informed and best-educated people in the industry as we strive to be a fully integrated solutions provider for our customers. In this respect, our supply chain and logistics team and their business partners must continually gather, analyze and provide insight to our organization on ways to deliver service excellence to our customers and drive growth. This requires a thoughtful and balanced approach as we endeavor to be a customer-focused company that provides innovative and profitable solutions to strategic market segments."
  Senior Vice President of Supply Chain and Engineering Shannon Schell says the company constantly reviews industry trends and ways to position customers and the organization to capitalize on new technologies. "To stay ahead of the curve, we are focusing on data – for visibility into every facet of our business – and mobility as we look to connect the wired and wireless industries by harnessing the talent of our people and the strength of our supply chain and engineering prowess," he adds. "Through every interaction, we want to make sure our customers know we are ready to take on any challenge."   
The upgrade in wireless technology in recent years from 3G to 4G to LTE networks in particular has required the company to increase its knowledge base and adjust its services. UniTek's subsidiary, Pinnacle Wireless, has the capabilities and expertise to engineer, procure and build, as well as maintain large-scale communication projects for customers in the transportation, public safety, energy, wireless carrier, government, institutional and enterprise markets. 
The cable and satellite television markets will likely also see significant changes within the next few years. UniTek serves these markets through three business units: DirectSat USA, which performs fulfillment, installation, upgrade and repair services on behalf of satellite television providers; and FTS USA and Wirecomm, which provide cable installation, maintenance, splicing, certification, disconnect and customer service to the cable television industry. 
"These are already very mature markets, but still offer opportunities to continue to develop new solutions for our key customers," Schell says. "UniTek will also look to provide services in non-traditional venues like malls, offices and stadiums and for a multitude of businesses as the traditional use of cable and television becomes part of a robust marketing and informational platform. Today, most homes are wired for entertainment. Looking forward our technicians have the capacity to fully integrate the latest technologies to automate a home, including appliances, utility systems and security networks – making it not only safe and entertaining, but a smart asset." 
UniTek's subsidiaries operate in every one of the largest metropolitan markets in the United States and eastern Canada. 
Process Improvements
For UniTek, upgrading its own technology and supply chain processes is critical to its ability to keep up with the latest developments in the markets it serves. "Everything we do as we move forward will require us to be as efficient as possible in our supply chain and logistics operations," Schell says. 
The company has a number of internal processes in place to maintain regular communication with vendors as well as sales, marketing and warehouse operations. UniTek uses a network of close to 100 facilities across the United States and Canada, and works with a number of third-party logistics providers. The company also operates and maintains a fleet of more than 3,000 trucks and other equipment that it uses for installations, deliveries and construction projects. 
"Through disciplined engineering, we ensure customer deployments are quick and cost-effective.  Everything we do we have a process for," Senior Director of Logistics Warren Kucker says. "If it's not documented somewhere, it doesn't exist."
UniTek uses Oracle to integrate its inventory, vendor and warehouse management systems. It continues to evolve and utilize state-of-the-art technologies to enhance its just-in-time inventory management system. "Our systems integration and construction projects can have hundreds or even thousands of different pieces of equipment and/or components. In order to better manage a project from start to finish, we are creating an automated inventory and closeout process," Kucker says. "Every piece of equipment a technician uses is scanned and linked to the employee and/or the job, which significantly impacts our materials management and inventory investment. Our automated closeout process closes the loop on our billing process to reduce days sales outstanding and ultimately improve cash flow. These upgrades and updates will translate into savings for both our company and our customers." 
The company is also examining ways to better utilize its 3PL partners. "There's a large shift in the industry toward being an integrated partner as opposed to a vendor-customer relationship," Kucker says. "Working with our customers and our vendors will help us to design a supply chain that adds value for all of our constituents."
Quality and Safety First
UniTek's internal improvements will ultimately help it better serve its customers. The company is consistently ranked highly by customers in a number of service metrics including quality and on-time delivery. "We're well-respected for the quality of the work we do and our dedication to meeting service commitments," Schell says. "When it comes to tower climbing, we're building our reputation as the safest and the best. With this as a competitive differentiator, in the future, our universal technicians could literally install anything – it's a value proposition that we're beginning to call 'Uniquely UniTek.'"
Schell credits the company's internal culture and values for its positive reputation. "Our philosophy is that we want our people to 'Think Like a Customer, Act Like an Owner and Feel Like a Valued Employee,'" he says. 
Safety is another value that can be seen throughout UniTek's operations. "Safety is a core value and a way of life at our company and is something we will not compromise," Schell adds. "Everything we do here has safety at the very forefront." ­­­