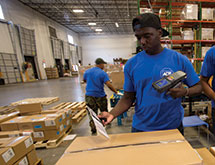 Founded in 1874, ADT Security Services is one of the most trusted and well-known brands in the security industry today. Based in Boca Raton, Fla., ADT is a leading provider of electronic security, interactive home and business automation, home health medical alert products, and alarm monitoring services in the United States and Canada.    
"We have been in the security industry for nearly 140 years, longer than any other big brand," Vice President of Supply Chain, Compliance and Procurement Dr. Rodolfo Santamaria says. "We have 90 percent brand awareness among consumers in North America and are six times the size of our closest competitors." 
Today, ADT is the largest electronic security and automation company in the United States and Canada, currently serving 6.5 million residential and small business customers, more than 700,000 of whom are ADT Pulse customers. ADT has 25 percent residential market share and 13 percent small business market share in the industry. The company owns and operates six fully redundant monitoring centers ensuring 24/7 service through any condition in the U.S. and Canada.  Customers can purchase ADT monitoring services directly from the company or through its 300 authorized dealers.
"Our emergency dispatch operators handle 19 million alarm signals each year," Dr. Santamaria says. "About 90 percent of our revenue is recurring revenue."
Period of Transition
The company has gone through a number of major changes in recent years. In May 2010, ADT acquired Broadview Security. This move combined the No. 1 and No. 2 security companies in North America. In September 2011, ADT's former parent company, Tyco International, approved a plan to separate the company into three independent, publicly traded companies, spinning ADT North America residential security business off into its own entity. ADT debuted as an independent public company and began trading on the New York Stock Exchange in October 2012. 
"ADT in North America was spun off from Tyco while ADT in other countries is still part of Tyco," Dr. Santamaria says. "We strategized on the best ways to be a profitable standalone and better serve our customers, because we help save lives for a living."
One of the biggest projects ADT had to undertake was getting its supply chain, systems and distribution network set up. After the spinoff into independency, Tyco handled distribution for ADT until it was ready to move forward on its own.
"We had a team of talented people with a lot of background in supply chain operations, systems and distribution management," Dr. Santamaria says. "We learned from our past experiences and wanted to figure out what we wanted to do as an independent ADT. We looked at benchmarks and viewed our competitiveness vs. our peers. We needed to develop a platform for growth and ensure we could distribute products better than others."
As ADT looked for innovation, it examined the future of the security industry to determine what the security products and value chain of tomorrow would look like. It wanted to build a distribution network that was flexible and nimble, supported by management processes that would allow the company to tackle any challenge. 
Ultimately, ADT was able to open 59,040 square feet of office, warehouse and distribution space in the Camp Creek Business Center. Located in the Atlanta Airport submarket, it is about four miles west of Hartsfield-Jackson International Airport.
"Tyco handled our distribution until December 2013," Dr. Santamaria says. "At that point, we were up and running and moving forward on our own path." 
Maximizing Opportunity
As part of opening the new distribution center, ADT took a long look at many aspects of its operations. It worked with companies like Oracle and KPIT to ensure that its IT systems were properly aligned for the future. It looked at ways to reduce the number of items it warehouses and examined ways it could make products easier for technicians to install and maintain customer focus
"We tried to give ourselves a good look at what to expect during the next three to five years down the line," Dr. Santamaria says.
On the manufacturing and assembly side, ADT works with suppliers that provide it with product in bulk. ADT then assembles the products into kits for its technicians so they can install products for customers. 
"We don't send product to our technicians piece by piece; we put the pieces together," Dr. Santamaria says. "We put together the kits in our distribution center in a very efficient manner, bundling and shipping thousands of them every day."
To help the distribution center operate efficiently, ADT has tried to maximize the facility's 28-foot clear vertical space. Its vertical racks, conveyor systems and IT setup allow the company to improve its performance.
"We benchmarked systems to look at their performance so we could be sure we were making the right investment," Dr. Santamaria says. "We got our partners aligned with the design of our conveyors, racks, systems and logistics. Our logistics partners work with us so we can deliver to our 200-plus locations and our technicians." 
Now, ADT has a best-in-class facility that is low-cost and high-performance. Looking ahead, the company's supply chain operations must ensure strategic alignment with the organization as a whole. 
"Supply chain must be able to change with the company by being innovative, flexible, scalable and maintaining customer focus," Dr. Santamaria says. "It is a challenge, but we try to look forward at everything we think is coming down the road so we can be a few years ahead. Today's core competencies can be challenges tomorrow, but we try to convert these challenges into opportunities to serve our customers better."
In the years ahead, ADT will continue to be customer focused in everything it does. The new distribution center is a critical part of the company's ability to serve its customers well. 
"We protect and connect our customers, and our supply chain needs to be in line with that mission," Dr. Santamaria says. "We must be ready to send product out that can serve the customers' needs at the right time. We work closely with our technicians and customers because we understand that all of their needs are different. We never forget the trust our customers place in us every day to help protect and connect the things that cannot be remade, rebuilt or replaced."