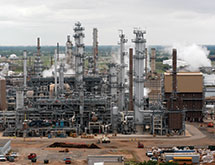 Headquartered in Kansas City, Mo., Burns & McDonnell has a long legacy that stretches back for more than a century. Founded in 1898, the company today is a full-service engineering, architecture, construction, environmental and consulting solutions firm, serving a diverse clientele across many industries. The company's engineers, architects, construction professionals, planners, estimators, economists, technicians and scientists allow the company to plan, design, permit, construct and manage facilities all over the world.
"We offer full-service engineering, procurement and construction services on projects that have included pretty much any type of project requiring an engineering solution," Vice President and Director of Procurement Matt Ralston says. "Our divisions are structured as independent global practices that focus on a specific industry. Our construction design/build group is a central hub that provides all construction support services to each engineering global practice."
One of the elements that helped define Burns & McDonnell's success is its status as an ESOP. All of its employees are owners, which has helped create both camaraderie and positive internal competition.
"Our employee-owners not only want our company but also our clients to be successful," Ralston says. "We were ranked 14th in Fortune's 2014 list of 100 Best Companies to Work For, and the ESOP has helped us develop the strong culture that is embodied by people in all of our departments."
Flexibility Matters
Ralston says the company continues to mature as an engineering, procurement and construction solutions provider. He also says that there are several strong markets – such as transmission and distribution in the energy sector and midstream oil and gas projects – which are providing the company with steady work for core clients. 
"We have succeeded by being flexible and understanding what the clients' needs are, adapting our processes and methods of execution so they align with the clients," Ralston says. "Each industry and project type is driven by the different needs of each individual client. What we have to do is adapt to each situation. If there are issues such as schedule constraints, we must have flexibility within our procurement process to help us succeed, as well as a strong information flow among our teams." 
Ralston says the company's structure helps to provide flexibility. Within Burns & McDonnell's construction group are project management, field services, safety, health, estimating, project controls, and procurement. The task for the procurement team is to support individual projects and the company as a whole.
"We provide both project and corporate procurement services," Ralston explains. "Our department also executes the expediting, supplier quality and supplier diversity efforts for the company."
Ralston says Burns & McDonnell has a fairly centralized procurement group. The company has corporate offices in the United States, India and Canada. In addition, the company has project offices located domestically and internationally. Supporting the company from a procurement perspective, the staff is based in a few key locations. 
"That makes for consistent support of projects," Ralston says. "Thanks to the advancement of technology, we can overcome some of the limitations that historically meant you needed to have boots on the ground everywhere. We can provide consistent support from the home office or from one regional office to another." 
One of the technological tools the company relies on is its Oracle R12 procurement software. "This is our enterprise-wide tool that provides us powerful procurement and project management computing capabilities," Ralston says. "In addition, through webcasting, screen sharing and the use of audio and video, we can stretch the boundaries of how we communicate. We also use electronic documents posted in one spot so all team members, clients and suppliers can log in and see documents and project updates. This provides flexibility and visibility." 
Taking Control
What the company strives to offer to its clients are competitive bid packages that provide the best value. Supplier relationships are critical to this process, so Burns & McDonnell places focus on clear communication with suppliers before, during and after each project's procurement cycle. 
"We always need to have a feel for how suppliers are doing to understand what their capacity is and what their challenges are," Ralston says. "When we are working on a procurement plan, we must be in alignment with our supplier base. We must also make sure all the little things are done right, such as timely payments and minimizing changes during the procurement process. That helps develop trust."
Another area where the company's procurement team has focused recently is the globalization of the supply chain. This trend has led to more international procurement and the use of modularization on large projects with complicated logistics. Burns & McDonnell has responded by creating a dedicated freight and logistics department to allow for more flexibility in managing project risks.
During the next year or two, Burns & McDonnell understands that there could be some constraints on the supply chain, especially in the oil and gas sector. To combat those challenges, the company will do its best to forecast and communicate with suppliers.
"That way, when the supply chain starts to tighten, we will have that information early so clients will be aware of the situation and estimating can remain accurate," Ralston says. "Labor shortages are out there and shop capacities can be strained. We must make sure we are working with viable suppliers so we can maintain quality and schedule."