Cardinal Health Integrated Logistics Services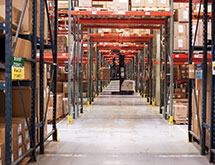 When medical device suppliers and manufacturers maintain their own distribution centers and vehicle fleets, these assets are not always used to their fullest. The distribution center might have areas that are vacant, or the trucks might be delivering less than truckloads (LTLs). That unused capacity adds costs to the healthcare system.
Cardinal Health Integrated Logistics Services (ILS) was set up as a separate business unit by Cardinal Health Inc. in 2011 to eliminate those costs by acting as a third-party logistics (3PL) provider. Instead of maintaining their own warehouses and trucking fleets – or paying high prices for shipping LTLs with trucking companies – medical device suppliers and manufacturers can reduce their shipping and warehousing expenses by using the 3PL services of Cardinal Health Integrated Logistics Services.
Cardinal Health Inc. provides pharmaceuticals and medical products and services to more than 100,000 locations each day, and also is a direct-to-home medical supplies distributor. Additionally, the company manufactures medical and surgical products, including gloves, surgical apparel and fluid management products. It also operates the nation's largest network of pharmacies that dispense radioactive pharmaceuticals to aid in the early diagnosis and treatment of disease.
"We've actually performed 3PL services for 16 years, but about three years ago, we set up ILS as a strategic initiative to serve a new market," explains Rob Doone,vice president of integrated logistics services. "There was a need in the market for a company with healthcare DNA and an understanding of how to move products. So we created this business unit to expand on the customer base we've had over an extended period of time."
Heathcare is evolving rapidly on several fronts, Doone says. The number of people who have access to healthcare is increasing, and where they are receiving services is shifting. "As more treatment has moved away from acute care to surgery centers or the doctor's office, to the lab or home, you see things moving all the way across that spectrum," Doone relates. "As a manufacturer, it is difficult to cover the complexity of all those different points. We as a 3PL can leverage our infrastructure which delivers to all those points."
Technology Investment
Cardinal Health ILS offers the competitive advantage of being able to track medical products from manufacture to patient. "As restrictions around products become tighter and regulations require tracking of products such as implants throughout the supply chain, you need to be able to track that product's serial number so it is associated with a patient," Doone emphasizes. "If there is any issue with that product, you can see its entire path through the supply chain and know which patient has that implant and you can treat them accordingly. Those are the kinds of things that as a company specifically focused on healthcare are second nature to us."
ILS benefits from the corporate healthcare expertise of Cardinal Health. "All we do is healthcare," Doone points out. "We make investments to stay abreast of the latest regulatory changes. A generic 3PL can't make that kind of investment because they don't have the scale we have."
The company continually updates its advanced inventory and warehouse management software. "We just completed a little over a year ago a very large investment in our overall enterprise resource planning system, which we use in 3PL to get to the next level," Doone says. "We continually make investments in that space. We focus on the technology and make the investments to make sure we stay ahead of the curve."
Fixed Price 
The regulatory environment continues to be a challenge for medical device manufacturers. "As an industry, we've seen a 300 percent increase in regulatory inspections within the last five years," Doone maintains. "Additionally, what used to be your revenue drivers are now cost drivers." For example, instead of paying for each procedure – such as an X-ray and an MRI to analyze a broken arm – insurance companies just pay a flat fee to heal the arm regardless of how many tests or procedures are required.
"That reimbursement model puts a lot of pricing pressure on the manufacturers because providers are looking for significant price reductions in their products." Doone says. This means manufacturers cannot afford anymore to pay for half-empty warehouses and LTLs for their products. "What happens is you end up with a lot of waste in the overall sector," Doone stresses. "You really need to get to the point where you're sharing transportation and facilities for warehousing to eliminate that waste."
 Cardinal Health has 39 medical distribution centers in the United States where the company consolidates the inventory needs of its medical segment customers, along with 10 in Canada and 11 in China. The medical segment's fleet of approximately 425 tractors and 600 trailers can provide logistics for thousands of customers. "That is the solution we bring to the table," Doone asserts. "We have that infrastructure in place already and the technology where we can bring a shared solution, where manufacturers can aggregate their freight and bring full loads to the entire supply chain."
For the future, Doone foresees continuing growth. "We see a compelling need in the industry," he predicts. "Forces out there are driving people to look at the world differently in the healthcare sector. We've seen analogies to other industries in the past, such as automotive in the 1970s. Manufacturers were fragmented from suppliers and there was a lot of waste. New entrants – the Japanese manufacturers, with a streamlined approach to manufacturing and a lot of collaboration – turned that world upside down.
"We see a strong corollary to that in healthcare," he concludes. "Manufacturers need to collaborate and pursue the solutions we are proposing. Consolidate freight from multiple manufacturers and get out of the LTL business. Move out of your own dedicated warehouse sites into a shared facility. That is where you leverage across multiple manufacturers and don't bear the entire cost yourself. Use shared facilities. You can reap significant economic benefits. There's a strong interest in that market relative to 3PL, and I expect that to continue to grow fairly dramatically."