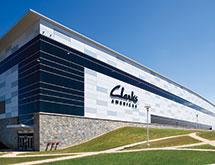 After achieving success and a prominent position in their industries, some companies might decide to relax and rest on their laurels. Clarks North Americas is not taking that approach to its business, Director of Global Procurement Jim Titus says.
Based in Newton Upper Falls, Mass., the company is part of C&J Clark International, a shoe manufacturer based in Somerset, United Kingdom. Founder Cyrus and James Clark started the company in 1825 in the United Kingdom, and began by manufacturing sheepskin-style shoes.
Today, the company sells shoes for men, women and children, as well as accessories that include handbags and backpacks. "[It is] a multibillion-dollar, global footwear company and we operate in over 35 countries," Titus says, noting that Clarks North America has 320 retail locations in the United States. 
Clarks North America sets itself apart with its high-quality products, Titus says. "We've designed and supplied the right product at the right price at the right place," he says, noting that its customers range from big-box retailers to independent shoe stores to the end-users themselves.
Changing for the Better
C&J Clark recently started a reorganization of its operations. Previously, C&J Clark's locations around the world operated independently, but the company has since moved to a more formal model with its regions divided into sectors. "[They] are trying to integrate themselves amongst one another," Titus says. 
The reorganization also drove Clarks North America to make two large technology infrastructure investments, Titus says. The first was in the design, development and construction of a new 450,000-square-foot logistics center in Hanover, Pa. 
"It's set to go live this spring," Titus says, noting that the building has already earned a LEED Gold rating, with green features such as LED lighting, clerestory lighting and rainwater capture systems. 
Clarks North America also invested in SAP software, which it implemented last year. "[It] is a pretty substantial process change from how Clarks was running business," he admits. "It went remarkably well."
Looking to Save
Clarks North America also aims to cut costs. Thanks to the close partnership between the firm's finance and procurement departments, "We're taking money out of budgets on a quarterly basis," Titus says. "The way we're doing that is through strategic supply management of our spend and working closely with key stakeholders and finance to embed that savings in the budgets."
A recent example, he notes, is how Clarks North America changed the specifications for and reduced the cost of paper and plastic shopping bags. When the company experienced supplier-related issues, Titus put together a team of marketing, engineering and retail store operations professionals to evaluate whether or not it could find savings by re-thinking its bag specifications and supply chain.
"We obtained valuable feedback that enabled us to identify opportunities for improvement in the bag specifications," he says. "We designed new bags for accessories and kids shoes while at the same time reducing our SKUs by 50 percent on our paper bags, which served to help us on an operational efficiency standpoint. Now we get a better production run, which helps drive better pricing.
"We also changed our specifications significantly by moving from a paper bag that had 10 percent recycled content to a bag that has 100 percent recycled content," Titus says. "This contributed to Clarks being a green supplier."
Delivering Value
Titus joined Clarks North America last year. "My responsibility is for indirect procurement and strategic sourcing in the United States, Canada and Latin America," he explains. "People work very hard and they try to do what's in the best interest of the company. That's helped me be successful at what I do." 
He predicts continued success for Clarks North America. "I see it growing very rapidly through the Americas region and continuing to deliver on that value level of service to help Clarks continue to provide a quality product with a competitive price within the marketplace," he says.